Pivotal role for HK in BRI infrastructure financing
Updated: 2018-10-16 07:47
By Prime Sarmiento and Wen zongduo in Hong Kong(HK Edition)
| | | | | | | | | |
| --- | --- | --- | --- | --- | --- | --- | --- | --- |
|   | | Print | | Mail | | Large Medium  Small | 分享按钮 | 0 |
SAR has the resources, talents to offer diverse funding sources, forum heard
Banking and industry experts stressed the crucial role that Hong Kong can play in financing infrastructure projects under the Belt and Road Initiative at a forum on Monday, while identifying related risks and exploring solutions.
Hong Kong "is taking the first step in securitization of infrastructure loans in order to facilitate the flow of capital into the Belt and Road", said Hong Kong Monetary Authority Chief Executive Norman Chan Tak-lam.
The HKMA has tapped the special administrative region's pivotal role in infrastructure financing, Chan said, adding he has also encouraged the exploration of more funding channels and the increase in bankable and investible projects to enable the BRI to create win-win results for all stakeholders.
The one-day forum, held at the Hong Kong Convention and Exhibition Centre, was jointly organized by the Hong Kong Institute of Bankers and the Asia-Pacific Structured Finance Association.
The BRI, unveiled by President Xi Jinping in 2013, seeks to connect China with Asia, Europe and Africa via land- and sea-based infrastructure development. The International Monetary Fund has said the mammoth project could narrow the annual $1.5-trillion infrastructure gap in developing economies.
Shi Yulong, director of the Beijing-based China Center for Urban Development, said international cooperation fostered through the BRI has drawn 118 framework cooperation agreements so far, and has improved the livelihoods of people in economies engaged in the initiative.
Experts at the forum cited Hong Kong as one of the world's top finance centers with the resources, talent pool and legal structure that can provide diverse funding sources for BRI infrastructure projects.
Yet, despite the initial gains brought by the initiative, financial institutions need to create innovative infrastructure-financing mechanisms that can help developing economies in the BRI regions cope with related challenges.
Shi noted that sound mechanisms for pooling widely engaged, long-term, stable and risk-savvy financing have yet to be developed.
He proposed that since the BRI includes several economic corridors, infrastructure funding needs to address the most urgent problems of a particular region. Energy infrastructure funding has to be prioritized in Asian economies such as Bangladesh and Pakistan, while Central Europe prefers funding to improve its transportation system.
Hu Zhirong, director-general of China Development Bank's International Finance Department, said the BRI recognizes that infrastructure development is "an important foundation for sustainable development".
"In China, we say if you want to be rich, you need to build roads," said Hu. By the end of this year's second quarter, China Development Bank had provided loans totaling $110 billion to BRI-related projects, he said.
Hu also stressed the need to plan and match funding to recipients to ensure that infrastructure development can be sustained in the long term.
Wei Guoxiong, chief counselor of Sino-CEE Fund and Sino-CEEF Capital Management Co, said banks and other financial institutions can come in during different stages of the project's life cycle. An equity fund, for instance, can be used in the initial phase, while other forms of funding can come in later.
Stephen Chan Man, general manager at the institutional department of Bank of China (Hong Kong), said commercial banks can also participate in infrastructure funding by providing bridge loans or other short-term loans.
Wang Wen, chief economist and director of Country Risk Research Center at China Export and Credit Insurance Corp (SinoSure), shared SinoSure's experiences in easing the credit risks of both bankers and loan recipients in financing large infrastructure projects. This, he said, is how an import-export bank can help in mitigating the risks involved in long-term infrastructure financing.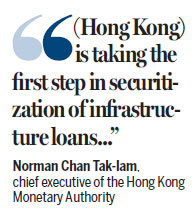 Zhu Qi, chief executive officer of CMB Wing Lung Bank, said the bank has attracted several listed companies and can thus participate in infrastructure through the secondary market.
The Hong Kong Stock Exchange has floated shares of some project companies apart from offering capital raising varieties, said Hong Kong Senior Counsel Anthony Francis Neoh.
Afternoon discussions expounded on asset allocation, investors' risk control, the life cycle of projects, securitization issues and legal barriers, according to Neoh, who was the dialogue moderator and is also co-chair of the 2018 B20 Financing Growth and Infrastructure Task Force and chairman of the Asian Academy of International Law.
Susie Cheung, APSA co-convener, put the life of a project in six phases of identification, feasibility, construction, start of operation, ongoing operation, and renewal and redevelopment. "As a financing technique whereby a pool of illiquid assets is transformed into tradable investment securities", securitization could be embedded into each phase of the cycle to sustain a healthy life, she said.
Such risks in each phase could be identified and solved to "make projects feasible", said Michael Camerlengo, partner with Infrastructure Advisory, KMMG. He cited such barriers as cash flow profile, greenfield project risks and market appetite.
Eric Wu, head of Asia Infrastructure Debt, BlackRock, noted that investors are concerned with complexity, structural change and predictability of income. He said a supportive policy environment in a related economic area is essential, while both scale and certainty matter.
However, large-scaled infrastructure projects tend to overrun, said Wilfred Lau, Arup fellow and director. He singled out four technical pillars in infrastructure project financing - a master plan, procurement framework, enabled eco-system and structural risk control. This would help provide greater certainty for the current and future state of a project with a digital platform so that "everybody is clear of what is to come", he said.
Moreover, all project parties should beware of the legal environment and even conflicts of law in different economies, warned James Pedley, foreign legal consultant with Clifford Chance. He noted that Hong Kong is an ideal option for dispute resolution.
Peter Burnett, managing director and regional head of Corporate Finance, Greater China and North Asia, with Standard Chartered Bank (Hong Kong), said the most important justification for securitization is "the positive impact it will have in building financial capacity".
Kyson Ho, managing director and head of Structured Finance for Asia-Pacific, Global Banking and Markets of HSBC, said he appreciated the professional services of credit-rating parties, such as SinoSure, in evaluating sovereign risks among others.
SinoSure has developed a reliable database that's engaged in cooperation with more than 200 financial institutions, added chief economist Wang Wen.
The experts' opinions have injected new hopes into infrastructure financing, remarked APSA Co-Convenor Pius Chong, adding that he looks forward to their fructification.
Contact the writers atprime@chinadailyapac.com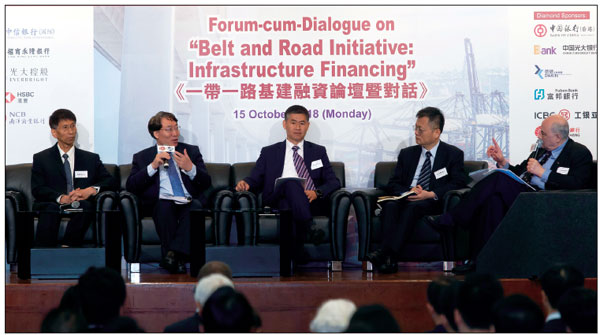 From Left: Wei Guoxiong, chief counselor of Sino-CEE Fund; Wang Wen, chief economist at China Export Credit Insurance Corp; Hu Zhirong, director-general of International Finance Department, China Development Bank; Shi Yulong, director-general, Institute of Spatial Planning and Regional Economy; and Hong Kong Senior Counsel Anthony Francis Neoh share their insights on Hong Kong's role in facilitating financing for Belt and Road infrastructure projects during Monday's forum held at the Hong Kong Convention and Exhibition Centre. Roy Liu / China Daily
(HK Edition 10/16/2018 page15)