Researching the present to build the future
Updated: 2018-09-07 07:06
(HK Edition)
| | | | | | | | | |
| --- | --- | --- | --- | --- | --- | --- | --- | --- |
|   | | Print | | Mail | | Large Medium  Small | 分享按钮 | 0 |
While China embraces an ambition to become a great power in artificial intelligence, Sylvia Chang finds that this aspiration originates from a transformative vision four decades before.
When a young Nevin Zhang Lianwen left China in 1987 to study overseas for a year, he didn't know his journey would eventually lead him back to his homeland as a leading scholar helping the nation become a frontrunner in developing a potentially world-changing technology: artificial intelligence.
"The frameworks I learned that year were of particular importance to my later research on AI," Zhang said recently in his office at Hong Kong University of Science and Technology, where he is a professor in the Department of Computer Science and Engineering.
Zhang's journey could be said to have begun in 1978, with the beginning of China's reform and opening-up policy. Former State leader Deng Xiaoping's bold plan to transform the nation's economy involved much more than just inviting foreign investors into China. It also sent the first wave of Chinese university students to travel outside of the country to further their studies. Zhang was part of that wave.
"An important step which had far-reaching influence on the later development of AI, and technology development in general, is seen in the number of government-sponsored postgraduates who went overseas to study in the 1980s," said Yeung Dit-yan, also a professor with the Department of Computer Science and Engineering, and its acting chief.
In 1987, Zhang was studying applied math at Beijing Normal University (BNU) when the Chinese government sponsored him to participate in a one-year exchange program at the University of Kansas in the US. He studied under Glenn Shafer, an American mathematician and statistician famous for his evidence theory. It was from there that Zhang's AI journey began.
After completing his doctorate in applied math at BNU in 1988, Zhang returned to North America in 1990 - this time to Canada to attend the University of British Columbia, where he would earn a second PhD in computer science. He settled in Hong Kong in 1994, where he developed his own model of analysis for traditional Chinese medicine (TCM), based on Shafer's theory, and has become well recognized in the area. Scholars at universities and TCM hospitals have been using Zhang's model for further research.
The major considerations for changing his research field to computer science, Zhang said honestly, were better career and earnings prospects. But there was always a voice in his mind reminding him to do something that could benefit his own country, including his boyhood home, a remote village in Nanchong city in southwestern China's Sichuan province.
Some people are skeptical about TCM treatments, thinking that a doctor's diagnosis is subjective, rather than being based on science. But having been born and raised in a village without high-end hospitals, Zhang's parents usually took him to TCM clinics when he felt ill as a child.
"I saw TCM doctors in my village start to practice medicine after only two years' training," Zhang said. "But they were good. I thought they should be recognized." He went overseas without realizing this childhood dream. But a seed of hope was buried deeply in his mind, seemingly to absorb nutrients and wait for the day it could blossom.
Exodus overseas
The acme for Chinese post-graduate students going overseas for further studies arrived in the mid-1990s. Many overseas companies opened research operations on the Chinese mainland. The opening in 1998 of Microsoft Research China (later renamed Microsoft Research Asia) was an important milestone. The company is a research subsidiary of Microsoft Corporation, the world's leading computer system service provider.
"That was an important step because it started a trend toward high-quality research," Yeung said. He added that the vision of Microsoft Research China, back then, was to nurture and train a new generation of researchers focused on computer science and information technology. The company cooperated with top-tier universities such as Tsinghua University and supported researchers training abroad. AI began to emerge through early technologies, like speech recognition.
While some of the early group of researchers remained overseas, many went to Singapore and Hong Kong for research and teaching positions. Among them was Zhang, who settled at HKUST.
"After achieving a tenured position as associate professor, I began to think, what should I concentrate on for my lifelong research?" It seems at that moment the resonance of his voice as a child returned, as the seed of his childhood dream began to sprout.
Like Zhang, the tide of early researchers going outside the country began turning after the millennium, and grew dramatically over the past 10 years, when China's economy grew at an exceptional pace. High-tech industries blossomed and along with them, the demand for young talent. Technology giants, including Baidu and Tencent, spread their wings and carried technology research to new heights.
"The remuneration packages given to top-notch researchers by those technology giants these days are very competitive, comparable to many high-end companies in the U.S.," Yeung said.
Zhang applied AI technology to TCM in the early 2000s. He developed a data-driven approach, termed "latent tree analysis," which he hopes will unravel the classification problems associated with TCM. He aims to validate TCM theories with data sets and a scientific approach in order to provide standardized results for the classification of TCM symptoms, leading to more valid and efficient treatments.
"The approach helps to provide a quantitative summary of TCM doctors' know-how by justifying the existing medical records statistically. It also reduces the variance in diagnostic results," Zhang said. To some extent, the technology of AI replaces part of the roles of TCM doctors in diagnosis.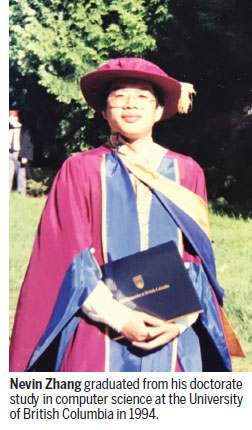 Meanwhile, AI is booming in China and delving into many different issues. AI is applied to big business, forecasting market demand, recruitment of staff, and setting out best practices for dealing with clients. Marketers, sales experts and supply chain managers use AI to increase the market value of their products.
Alibaba and DJ.com jumped aboard, adding to a growing snowball effect. At the university level, a favorable visa policy, called the 1,000 Talents Plan, drew leading professionals to China to continue their careers. Later in 2017 the State Council set out a development plan aiming to build the domestic AI industry to $150 billion by 2030.
"The professionals who returned already had established their positions, either in academia or in industry abroad. Their return has deeply affected the development of AI in China," Yeung said. Some of them came back on a no-pay leave arrangement from their original universities. Zhang joked that some of his students who were hired by those high-end companies have already earned enough for retirement.
Cross-boundary cooperation
Yeung noted that Hong Kong has become a bridge linking high-standard research in Hong Kong and industry on the mainland.
In the past five years, more cooperative schemes in AI have sprung up between Hong Kong and the mainland. The collaboration ranges from the levels of individual scholars and universities to companies and governments in the forms of joint-research schemes, exchange programs and sponsored research internships.
In the past few years, HKUST set up joint laboratories with two Chinese technology giants - Didi, a taxi-hailing application and WeChat, the biggest social media platform on the mainland - and South Korea internet content service company NAVER, to collaborate on research and development. Tens of millions of Hong Kong dollars have been provided to support joint research projects.
For Zhang, cooperating with medical universities on the mainland is significant too. The data on the mainland are huge and valuable. He expects that the application of AI not be limited to TCM theoretical studies but should extend to clinical experiments and objective evidence.
Deng set in motion a transformation that has improved the lives of countless Chinese persons, including poverty alleviation and improved healthcare. For Zhang, it provided the path to a doctorate in computer science, which he is applying to TCM.
Like many others who passed through Deng's opened door, Zhang returned through it and is helping to perpetuate the late Chinese leader's vision of a better life for future generations.
Contact the writer at
sylvia@chinadailyhk.com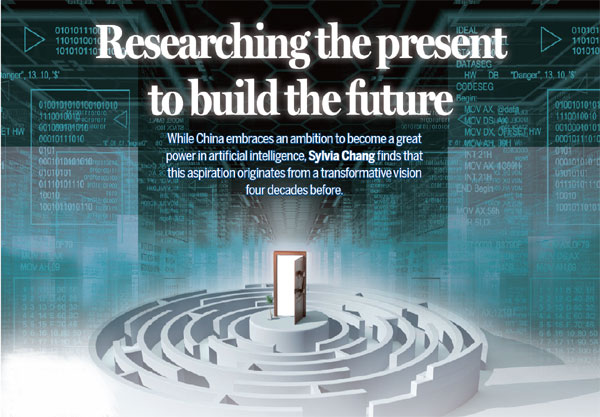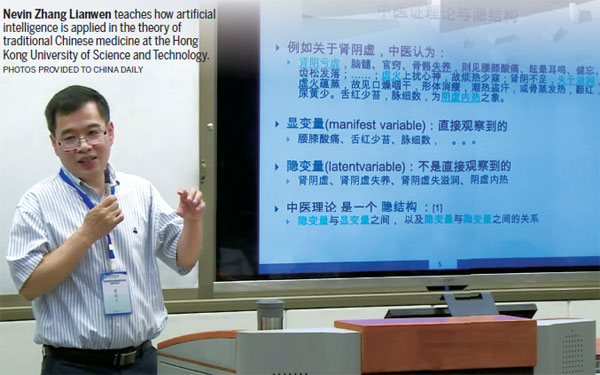 (HK Edition 09/07/2018 page12)