Shocked to the core!
Updated: 2018-08-31 07:21
(HK Edition)
| | | | | | | | | |
| --- | --- | --- | --- | --- | --- | --- | --- | --- |
|   | | Print | | Mail | | Large Medium  Small | 分享按钮 | 0 |
With more than 70 percent of Shenzhen's population living in rental housing and the authorities encouraging development of the rental market, calls have grown to rein in unscrupulous operators amid mounting complaints from tenants that they've been taken for a ride. Zhou Mo reports.
Yang Zaikun rented a 12-square-meter room in Shenzhen's Futian district for 2,450 yuan (HK$2,826) a month from rental services provider Danke not long ago.
The second month, he was baffled when he discovered that the account into which he had been paying the rent was in the name of an aviation financial leasing company. More shockingly, he found himself embroiled in a "loan deal".
"When I paid the rent, the platform showed the total amount of money I had allegedly borrowed. It was a 12-month installment," recalled Yang, who works at a credit rating company in Shenzhen.
"I was not informed at all of anything relating to the said loan in the leasing agreement."
Yang is among a number of victims caught up in a financing spree, initiated by unscrupulous mainland rental apartment operators desperate to grab a slice of the booming rental market.
Since the central government announced it will support the development of a rental market as property prices continue to go through the roof in first-tier cities, many rental apartment operators, including Ziroom and Danke, have swarmed the sector, with an eye on gaining pole position by controlling as many residential resources as possible, and with the ultimate goal of having a big say when it comes to pricing.
Traditionally, these operators act as a bridge between landlords and tenants. They rent apartments from homeowners, refurbishing them with token decorations before leasing them out to tenants at higher prices and raking in a profit.
But, in reality, their role is far from being that of a middleman. Some have been using unsuspecting tenants' personal credits to secure loans from third-party lending institutions and use the money to further their illicit practices. The rents forked out by the tenants each month are, purportedly, installments for "loans" they have never taken out.
According to media reports, the third-party lenders include financial institutions and online lending platforms, such as P2P lending websites.
When a tenant puts the ink to a leasing contract with a property operator, it's believed he or she also signs a "loan agreement" with a third-party lending institution at the same time. Many of the victims are unaware of what's actually going on because it's skillfully hidden in the leasing contract and swept under the carpet by the operators.
Signing up the "loan agreement" implies that a tenant has staked his or her personal credit as a guarantee for securing a loan and agreed to having the money credited to the operators' bank accounts, a source who preferred to stay anonymous told China Daily.
Unwitting debtors
With a huge pool of the loans granted in hand - third-party lending institutions would normally grant an amount equivalent to a year's rent for each application - the operators would pay the rents to the landlords concerned, while luring more homeowners to let them handle their apartments for lease.
According to some Ziroom tenants, they had unwittingly become debtors when they took up the "Ziroom installment" service - one of the several payment methods the platform offers, which also includes monthly, quarterly, half-yearly and one-year payments.
Apparently, the "Ziroom installment" service is akin to monthly payments, both of which require tenants to pay their rents on a monthly basis. To use the "Ziroom installment" service, tenants have to dish out an extra 6.27 percent as a "commission fee", with the incentive that they can "pay less" for the first installment. The platform restricts "qualified applicants" to those whose credit scores on Ziroom are no less than 70.
To prod customers into falling for the plan, the platform offers a 30-percent discount for an annual service fee which, it says, will be used to cover property management, internet, cleaning, repair and personal insurance charges.
According to the calculations given on Ziroom's official website, for an apartment commanding a monthly rent of 3,000 yuan, tenants using the "Ziroom installment" service need to pay 6,210 yuan as the first payment, while those opting for the monthly payment method have to fork out 10,080 yuan.
The "Ziroom installment" service would definitely go down well with those who are short of cash.
But, the devil is in the detail. Under the "loan deal" a tenant signs for the "Ziroom installment" service, there's a catch in which the tenant authorizes a third-party payment organization or a bank to transfer the "loan" from their accounts to the rent operator's bank account. In other words, they agree to have the "loan", with their personal credits as guarantee, to be paid to the operator.
"To tenants, the severe damage caused is that it would have a negative impact on their credit records if they forget to repay the "loan" on time. This is unfair to tenants because they don't even know they've become 'borrowers'," groaned Yang.
According to the Shenzhen Consumer Council, it had received 162 complaints about long-term rental apartment services as of Aug 24 this year - up a whopping 305 percent over the same period a year ago.
Operators denied inducing tenants to sign loan agreements in the home rental process, claiming the information is "transparent".
For tenants choosing to use the "Ziroom installment" service, Ziroon has "clearly informed" them of the nature of the loans in the deal, according to Lei Ming, marketing director at Shenzhen Ziroom Property Management Co.
"All the information relating to loans, including signing notifications and requirements, is transparent. We also have strict risk management standards for 'rental loans', the percentage of which should not be higher than 25 percent," said Lei.
Li Yanni, customer services manager at Danke Shenzhen's office, acknowledged that the company had used tenants' personal credits in the loan-related business, but added: "We do have detailed descriptions for such information in the agreement."
The contentious financing practice by rental apartment operators has aroused widespread disquiet. Many people agree it does play a vital role in facilitating the companies' expansion, triggering dramatic increases in Shenzhen's rental prices this year.
According to statistics from Centaline Property, the city's average rental prices had hit 68.8 yuan per square meter monthly in the first seven months of 2018 - up 8.19 percent over the same period a year ago.
Nanshan, Futian and Luohu - Shenzhen's three most popular residential districts - saw the strongest growth during the period at 10.73 percent, 9.58 percent and 7.31 percent, respectively.
High default risks
Ziroom has been operating more than 70,000 rooms in Shenzhen since its entry into the city in 2015, while Danke, which also started operating in Shenzhen the same year, is managing more than 25,000 rooms.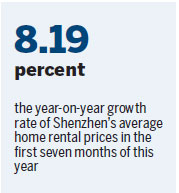 "The number of rooms in our fold takes up only a small proportion of Shenzhen's rental market. Therefore, we don't have the power to influence the city's overall home rental prices," argued Lei.
"Rental apartment operators don't have a strong business model. They don't own properties. So, their preliminary investments are basically operating costs. To cover the costs and make profits, the only thing they can do is to jack up their market share and rental prices," commented Jenny Chou, director of office services at Colliers International Shenzhen Office.
"Their financing model may have a big impact on the rental market. As the operators acquire more and more apartments this way, they'll influence other landlords, who may also follow them by renovating their apartments and renting them out at higher prices, further pushing up the city's overall rentals," said Chou.
Li Huan, a senior consultant at Shenzhen-based law firm Vankee Partners, warned that such unscrupulous practices would lead to a high risk of default.
"As the threshold for the rental services sector is low, many operators, even brand names, may not have sound management capability. Given there're no regulations to govern the market, they may use the large amount of capital obtained to buy stocks, properties or invest in P2P platforms. The minute something goes awry, they can easily run out of cash and fail to pay rents to the landlords," warned Li.
To make things worse, some operators have rented homes from property owners at prices that are much higher than normal market prices in order to get more apartments in the market. For instance, when an operator acquires an apartment and promises to pay 5,000 yuan a month to the property owner although the market only allows for it to be rented for 3,000 yuan a month, the company stands to lose 2,000 yuan a month.
"Such a model is unsustainable and highly risky. If the operator breaks down, landlords won't be able to get the money. They'll undoubtedly ask tenants to move out. But, for tenants, they still have to repay the 'loans'," explained Li.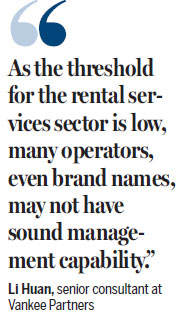 Realizing the severity of the problem, the Shenzhen Internet Finance Association has come out with a stern warning.
Under the pretext of supporting the nation's bid to develop the long-term rental apartment sector, the business model actually has the characteristic of "illegally seizing others' properties" and is "highly leveraging and risky", it said.
Internet finance platforms in Shenzhen, the association stressed, are strictly prohibited from conducting such "rental loan" business in cahoots with rental apartment operators who violate laws and regulations.
Song Ding, director of the Tourism and Real Estate Industry Research Center at Shenzhen-based think tank China Development Institute, described the competition among operators for acquisition of apartments as an "inevitable phenomenon" in the development of the country's rental market.
"For any product in a stage of expansion, market players would try all means to grab a bigger market share, such as by making large-scale acquisitions. But, they don't want to do so at a loss so, naturally, they'll pass the cost onto consumers," said Song.
He noted that, from the supply side, aggressive moves by rental apartment operators have contributed to the unrelenting hike in Shenzhen's rental prices.
"Meanwhile, on the demand side, as the Shenzhen government is strictly curbing property-buying activities, a number of potential homebuyers who are not qualified to make purchases have now turned to the rental market, leading to the rise in the number of tenants. That's also a key factor."
Wang Feng, director of the Shenzhen Real Estate Research Center, said the municipal government may enact new policies to regulate the apartment rental sector, including limiting rental prices and tenancy terms.
"Rental service providers should be asked to report prices to relevant government departments when necessary," Wang suggested.
"Price-limiting measures used in the property sales market, as I see it, can also be applied to the rental market to prevent vicious competition among players and moves to drive up rentals."
Contact the writer at sally@chinadailyhk.com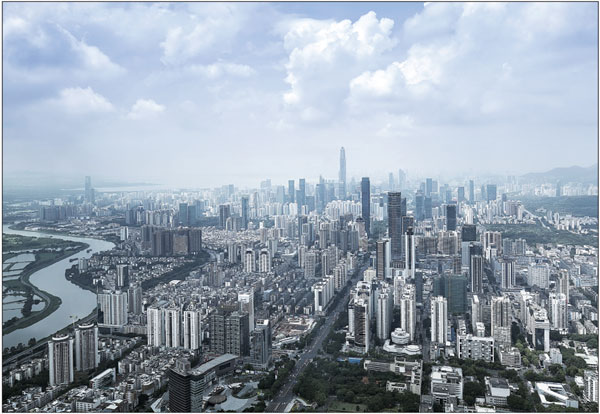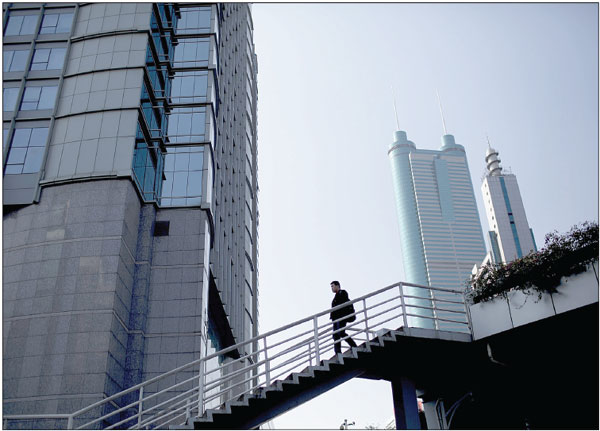 Shenzhen, a first-tier city on the Chinese mainland, has seen exorbitant rises in real-estate prices over the years, pricing many would-be homeowners out of the market. This has led to a boom in the apartment rental sector, which has also seen dramatic increases in home rentals lately. The authorities have vowed to strengthen supervision of the rental market to ensure a fair and orderly environment and check irregularities. Photos provided to China Daily
(HK Edition 08/31/2018 page10)