Life education needed in HK mental health policy
Updated: 2018-08-28 05:48
(HK Edition)
| | | | | | | | | |
| --- | --- | --- | --- | --- | --- | --- | --- | --- |
|   | | Print | | Mail | | Large Medium  Small | 分享按钮 | 0 |
Teaching coping skills could be helpful in preventing problems before they arise, argues Ho Lok-sang
Last week another case of apparent child abuse through neglect shocked Hong Kong. A 3-month-old infant was left alone at home unattended for over a day. The young mother on return to the house found her unconscious and called for help. The infant was certified dead by paramedics at the scene.
An examination of the child abuse statistics in Hong Kong indicates that total reported child abuse victims was 947 in 2017, and that was the third year of increase in a row. Back in 2014, the total number was 856. The figure of 947 however is still lower than that of 2009, when it hit 993.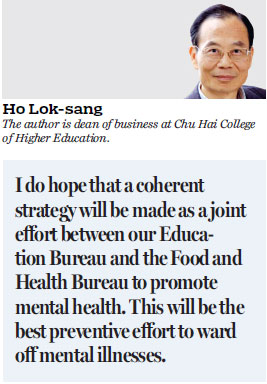 Especially noteworthy is that while there has been a long-term decline in reported physical abuse cases, incidents of neglect more than doubled to 229 in 2017 from 102 in 2009. In the case of the dead baby girl, it was reported that the 20-year-old mother had had a dispute with her husband and then left the house for a prolonged period.
In June this year, a woman shot four relatives in Quarry Bay, killing one and injuring the other three. The incident was reported to have been set off by a dispute over family finances. There have also been several murder and suicide cases within the family in the first half of this year.
There is little doubt that many Hong Kong people are suffering from poor mental health. A recent survey by the Hong Kong Playground Association shows that one in three of the city's young people may be suffering from stress, anxiety or depression. While there are multiple causes for this, not being able to cope with one's circumstances is certainly one.
The circumstances may include illness, personal relations, personal finances, work or study pressures, disappointments from examination results, etc. Some people fall into stress-causing situations such as borrowing from a loan shark, substance abuse, gambling, being scammed by fraudsters, overindulgence in social media and cyberbullying.
Some circumstances may be more innocuous initially, but not having the know-how or the wisdom to deal with them may still lead to disasters. Some disasters may even be due to thoughtlessness or even good intentions. Parents may just not be aware of hazards within the home. Some parents may punish their children out of genuine concern for their studies, or for behaving in the wrong way. That is why education can help. Indeed, education - particularly life education - is preventive care. Mental healthcare after the problems have emerged is at best remedial care.
Australia is a pioneer in developing new mental health policies. Its National Mental Health and Suicide Prevention Plan for 2017 to 2022 identified eight priority areas:
1. Achieving integrated regional planning and service delivery;
2. Effective suicide prevention;
3. Coordinated treatment and support for people with severe or complex mental illnesses;
4. Improving aboriginal and Torres Strait Islander mental health and suicide prevention;
5. Improving the physical health of people living with mental illness and reducing early mortality;
6. Reducing stigma and discrimination;
7. Making safety and quality central to mental health service delivery;
8. Ensuring that the enablers of effective system performance and system improvement are in place.
Australia is committing a lot of resources to giving people affected by mental illness the support they need. This is of course something Hong Kong can and should do. Australia's plan addresses several important issues, such as suicide prevention and fighting the stigma and discrimination associated with mental illness. There is, however, not much about leveraging education as a preventive measure.
Compared with Australia, Hong Kong is late in devising a mental health policy. But if we can work out a policy that leverages education, both formal and informal, as a preventive strategy to ward off mental problems, we may actually produce a plan even better than Australia's.
The special administrative region government established the Advisory Committee on Mental Health late last year. This is a timely move. Wong Yan-lung, the committee's first chairman, says it will launch a mental health survey, first with children, then with the elderly, and then with other adults. Surely we need to take stock of the state of mental health in our population, and it is also appropriate to start with children and youth.
Already the SAR government has set up a HK$50 million fund to fight stigmatization. I do hope that a coherent strategy will be made as a joint effort between our Education Bureau and the Food and Health Bureau to promote mental health. This will be the best preventive effort to ward off mental illnesses.
(HK Edition 08/28/2018 page9)