Happy children will give the city a bright future
Updated: 2018-08-21 06:30
(HK Edition)
| | | | | | | | | |
| --- | --- | --- | --- | --- | --- | --- | --- | --- |
|   | | Print | | Mail | | Large Medium  Small | 分享按钮 | 0 |
Primary students in Hong Kong feel same pressures as seniors. Singing would be more productive, argues Ho Lok-sang
Chu Hai College of Higher Education had the opportunity to take charge of the children happiness survey 2017-18 - the sixth in a series - which was initiated in 2012 by a group of pediatricians concerned about childhood development. Let me share some of the important findings, not all of which have been reported.
The glaring result from the study is obviously the gigantic plunge in happiness for those 9 years old or younger, and a large decline in happiness for those at 14 and older. The other age groups, from 10 to 13, mostly registered increases. The advances are big enough that if we take the average happiness score for all children there is an increase. But our methodology gives equal weight to each grade. After averaging the happiness indices for all the grades, the score indicates a slight dip.
It is noteworthy that pressures from studies rose across all grades in the past academic year compared with the previous year. However, the pressure rose the most for Primary 4, from 2.7 to 3.17 on a scale of 1 to 5. 3.17 is actually the second highest among all the grades from Primary 4 to Secondary 3. There is little question that pressures from studies caused the plunge of happiness for Primary 4 students. Luckily, even for these children happiness levels are still considerably higher than back in 2015-16.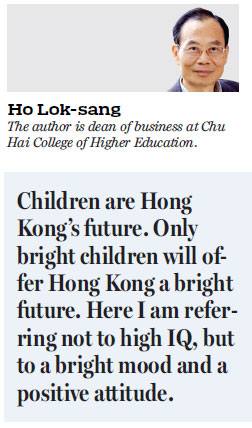 To me, it really doesn't make sense that Primary 4 children should face study pressures comparable to students in senior secondary grades. The pressures index for Form 4 and Form 5 stands at 3.28. Primary 4's, at 3.17, is just a shade lower. Why are we putting so much pressure on primary school kids? I can only explain it as the culture of trying to "win at the starting line". Unfortunately, trying to win at the starting line is often counterproductive. If kids lose their interest in studies, or cannot keep up with their studies, they become disheartened. Unhappy children without an interest in studies cannot win over the long run, let alone at the starting line.
Fortunately, the survey shows that schools are generally much keener on promoting life education. Our survey on life education focuses on the intensity of activities in promoting the values of love, insight, fortitude, and engagement, and the indices rose across the board these activities will nurture the mental capital that will equip children with the needed mindset to face the challenges from life. It is known that pressures tend to undermine mental capital, so that measures of love, insight, fortitude, and engagement don't register a noticeable increase. But with surging pressures across the board, the fact that the mental capital measures stayed at a comparable level with those in the previous year should be the main reason behind the buoyant children happiness index.
Our results corroborate those reported by the Boys' and Girls' Clubs Association of Hong Kong in April this year. According to that report, the happiness of children aged 6 to 11 declined for the second year in a row.
While I am glad schools are promoting life education more than they did before, I am disappointed by the lack of emphasis on singing as a medium to promote life education. One early study in Psychology of Music (2002) concluded: "Both singing and listening to singing can alter the mood immediately after participation in a short singing session, and that some of these effects were evident in the POMS (Profile of Mood States Questionnaire) scores one week later." A 2013 study in the Journal of Positive Psychology found that people who listened to upbeat music could improve their moods and boost their happiness in just two weeks. The positive effects of singing do not show in our study, largely because singing as a medium to promote life education is relatively rare.
A recent article of mine in this column ("Parenting education should be part of the school curriculum"(Aug 7) complained about the lack of life education content in the Liberal Studies curriculum. Actually, in principle it should be included as the first module, Personal Development and Interpersonal Relationships, which should be all about life education. But past examination questions in the DSE actually de-emphasize this role of the module. Instead, questions related to the module include reasons behind youngsters smoking, comparing quality of life in different cities, etc., which do not confront the day-to-day challenges of youngsters. Analytical questions like this are more like social studies than about life education.
Children are Hong Kong's future. Only bright children will offer Hong Kong a bright future. Here I am referring not to high IQ, but to a bright mood and a positive attitude. Mr Lui Tim-leung, chairman of the Education Commission, hopes that the Happy Children Movement will shift parents' emphasis on "winning at the starting line" and on grades to focusing on personal growth and a happy growing-up. I wrote this in my last article. Let me repeat the plea.
(HK Edition 08/21/2018 page8)