Tuition mills rake in billions while children suffer
Updated: 2018-07-30 06:36
(HK Edition)
| | | | | | | | | |
| --- | --- | --- | --- | --- | --- | --- | --- | --- |
|   | | Print | | Mail | | Large Medium  Small | 分享按钮 | 0 |
Parents want their children to enter the prestigious publicly-funded universities, which can only take 30 percent of sixth-form leavers. That triggers parallel private-tuition cram schools from primary through secondary grades. Wang Yuke finds that as playtime fades, more students suffer stress, depression, and suicidal tendencies.
Private tuition in Hong Kong is a lucrative business, with market sales of private tutoring mills for primary and secondary schools raking in HK$4.3 billion in 2015-2016 school year and forecast to grow by around 10 percent within three years to reach HK$4.7 billion in 2018-2019 year. It is also unregulated. Celebrity tutors promote themselves unabashedly on bus panels, hoardings and the facades of buildings. Private tuition is a must for desperate parents hoping their children survive the cull for the eight fully-funded local universities.
A 2017 global HSBC study of tuition expenditure showed Hong Kong parents spend an average of HK$1 million per child from primary school to university, followed by the United Arab Emirates at HK$780,000 and Singapore at HK$550,000. Eighty-eight percent of Hong Kong parents in the survey invested in private tuition for their children.
Financial information services provider Quamnet expects Hong Kong's primary tuition revenue to rise by 5.4 percent, year on year, between 2015-16 and 2018-19. For the 2015-16 academic year Quamnet estimated that there are a total of 3,826 private tutoring centers in town: 2,051 primary and 1,775 secondary.
The 2011 Synovate report noted that tutoring center chains in the city grew from 38 in the 2005-06 academic year to 106 by 2009-10. Tutoring branches operated by both chain and individual centers rose from 726 in school year 2005-06 to 923 in the school year 2009-10 - chains accounting for 89 percent.
Competition starts in pre-school
University access is at the far end of the education funnel. Intense competition begins at pre-school. Getting toddlers into elite kindergartens is the first hurdle for young parents. True to Hong Kong's pro-market, non-interventionist inhibitions, quality education outside the publicly-funded system is a competitive supply-demand dynamic where affordability rules.
Parents submit "portfolios" of their child's music, art and sports activity for top primary school access. Elite schools in Hong Kong factor in extracurricular activities of the applicants when recruiting but restrict the length of applicants' portfolios to less than five two-sided pages and some even two. Parents engage tutors to coach children for their Primary 1 entrance interviews. Fear of "missing out" drives parents to invest in private tuition from the primary level.
The Hong Kong Federation of Youth Groups (HKFYG) 2012 survey found the percentage of students attending private tuition had doubled from 34 percent in 1996 to 64 percent in 2012. The study interviewed 524 Primary 5 to Secondary 6 pupils. Other similar surveys all confirm the growing momentum for supplementary private tuition.
Professor Eric Chui Wing-hong of City University researches youth, crime and adolescent well-being. He warns of excessive study loads leading to anxiety, distress, depression and suicidal thoughts in children who cannot cope. That, he says, gets compounded by parents projecting their own peer-group insecurities, guilt, anger and disappointment onto their children. "This forms a vicious circle, deepening stress among both children and parents," says Chui.
Tuition hours add stress
The time spent on private tutoring rose significantly between 2009 and 2012, from 3.06 to nearly five hours per week. The drastic surge, revealed by the HKFYG survey released in 2013, might be linked to the reform of the education system to 3-3-4 in 2009, according to Sharon Cheung, who led the survey. Under the new system, the students will take the Hong Kong Diploma of Secondary Education (HKDSE) public entrance exam for college, after six years' secondary learning. The first HKDSE exam was held in 2012. Over the seven hours spent in school, a crude estimate of the average daily study duration at higher primary to secondary schools, exceeds 10 hours. If their weekend schedule is packed with private tutorials and homework, the average study time per week could reach 55 hours - and longer - for senior students.
The Hong Kong Paediatric Society and The Hong Kong Paediatric Foundation in June last year published an investigation which showed half the 1,300 parents polled admitting stress from worrying about the scholastic performance of their children. The data records a 50-percent rise in adolescents treated for mental illness in public hospitals, from 18,900 in 2011-12 to 28,800 in 2015-16.
A survey in August last year by the Baptist Oi Kwan Social Service, polling 15,560 students from 37 secondary schools, revealed that 53 percent suffered depression, with those in senior forms more vulnerable. Hsu Siu-man, a supervisor at the HKFYG, said that the competition for university places is fierce as only three in 10 will get into college. That causes parental panic, insecurity, and excessive pressure on children.
Student suicides rise
The report by the Committee on Prevention of Student Suicides showed that in the three years since the 2013-14 academic year, there were a total of 38 student suicide cases at primary and secondary schools.
Senior secondary students suffer more stress from school with 24 out of the 38 cases recorded, the report revealed.
What's more, almost six in 10 of the 38 suicide cases were found to be related to study-related adjustments, including recent transfer to a new school, grade retention and poor school attendance.
The community-service organization Caritas and the City University Applied Social Sciences Department in late 2016 found that 31 percent of primary school students and 40 percent of secondary students were distressed academically. Among this vulnerable group, more than half admitted they had suicidal thoughts.
Mark Bray, UNESCO chair professor in Comparative Education at the University of Hong Kong, notes that "shadow education makes school teachers assume that all the students receive tutoring out of school. That may result in some teachers not being fully devoted, which is the danger".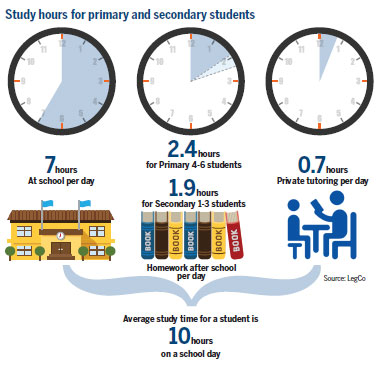 That worry too pushes parents to invest in private tutoring, as insurance. Bray saw selective private tuition as positive if it enables pupils to stay abreast of their cohorts at school - so long as it balanced play, relaxation and acquisition of other skills.
No play, no life
The Hong Kong Playground Association (HKPA) in May this year found that 31.6 percent of the 3,279 students interviewed suffered stress. It's not the only mental pressure weighing on students, some were also in agonies of anxiety and depression. Researchers found that 38.7 percent of all respondents had experienced anxiety at moderate to extreme severity, while 30.2 percent afflicted by moderate to extreme severity level of depression. The HKPA survey noted 21.3 percent of youth aged 13-18 failed to meet the daily 60-minute standard of 'moderate to vigorous-intensity physical activity' recommended by the World Health Organization.
Professor Chui maintains that play allows children to mature socially by winning, losing, and learning fair play. It builds healthy social networks and close friendships. Children without friends suffer inability to express their frustration, stress and anger. That bottled-up inner conflict could brew despair and suicidal thoughts.
In the Program for International Student Assessment in 2015, the Hong Kong students' self-reported life-satisfaction score was 6.5 - 11 percent below the average of 7.3 for members in the Organisation for Economic Co-operation and Development - and in stark contrast to the Netherlands (7.8) and Finland (7.9). Hong Kong ranked third from the bottom on life-satisfaction.
Contact the writer at
jenny@chinadailyhk.com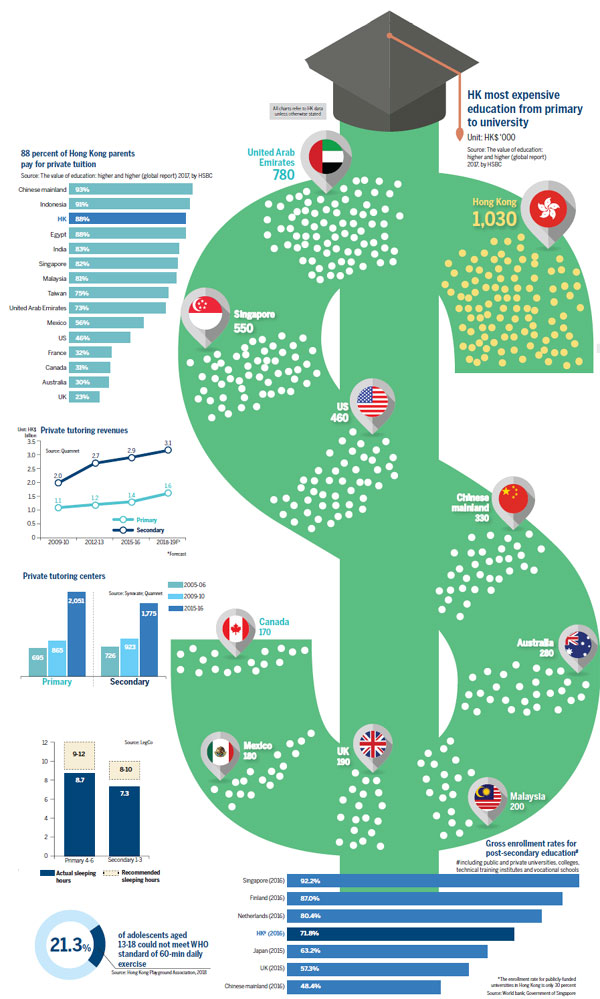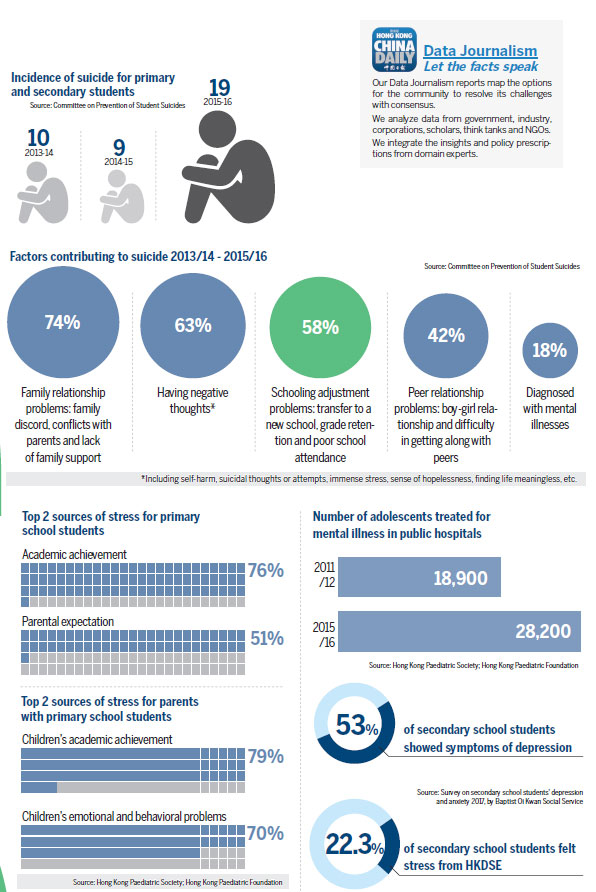 (HK Edition 07/30/2018 page8)