POEMS ARE FOR READING OUT LOUD
Updated: 2018-07-20 07:11
By MELANIE HO(HK Edition)
| | | | | | | | | |
| --- | --- | --- | --- | --- | --- | --- | --- | --- |
|   | | Print | | Mail | | Large Medium  Small | 分享按钮 | 0 |
David McKirdy went to check out a Poetry OutLoud event in Hong Kong and decided to participate on the spot.
"I read a poem, they clapped and haven't been able to shake me off since," he says.
McKirdy has been part of the group since 1999, and as Poetry OutLoud celebrates its 20th anniversary this year McKirdy says it's still as easy as ever to participate. Interested readers or listeners simply need to show up.
"I am most proud that OutLoud continues to be open to poetry, prose and spoken word performances, welcomes participants who read in any language and is a group where many first-time readers and writers have felt comfortable enough to read their work. It is multicultural, multiracial, gender neutral and attracts the young and old alike," he says.
Poetry OutLoud hosts readings on the first Wednesday of every month at the Fringe Club. There's no sign-up or membership required. Attendance ebbs and flows. Sometimes there's only a small, intimate group of 10 and at other months a larger group of about 50. But McKirdy, who has published two collections of poetry, Accidental Occidental and Ancestral Worship, says it's not about the numbers: "If one person turns up, I will hold the event."
In Hong Kong, Wednesday evenings are seemingly devoted to poetry. In addition to OutLoud's monthly event, Peel Street Poetry hosts weekly Wednesday readings - unless Poetry OutLoud is on.
"We just picked a random day of the week and it was purely coincidental," recalls Nashua Gallagher, who founded Peel Street Poetry 12 years ago as a teenager. "But we don't run on the first Wednesday of the month because we don't want people to have to choose."
Gallagher recently launched her debut collection of poems, All the Words a Stage. Like McKirdy, Gallagher grew up in Hong Kong and started writing poetry as a teenager. Her autobiographical book takes readers through the different stages of her life, from coming of age and having children to love and confronting adult issues. Many of the poems were read at the Wednesday night open mic sessions. Reading every week meant she had to write to a deadline - a routine Gallagher feels hugely beneficial in the long run.
"It's very collaborative," she says. "And this is not just the English-speaking poets, it's the same with the Chinese poetry scene - you get the same vibe that everyone is encouraging. Poets have always been wonderful, accidental social commentators and the different perspectives are incredibly interesting. They are useful in reminding you of the importance of thought and diversity."
Gallagher is participating in a session at the ongoing Hong Kong Book Fair, where she'll read some Baroque poems at an event on love poetry and prose from the Spanish-speaking world. The event is part of the book fair's theme of romantic literature. Gallagher will also moderate a session featuring Singapore's Balli Kaur Jaswal who wrote Erotic Stories for Punjabi Widows.
Gallagher is looking forward to taking part in both events and continuing being a part of Hong Kong's active - and growing - poetry scene.
"Traditionally, poetry events have been smaller and didn't get as much attention," she says. "I think technology has democratized access to different parts of literature, and poetry and spoken word have benefitted from it. Poetry is an honest and raw art form and can carry you through whatever stage of life you're in. It can help chronicle those stages."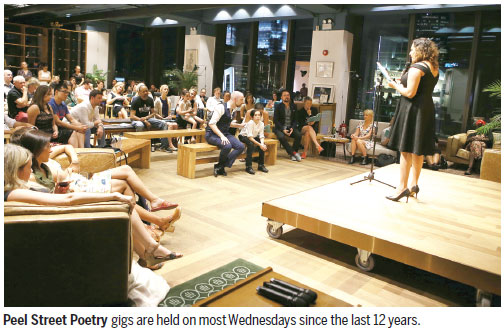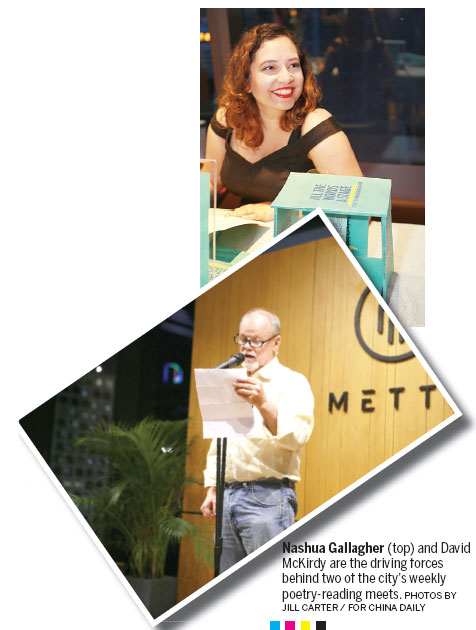 (HK Edition 07/20/2018 page9)