Public-private split marks housing policy sea-change
Updated: 2018-07-17 06:27
(HK Edition)
| | | | | | | | | |
| --- | --- | --- | --- | --- | --- | --- | --- | --- |
|   | | Print | | Mail | | Large Medium  Small | 分享按钮 | 0 |
Tight land supply means giving population spacious homes is a long shot, Ho Lok-sang notes; efficiency rules in short and medium term
Singapore and Hong Kong took different paths in housing from the very beginning. When the Singapore government set up its Housing and Development Board in 1960, it had the ambition to provide housing for almost the entire nation. The HDB estimated that from 1960 to 1969, about 147,000 housing units would need to be built. It also figured that the private sector could at most provide 2,500 a year. In the end, the HDB built 51,031 housing units between 1960 and 1965. The Hong Kong government, on the other hand, never had the ambition to provide the bulk of the homes people need. In fact, the first batch of public housing was meant to just provide a roof to those who lost their homes in the Shek Kip Mei fire in 1953. The apartments were tiny and basic, and did not even have their own toilets. A "Resettlement Department" took charge of the housing program. The wording stands in sharp contrast to the Housing and Development Board that took charge of housing development in Singapore.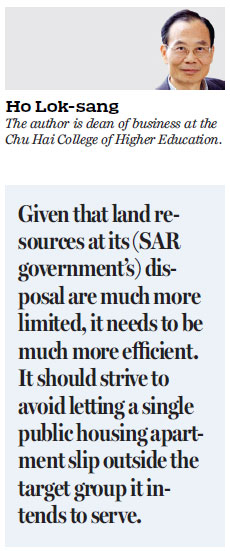 Modest beginning notwithstanding, Hong Kong's public housing program grew and grew, largely driven by the turn of events. Hong Kong had to accommodate huge numbers of immigrants from the Chinese mainland, many of whom built makeshift homes in squatter areas on hillsides. The quality of public housing improved by leaps and bounds as government finances grew but the most ambitious public housing construction plan had to wait until the 10-year public housing construction plan launched by then-governor Murray MacLehose in 1973. It was to give 1.8 million people "satisfactory accommodation". In 1978, for the first time, the government under MacLehose launched its first-ever Home Ownership Scheme program. The scheme was meant to provide upward mobility for public rental housing tenants who could buy HOS housing and leave the vacated apartment to others waiting in the queue. The plan worked, as the proportion of households living in public rental housing steadily fell from its 1976 peak, when 42.2 percent of all households were PRH tenants.
Today, public rental housing accommodates about 30.6 percent of all households in Hong Kong while the number of owner-occupiers in "public apartments" - including HOS apartments and the privatized PRH units - is around 14.5 percent. This is a far cry from the more than 80 percent of households accommodated in HDB apartments in Singapore. Most of these households are proud owners of their apartments and these units are spacious and far superior to Hong Kong's HOS homes. HOS white-form applicants are subject to an asset limit of HK$1.96 million but taken together the implication is that Hong Kong's housing policy has now shifted to aiming at providing housing to the majority of Hong Kong's households. This constitutes a major policy shift.
An important background to all this is that Hong Kong home prices have climbed at a rapid clip for a long time. With housing prices outpacing incomes, the special administrative region government has now proposed to reduce the HOS housing prices to sever the link of HOS sale prices to market prices. As a result, instead of selling at around 70 percent of the market price they will sell at only about 52 percent of the market price. Since the government is encountering severe difficulty in increasing land supply, the housing shortage is not going away any time soon. With an increase in the number of households qualified for public rental or HOS units, and even more attractive prices, we can envisage that the difficulty of successfully buying an HOS flat or being allocated a public rental unit will only increase.
The recent debate indicates there is an increasing consensus for a need to somehow separate the public housing sector from the private housing market altogether. Public housing - whether public rental or HOS - is not supposed to lead to profit and certainly not speculative profit. To separate the two markets, some commentators have proposed extending the "embargo" period in which the owner must not resell, except at the original price and to the Housing Authority.
Actually, to separate the two markets, no embargo is necessary. What is necessary is to make sure the buyer of an HOS apartment actually lives in the unit and that he or she must not own any property directly or indirectly, and ensure any resale is only to a household that qualifies to buy. Moreover, buying an HOS apartment should be a once-in-a-lifetime chance. If one has used it up, one will have lost the right to buy another HOS apartment, or at the very least, one must wait for decades before one can buy again.
The SAR government must face the fact that, with its political environment, it will never be able to create land as fast as Singapore can. Given that land resources at its disposal are much more limited, it needs to be much more efficient. That is: It should strive to avoid letting a single public housing apartment slip outside the target group it intends to serve.
(HK Edition 07/17/2018 page8)