Silk Road ditties strike a chord
Updated: 2018-07-13 07:14
(HK Edition)
| | | | | | | | | |
| --- | --- | --- | --- | --- | --- | --- | --- | --- |
|   | | Print | | Mail | | Large Medium  Small | 分享按钮 | 0 |
An eclectic mix of musicians from HK and elsewhere are trying to connect the dots between different cultures along the ancient trade route from China to Central Asia. Neil Li reports.
While some cultures such as Japanese and French are easily accessible in Hong Kong, others like Uzbek and Afghan are less known. Through music performed on ancient instruments, a local music ensemble wants to introduce and educate more people in Hong Kong about the cultures and sounds found along the Silk Road.
The Nur Collective, comprising three Hong Kong musicians plus three others, is a new and unique addition to the music scene in Asia's world city. Nur translates as light in Arabic. The group came together out of a search for fellow musicians who enjoyed playing tunes and instruments found in many cultures of Central Asia.
"We had the opportunity to learn music from that particular area - you can call it the Islamic world - which fascinated us. We wanted to play it and naturally hoped that more people in Hong Kong would know about it and appreciate it," says Eugene Leung, who plays the Uzbek dutar, a traditional long-necked lute with two strings. He had met Musa Genc from Turkey and Elnur Hajiyev from Azerbaijan by chance and found they were keen to play their own indigenous music in Hong Kong. With Genc and Hajiyev on board, Leung felt they had the numbers to form a band and that was how The Nur Collective began.
Instrumental variations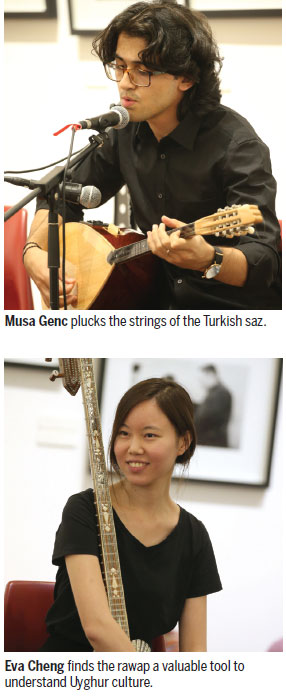 Leung got to know about the dutar when he took a course in ethnomusicology in London where he studied music from Afghanistan, Central Asia and Iran. He was drawn to the rich sound that the seemingly basic instrument produces and it got him interested in the so-called "Silk Road" music.
Eva Cheng, another member of the group, fell in love with Uyghur music when she lived in the Xinjiang Uyghur autonomous region for a year. She plays the rawap, a long-necked stringed instrument that sounds similar to the pipa. While the pipa has four strings, the rawap has seven, which gives it a louder and more high-pitched sound.
Besides the dutar and rawap, the lineup of instruments also features two Arabic ouds (a short-necked, pear-shaped stringed instrument), a darbuka (a single-headed percussion instrument), a Turkish saz (a long-necked lute similar to the dutar) and a Turkish ney (a type of flute that's been in existence for over 4,000 years). While the instruments may seem exotic, Cheng says what makes them truly unique is the cultures they embody.
"The instruments are linked to the people and their culture. I don't believe the rawap itself is anything special, it's about the Uyghur music that it is connected to," she explains.
Blending cultures
Variations of these instruments can be found in a number of countries along the Silk Road, the ancient trading route that once connected the East and West, as the cultures found along the way have influenced each other's traditions and music. For example, the oud is commonly used in Egyptian, Syrian, Iraqi, Arabian and Persian music among others. However, the instruments used by The Nur Collective are not usually played together, so it was a challenge to cohesively incorporate them into pieces to be played together.
"It's an experimental process that takes some effort," says Leung. "We have reference versions on recordings so I would transcribe it and write a score for our instruments. Then we would try it out and see what works and what doesn't. We play around with drafts and modify it as we go along."
At a concert held at the University of Hong Kong last month, the group demonstrated a wide musical repertoire, playing classical, secular, devotional and folk songs from a number of cultures including Turkish, Uzbek, Uyghur and Pakistani. They performed both solo and ensemble pieces, which gave their audience a picture of the wealth of music from that region. Although none in The Nur Collective band are professional musicians, they are knowledgeable and passionate about the history of their instruments. The audience was treated to loads of information about the provenance of the instruments and songs.
The group produces mystical sounds, not necessarily the type to bop to, but rather music that listeners can feel and sense. While the music is quite somber at times, it can also be lively and festive, depending on the nature of the song.
Sacred sounds
The musicians hope that the audiences get round to appreciating the spiritual side of their music rather than treating it as simply entertainment.
"It's also the original purpose of such music because music and literature are considered sacred in Central Asia. It's their way of communicating with God," says Cheng, adding they too hope to inspire a similar sense of spirituality in their audience.
In addition to giving more performances in the future, the ensemble is hoping to arrange master classes with professional musicians in the genre so that more people in Hong Kong can see and hear their music in action.
Leung points out that Hong Kong's interest in Central Asia and music from the region is on the rise. With people getting increasingly exposed to social and political developments in the region, "we add another dimension by bringing a more emotional, spiritual understanding of these cultures to the local audiences".
"In Hong Kong, we are used to thinking of ourselves as an East-West bridge. But there are lots of ways to connect and I think the ambiguity and continuum of cultures that you see along the Silk Road are things that Hong Kong can learn from as well," says Leung.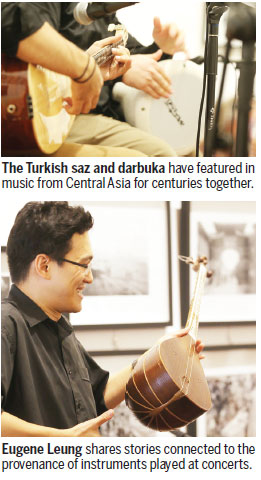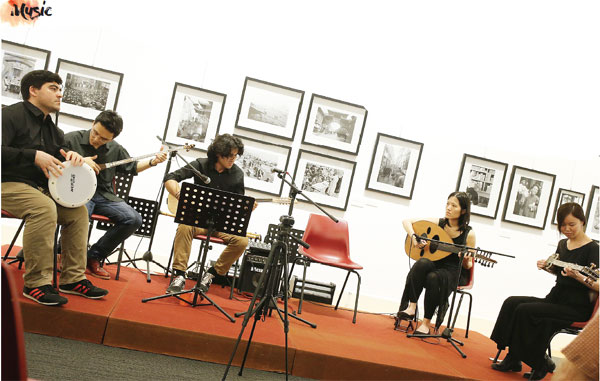 The Nur Collective, comprising Elnur Hajiyev, Eugene Leung, Musa Genc, Alicia Lie and Eva Cheng, perform at the University of Hong Kong. Photos by Edmond Tang / China Daily
(HK Edition 07/13/2018 page10)