Electric vehicle adoption stalls
Updated: 2018-06-25 07:21
(HK Edition)
| | | | | | | | | |
| --- | --- | --- | --- | --- | --- | --- | --- | --- |
|   | | Print | | Mail | | Large Medium  Small | 分享按钮 | 0 |
Air-pollution caused 1,700 deaths in 2017. Despite incentives, EVs constitute only 2% of registered vehicles. Lukewarm policy, transport lobbies in LegCo, battery-failure under HK's weather and driving conditions, plus insufficient charging facilities, retard EV progress. Meanwhile, Shenzhen bus fleets and taxis have switched to battery-power already.
Sylvia Chang reports.
Roadside air pollution in Hong Kong is mainly caused by commercial conventional fuel vehicles emitting suspended particulates and nitrogen dioxide (NO2), which cause severe respiratory diseases.
Last year, more than 1,700 deaths were linked to air pollution. Replacing conventional fuel vehicles with clean energy vehicles, including electric vehicles (EVs), is vital to reduce air pollution and protect public health.
Although ideal for the environment Hong Kong has only about 11,000 EVs, less than 2 percent of the city's registered vehicles. Why the lag despite a pro-EV policy?
Public transport pollutes
Commercial vehicles and franchised buses account for about 95 percent of the respirable suspended particulates and nitrogen oxides emissions of the local vehicle fleet, government documents say.
Commercial electric vehicles enjoy 100 percent First Registration Tax exemption. The Pilot Green Transport Fund subsidizes half the purchase of a vehicle. Since Hong Kong began testing electric buses in 2010, only 38 e-buses were purchased for trial runs. Of that, 26 e-buses have started operations, while the remaining buses may commence operation within the year.
No regulatory pressure
Bus companies in Hong Kong are privately owned and don't have sufficient commercial incentive or regulatory pressure to convert to e-buses.
"Licenses to operate a public vehicle are traded at millions of dollars per vehicle, and the fares that can be charged are strictly regulated," said Mark Webb-Johnson, co-founder and chairman of Charged Hong Kong, a non-profit organization devoted to promoting the adoption of EVs to better air quality in town.
The price of a single-deck electric bus with installation of the charging facility is about HK$5 million, which is around 2.5 times that of the conventional bus. As at the end of January, only 116 electric commercial vehicles had been licensed, according to a Legislative Council report.
In Shenzhen, across the border in the Chinese mainland, State-operated transport companies switched the bulk of their 16,000 buses and two thirds of their taxi fleet, to electric power. Bloomberg New Energy Finance projects that by 2025, China will run 99 percent of the world's battery-powered buses.
Drastic fall in private EV
In the current Budget, the first registration tax (FRT) concession for electric private cars remained unchanged at HK$97,500, first capped last year.
Before that, from 1994, the FRT had been waived in full for electric private cars. The policy change was to discourage private car ownership in favor of public transportation, and to limit road traffic congestion. The converging price levels between electric and conventional fuel private cars was also a factor.
The reduced FRT concession led to a drop of 96.8 percent in newly registered electric private cars, from 1,560 between April and October in 2016 to 49 during the same period last year. For Tesla alone, the number of newly registered cars for the full budget year dropped from 5,596 in 2016 to 50 last year.
"In promoting the use of electric private cars, the policy may not work in the short term. But it may prove effective in the long run," said Eric Cheng Ka-wai, professor of the Department of Electrical Engineering in the Hong Kong Polytechnic University.
The FRT concession of HK$97,500 discourages purchase of electric private cars above HK$400,000. But for cars under HK$400,000, it is cost-effective. "That leads to a rising demand for inexpensive electric private cars," said Cheng.
Cheng didn't expect a sales rise of electric private cars in the next one or two years. When inexpensive electric models enter Hong Kong, more people would be willing to buy.
EV growth constrained
Currently there are about 11,000 EVs supported by 1,800 public charging lots. That is a ratio of seven EVs to one charging lot. Cheng of PolyU said one charging lot can serve two EVs. It takes one night to fully charge an EV. It is impractical for multiple EVs to share one charging lot at the same time, said Cheng.
Most Hong Kong parking lots don't have charging stations. Installing a standard charger in an individual parking space needs to be approved by the owners and management of the property, after long discussion and complicated paperwork.
The number of standard chargers in Kwun Tong is the highest among all 18 districts in Hong Kong. As of March, about 219 standard chargers were installed in Kwun Tong. The district may have adequate parking space and sufficient electricity supply, said Cheng. A smooth traffic flow for the property management is important too, he added.
Webb-Johnson agreed. "Without either legislative support, or pressure from increasing numbers of EV owners demanding chargers, little progress can be made. This affects both commercial and private vehicles."
Limited charging space
China Dynamics, a Hong Kong-based EV technology provider, is working with private organizations and charity foundations. Tony Cheung Ngan, chairman & CEO of China Dynamics, wants to become the "Apple in EVs." He aims to sell 50 EVs this year. Most of his vehicles are 12-meter and 8-meter-long shuttle and tour buses.
One challenge of promoting electric buses, Cheung said, is the lack of space for charging generators. A nursing home is a potential client of his company. Although located in the New Territories, its parking lot is only 400 square meters - just enough for five 12-meter-long shuttle buses.
EV operators usually set up their own charging facilities, working with the two power companies: Hong Kong Electric and the CLP Group. The power distribution grid is long established and efficient. There is no economic justification to substitute this with local high-power generators.
EV trials alarm
Malfunctions have dogged trials for e-buses since 2010. The island's climbing roads and traffic stops on slopes, plus high air-conditioning load, impose extreme stress on electric engines and batteries, beyond their design capacity.
What works well elsewhere fails under Hong Kong driving conditions, high heat, humidity and storms. Over the trials, e-buses hit headlines frequently for failures: stuck doors, bursting screw bolts, and stalled vehicles.
Cheung said such trials are much needed, as safety and reliability are key factors in public transport. China Dynamics supplied the power system to the Hong Kong Productivity Council for its "HK Brand" e-bus project in 2014. A year later, the bus battery caught fire, triggering public alarm about the safety of e-buses.
Batteries vulnerable
"Hong Kong is a hilly city and has months of wet season. How to make uphill turns and how to prevent moisture on batteries, are among the most important issues to consider," Cheung said. Those factors need to be assessed when importing e-buses into Hong Kong, Cheung added.
Daniel Cheng Man-chung, honorary president of the Federation of Hong Kong Industries, said Hong Kong should "take the early pilot measures with a spirit of adventure," instead of "being conservative and seeking 100 percent safety assurance." He believes changing the public mindset is the key.
Cheng is a member of the Steering Committee on the Promotion of Electric Vehicles, under the Environmental Protection Department. He owns two Tesla cars and is a high-tech enthusiast. "EV batteries would mature gradually, leading to more production of EVs," said Cheng, noting that production scale will lower the cost of electric private cars.
"While there are technological challenges, there is little reason not to be much more assertive in taking baby steps," said Evan Auyang, chairman of Civic Exchange, a think tank for policy research on the environment and public health. He cited hybrid technologies as a solution. "As battery technologies improve, the diesel engine will shrink, until it disappears one day."
Electrical engineer shortage
Cheng expected the number of EVs in Hong Kong to grow to 100,000 from the current 11,000, in the next three to five years. He worries that the lack of electrical engineers will create a crisis for maintenance. "Traditional automotive engineers have a mechanical engineering background, whereas electrical engineers need training in electronic power technology," he said.
A large number of electrical engineers will be needed in five years, but it would be too late to prepare related courses then, as it takes one to two years for a university to organize teaching resources, he added.
EV technology training for fire crews, policemen and traffic control personnel, should be considered too, said Cheng. He urged the city to be fully prepared for the coming EV era. Hong Kong's EV ecosystem is inadequate.
Contact the writer at
sylvia@chinadailyhk.com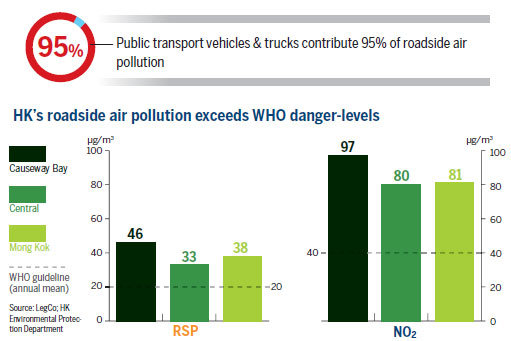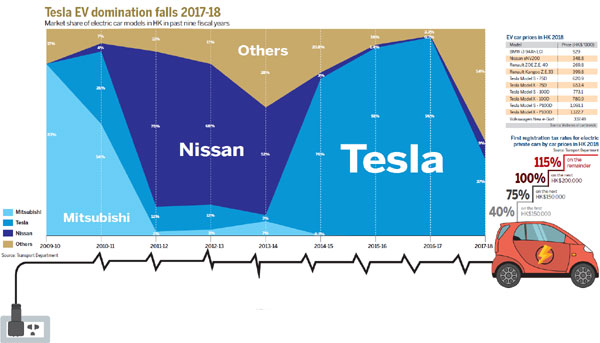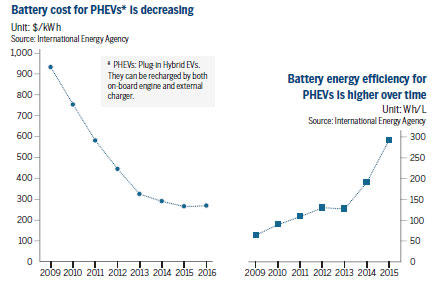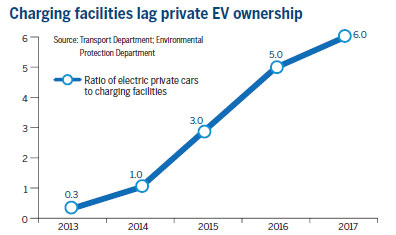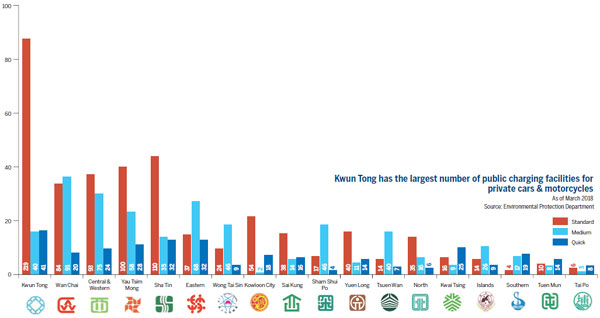 (HK Edition 06/25/2018 page8)