Criminal justice system works, keep it that way
Updated: 2018-06-14 06:58
By Richard Cullen(HK Edition)
| | | | | | | | | |
| --- | --- | --- | --- | --- | --- | --- | --- | --- |
|   | | Print | | Mail | | Large Medium  Small | 分享按钮 | 0 |
Reflecting on recent sentencing of Edward Leung, Richard Cullen points out how lax laws have bred violence in London
Edward Leung Tin-kei and co-accused Lo Kin-man were recently convicted of rioting; Leung was sentenced to six years in jail while Lo received a seven-year sentence.
The charges and sentences arose out of the Mong Kok riot which commenced on the evening of Feb 8, the first day of the Lunar New Year, in 2016. All those charged had access to robust legal defense expertise. They were convicted after a jury trial in the High Court lasting 54 days! Swift, vindictive justice this was not.
Since the sentences were announced there have been strong protests about the severity of the penalties imposed, especially on Leung who was the former spokesman for Hong Kong Indigenous - a localist group. Incidentally, none of those protesting has paused to note the courage of the out-numbered policemen who brought the riot under control using the minimum force required, at serious cost in terms of injuries for a number of them.
The array of people thus protesting included the last governor of British Hong Kong. Chris Patten is quoted as saying: "It is disappointing to see that the legislation is now being used politically to place extreme sentences on 'pan-democrats' and other activists". The relevant legislation is the Public Order Ordinance, the most significant elements of which were passed by the British Hong Kong government to give additional powers to police during the riots in Hong Kong in the mid-1960s. Shortly before the 1997 handover, the powers the British enjoyed under the ordinance until 1995 were watered down. The Provisional Legislative Council reversed these 11th-hour amendments in 1997.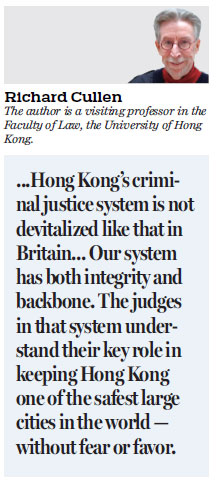 Patten's accusation that the Hong Kong Special Administrative Region judiciary is now in the business of applying the law with plain political intentions is not new. This is a reiterated claim. Hong Kong's former director of public prosecutions Grenville Cross has responded to similar past claims and I cannot improve on his observations: "As he (Patten) should know, Hong Kong's judiciary is fiercely independent, is comprised of men and women of integrity and is well regarded throughout Asia and beyondOnce he has cooled down, Patten may wish to withdraw his slur, and to give the judiciary his unequivocal support, given its valiant work in upholding the rule of law in Hong Kong." I can only add that it is disappointing that Lord Patten (as he now is) has lately demonstrated a comprehensive failure to heed this robust, sensible advice.
Patten also indulged in some legalized word-weaving about when a riot may not be a riot as he discussed the Leung case. Like millions of Hong Kong residents, I watched the Mong Kok riot unfold on live television. I watched these events erupting (about a kilometer from where I lived) for several hours. It was riveting, terrifying viewing. What I saw unfolding unreservedly satisfies the "duck test": If it looks like a duck, swims like a duck and quacks like a duck it probably is a duck. It is sheer foolishness to suggest that what happened that evening was not a riot. Sophisticated pedantry about word meanings cannot cut through this severe reality.
The judiciary has, in these Mong Kok riot cases, tackled its demanding role with manifest professionalism and clarity. The Hong Kong judiciary still understands that two paramount concerns for any properly working criminal justice system are punishment and deterrence. They are paramount because such a system plays a pivotal role in maintaining public order for all - and especially for the vast law-abiding majority. We have a fundamental right to enjoy freedom from fear in all our public spaces to the maximum extent possible. We rightly expect our courts to play a central role in securing this.
Theodore Dalrymple is the pen-name of a retired British prison psychiatrist, Anthony Daniels. Dalrymple is arguably the best essayist of the British social and political condition since George Orwell. He has written extensively, scathingly and convincingly on the awful systemic failures now embedded within the British (and French) criminal justice system(s). His writing draws heavily on his unrivalled direct clinical experience. Here is a brief sample: "The murder of a policeman by a Muslim terrorist on the Champs-Elysees is another illustration of the laxity of the French criminal justice system - a laxity that it shares with the British system, and which demonstrates a corrosive lack of cultural self-confidence". The murderer, Karim Cheurfi, committed an extraordinary array of violent crimes over many years; he was regularly paroled until he killed the policeman in 2016. "People like Cheurfi," Dalrymple explains, "view themselves as victims rather than perpetrators".
You can review the striking bottom-line benefits which follow, in part, from maintaining an effective criminal justice system by Googling "Hong Kong's most unsafe areas" (consensus, there do not seem to be any) and then "London's most unsafe areas" (put on your reading glasses - copious lists detail knife, gun, robbery, rape, mugging etc. risks across dozens of London suburbs).
We are genuinely fortunate that Hong Kong's criminal justice system is not devitalized like that in Britain (which Patten would have us emulate, it would seem). Our system has both integrity and backbone. The judges in that system understand their key role in keeping Hong Kong one of the safest large cities in the world - without fear or favor.
(HK Edition 06/14/2018 page9)