Healthcare next in line for tech transformation
Updated: 2018-05-10 07:15
By Luo Weiteng in Hong Kong(HK Edition)
| | | | | | | | | |
| --- | --- | --- | --- | --- | --- | --- | --- | --- |
|   | | Print | | Mail | | Large Medium  Small | 分享按钮 | 0 |
Having a lead in communications, fintech, mainland tech titans set sights on medical breakthroughs
For years stories of how China leapfrogged the rest of the world - from credit cards to digital payments, from landline phone network to 4G - have been trotted out as a clear testament to the sheer power of technology.
Today, there are high hopes disruptive technologies will wave magic wands on a new frontier - the country's "wet market-like" public hospitals, where pre-dawn queues, long waiting times and lightning-fast consultations make seeing a doctor a virtual nightmare.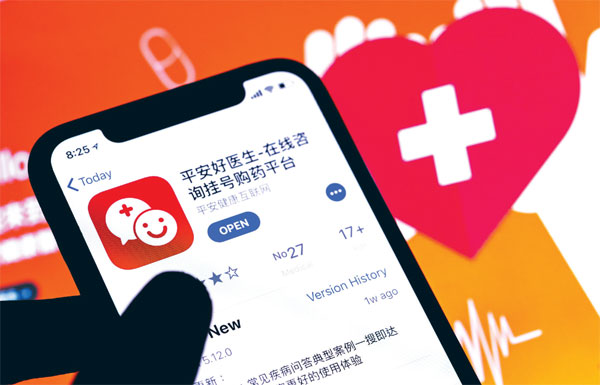 A user downloads Ping An Good Doctor in the app store. The online healthcare platform and its Tencent-backed rival We Doctor represent the digital makeover of China's under-doctored, underfunded and overstretched hospitals. Anthony Kwan / Bloomberg
As the healthcare sector embraces a "tsunami" of artificial intelligence and big data, the world's second-largest economy today leads the pack in achieving the next healthcare breakthrough. The government and stalwart innovators are bankrolling sterling efforts in artificial intelligence and big data that could essentially blaze a new trail in the sector, said Sigal Atzmon, president of Medix Group, an international company with a Hong Kong regional base that offers medical case management.
"Over the years, the United States has been seen as the impeccable forerunner for a big bang coming in the healthcare sector, in terms of money invested in digital healthcare, as well as the number of groundbreaking startups," said Atzmon.
"When it comes to the implementation of trailblazing technologies in the healthcare sector, however, China emerges as a clear leader," she noted.
Unlike the US, where people have the "whole existing infrastructure legacy" that must be taken down - and many stakeholders who may not favor change - China has much more freedom to chart its own course and implement game-changing technologies thanks to the "late-mover advantage", or how innovative newcomers outperform pioneers, she reckoned.
The global spotlight is on the country's aggressive technological push, as pioneers ranging from the tech titan trio - Tencent, Alibaba and Baidu - to China's leading voice-recognition firm iFlytek, and insurance conglomerate Ping An Insurance make healthcare a long-term priority and use the country as a living laboratory for cutting-edge technologies.
The Ministry of Science and Technology last November identified the tech trio and iFlytek as the first members of a national artificial intelligence team. Tencent was tasked to focus on medical diagnosis, Baidu to specialize in autonomous driving, Alibaba in smart-city and iFlytek in voice intelligence.
During the annual parliamentary sessions in Beijing in March, technology heavyweights - including Tencent's Pony Ma Huateng, Lenovo's Yang Yuanqing and iFlytek's Liu Qingfeng - said they see technology as a remedy to make the country's hospitals better, drugs cheaper and people healthier.
Tencent-backed We Doctor and Ping An's Good Doctor represent the digital makeover of China's under-doctored, underfunded and overstretched hospitals. Patients reportedly face lengthy waits or even have to pay large sums of money to middlemen to make appointments with renowned specialists.
The pair of online healthcare and medical platforms - encompassing medical advice, appointment booking, drug tracking and niche services - is virtually releasing some of the pressure on the nation's healthcare system.
Good Doctor made a market debut in Hong Kong on Monday through a highly anticipated initial public offering that raised as much as $1.12 billion and valued the company at $7.2 billion in market capitalization. Its major rival We Doctor is said to seek a Hong Kong listing within the year, targeting a valuation of up to $6 billion.
To boost its vision of building up a "smart hospital", Tencent teamed up with Shenzhen's Nanshan District People's Hospital in March to establish an AI medical laboratory in the clinical-care field. The tech behemoth also tried out AI-backed cancer-detection product Miying in the hospital last year.
The medical imaging application is currently used in reading CT scans and screening for four types of cancer - including the country's most common cancer - of the lung - in 60 hospitals across 20 provinces. Tencent is looking to add an AI-assisted diagnosis function to it.
Likewise, Alibaba Cloud, the cloud computing arm of Alibaba Group, rolled out ET Medical Brain last year to help "battlefield-like" public hospitals in services like medical imaging, drug development, hospital management and even virtual medical assistants for patients.
Behind the technological push is a population of 1.4 billion, which is aging more rapidly than ever before and cries for accessible, proper and high-quality healthcare services, Alex Ren Huichuan, Ping An president, said at the conglomerate's annual results conference in Hong Kong.
"Over the coming decade, spending in healthcare sector is on track to account for as much as 11 percent of China's gross domestic product," said Ren. "Technology is also a quick-fix to bridge the chasm between the country's developed health services in large cities and its grassroots rural care."
As the report from consulting firm McKinsey showed, China's healthcare spending is projected to grow to $1 trillion in 2020. This moves in line with a nation-wide healthcare reform, which began in earnest in 2009 and has entered "uncharted waters". The country is expected to complete a far-reaching transformation of the system by 2020.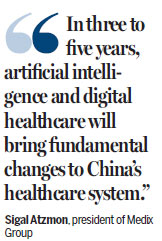 The market size of "smart healthcare" is poised to hit $8 billion by 2020, with a compound annual growth rate of 52.7 percent over the coming five years. Advances in AI will create extra economic value of $461 billion for the overall healthcare sector by 2035, boosting its growth from the current 2.2 percent to 3.4 percent, according to data from Beijing-based Intelligence Research Group.
"In three to five years, artificial intelligence and digital healthcare will bring fundamental changes to China's healthcare system. User-friendly platforms like Good Doctor and We Doctor just mark the very first move," Atzmon said.
"The implementation of major new technologies in offering accessibility to electronic medical records and triage, primary care and specialist care, personalized medicine, tele-health as well as on-line prescription refills is far from the whole story," she said. "The current firefighting medical system is designed to tackle health fires only when they are already ablaze. But digital healthcare services could go one step further to disease prevention, keeping people healthy away from hospital beds."
The world's second-largest economy today is said to face the largest diabetes epidemic in the world; nearly 11 percent of its population suffers from the metabolic illness while roughly 36 percent are pre-diabetic.
"This is where technology could come in, by aiding the country's overworked doctors to do eye tests for millions of diabetics, turning pre-diabetics around to non-diabetics, and remotely monitoring their symptoms," said Atzmon.
China's trailblazers have one advantage in shaking up the healthcare industry, compared with US titans like Alphabet, Amazon, Microsoft and IBM - easier access to big data.
"Looking ahead, advances in technologies would lower the price of getting your DNA sequence down from $1,000 to no more than $100 or even zero. People would have their full genetic data and family medical history on the cloud," Atzmon reckoned.
"This is how technology would become a real diagnostic tool. The doctors will use billions of doctors' brains and billions of experiences of other patients on the cloud to be a better doctor. Patients will not see the doctor without knowing the basic information as to what treatment has worked for people similar to them the world over, and what would make the best treatment based on their own personal features. This is a true revolution," she observed.
sophia@chinadailyhk.com
(HK Edition 05/10/2018 page14)