Controlling the future
Updated: 2018-05-04 06:50
(HK Edition)
| | | | | | | | | |
| --- | --- | --- | --- | --- | --- | --- | --- | --- |
|   | | Print | | Mail | | Large Medium  Small | 分享按钮 | 0 |
The government's Smart City Blueprint may offer Hong Kong the best approach to its growing population and the spiraling complexity of living - but data security remains a thorny issue, Wang Yuke reports.
Smart technologies are penetrating just about every aspect of modern life. There are apps to predict if you're in danger of a stroke and apps that keep you sane navigating city traffic madness.
As "smart cities" go, Hong Kong is up at the top - looking to embrace new ways to make life safer, smoother, and more comfortable.
The Hong Kong government's Smart City Blueprint was released only last December, but already efforts are underway to assess the most promising aspects for incorporation. There are a lot of new technologies to choose from.
At a time when Artificial Intelligence (AI) and quantum computing are making more frequent appearances above the horizon, the evolution of smart technology is getting more and more interesting.
Late last month, Google and Verily Life Sciences revealed research showing that retinal scans using Google algorithms showed promise for diagnosing high blood pressure, strokes and heart attacks.
It's one of many applications that are so effective - doctors already use them to validate their own diagnoses.
One of the global leaders in the field is Huawei Business Group. Zheng Zhibin, general manager of the company's Smart City Global Business Department, sees great potential for wearable devices that send early warnings to people who are getting sick. Computerized devices can spot hypertension and even heart disease.
Wireless medical devices today can produce an electrocardiogram, monitor respiration, blood pressure, pulse rate and other physical conditions. "They can send the health data to the city's medical center or to hospitals. If the system spots an abnormality, you can be warned before you even feel it," Zheng said. Your toothbrush can tell you if you've picked up a virus.
People don't have to face grueling commutes to health-care centers. Wearables can send the information for diagnosis to the health center. There's a smart health care cloud platform that can be used for routine checkups.
Zheng predicts that before long, doctors will be able to send prescriptions through the cloud-based platform. The way Zhang sees it, face-to-face medical consultation can be minimized, when the illness is minor.
Unlocking the grid
Another of life's annoying aspects where smart-technology can be a big help is traffic - with the side benefit that we may not need medication to treat the huge headache of navigating through Hong Kong's rush hours! The daily road to Perdition - to the office and back home - evokes cries for relief from harried commuters. Thankfully, transportation is a big deal in the Smart City Blueprint.
At Hong Kong International Airport (HKIA), travelers are pressed to whip out their passports or identity cards before catching a flight at check in, immigration and even boarding. By the second quarter of this year, travelers will need to show their passports or ID cards only once - at the first point of contact. There'll be a facial scan, and after that passengers will be able to proceed smoothly through the boarding process.
The facial scan captures the full biometric profile of passengers. The scan is checked against the passenger's travel documents and a "travel token" pops up, to smooth the way through the remaining stages of boarding.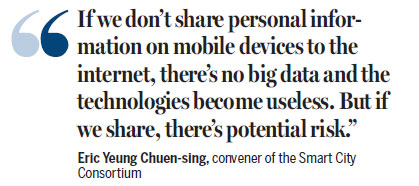 "Your ID is your face," said Vivian Cheung, deputy director of Aviation Development for the Airport Authority Hong Kong. The new technology was announced during the Connected City Conference in late January, this year.
The Airport Authority has made headway in streamlining procedures at the airport to help passengers get on their way quickly, including foreign visitors. The "Smart Departure" system, launched last year, allows travelers to use biometric-enabled e-gates at the outbound immigration checkpoints. Arriving visitors from 74 countries are issued, upon arrival, a landing slip bearing a "Smart Departure" logo. When they are leaving Hong Kong, they need only to present their landing slip. Facial recognition technology compares a passenger's face on the image taken on arrival with the photo on their passport or ID card, to validate their identity.
Moreover, HKIA is already testing driverless tractors to transport baggage from terminals to aircraft, remarks Eric Yeung Chuen-sing, convener of the Smart City Consortium. Yeung believes the driverless vehicles functioning under AI are more reliable than vehicles manned by human drivers. The likelihood for robots to make mistakes is slim because they are programmed to move along specific routes, he said, but human errors frequently cause delays via clashes with aircraft on the tarmac.
Wired for speed
On city streets, vehicles will communicate with other vehicles through the 5G system, predicted Alok Jain, a fellow of the self-run public policy think tank Civic Exchange. The 5G technology includes the fastest-ever data transfer rate, which can be measured in gigabits per second instead of megabits. This means 5G is 100 times faster than 4G. Networks using 5G are capable of processing high volumes of data with minimal delay of transmission or interruption (low latency). Relying on 5G wireless technology, information can be exchanged between vehicles or even buildings effectively and efficiently - essential for coping with the worsening congestion and the attendant risk of more traffic mishaps.
The changeover will come slowly, since 5G network testing is in its early stage, and standards are still to be established. Yeung's concern is that only when all vehicles on the road have the transmission equipment installed and actively in use can communication among vehicles really be effective.
A combined use of the fast 5G wireless networks and so-called geo-fencing technology - which for decades has been used to safeguard livestock when being transported - will help eliminate traffic pile-ups on highways and crowded streets. The pairing will smooth the process of dealing with traffic mishaps, Jain said.
These developments are only the beginning of efforts to address the maddening traffic problems of today. Looking forward 20 years, Jain said, vehicles will travel through tunnels deep underground. A high-speed, underground public transportation system will carry passengers and their cars on autonomous electric "skates" capable of speeds up to 200 km/h. Elon Musk's Boring Company is already developing tunnels and so-called hyperloop trains to bring the technology into reality.
But the concept has drawn some skepticism. The cost of digging tunnels is potentially enormous, up to a billion US dollars per mile. Musk says his technology can do it for $250 million, with the diameter of the tunnel reduced by a factor of two or higher. He also contends that it is possible to stack the skates one on top of another to increase capacity - though this will require a system to offload cars in the stack heading for different destinations.
Wilfred Lau, chairman of the Association of Consulting Engineers of Hong Kong, agrees that Musk's concept could work in Hong Kong. "Tunnel transport is suitable for inter-city travel," Lau said. He has actively consulted the government on development and delivery of future iterations of the city. His vision is that a hyperloop tube can be built from Hong Kong Central to Shenzhen with a few stops in Kowloon and the New Territories.
But still, it won't be easy to burrow deeper underground for a sprawling tunnel network. This is "more challenging in Hong Kong, which is mountainous and has high population density", said Zhang Lei, a researcher in the Division of Smart Cities at Hong Kong Polytechnic University. Because of the topography and high density, Hong Kong is vulnerable to building subsidence and landslides. Earthquake-prone areas and places where fracking for oil is currently underway are susceptible to instability. Deep tunneling could cause different levels of damage to surface buildings, potentially creating safety hazards, Zhang said. While Hong Kong may not be ideal for tunnel transportation, he insists that advanced satellite and radar technologies would allow real-time monitoring of the bedrock's stability and the surface infrastructure's movement.
There are other practical issues. For example, to popularize driverless vehicles will be accompanied by a sea change in the whole industry, such as massive layoffs, said Zheng of Huawei. Building a smart city is costly, which is particularly true for Hong Kong. "The city had been quite developed before the smart-city concept was introduced, which means we need to replace the old infrastructures and the aging installations with smart ones," Yeung said.
Despite the evident difficulties, the local government and developers continue to push the smart-city concept as the only promising approach to the growing population and the spiraling complexity of living.
Contact the writer at
jenny@chinadailyhk.com
(HK Edition 05/04/2018 page7)