Troubled kids: The mind at the end of its tether
Updated: 2018-04-27 07:23
(HK Edition)
| | | | | | | | | |
| --- | --- | --- | --- | --- | --- | --- | --- | --- |
|   | | Print | | Mail | | Large Medium  Small | 分享按钮 | 0 |
There are not enough school counselors to handle the stress and strain typical among young people. The job falls to teachers, who have neither the time nor the training to solve the problems. Nora Zheng reports.
Andrew (a pseudonym), a Form 2 student, was wailing again. Cindy's (who would like to remain anonymous) gut feeling was, "Oh no, not again." Teaching can be a drag - not because of all the preparation time, class time, staff meetings and supervision of extracurricular activities - but simply because dealing with kids can be a soul-destroying trial on top of everything else.
The burden of responsibility for handling all these episodes of kids acting out falls mainly on the teachers, who have almost no training in the field and scant resources to back them up.
Schools just don't have enough resources to help kids in emotional straits - especially in a traumatized climate where children all too often see no other option than to take their own lives.
Cindy had already gone through an episode with Andrew the day before. It took her hours to settle down the upset boy and after that she assumed everything would be OK, but she was wrong.
There was another kid who smashed a window with his fist after breaking up with his girlfriend. The rest of the students stood agape, staring at his bloody fist.
And here was Andrew again, with Cindy silently praying, "Please, don't hurt yourself, Andrew."
Andrew was tormented. He'd started dating Jane (a pseudonym) in November 2016. The young lovers were solid until March, when Jane said she'd had enough - or rather, she'd insinuated her intention by shrinking from close contact with Andrew and offering misleading excuses for turning down his invitations. Andrew, 13, was still dutifully trying to preserve the relationship, without a clue about what was really happening.
There were voluble arguments in the hallways - and classmates would find Andrew weeping. The teachers read it as: Andrew is in no mood for taking classroom notes.
Cindy, an English teacher with seven years' experience at a band three secondary school in Tin Shui Wai, knew that Andrew was volatile and potentially a danger to himself. She arranged for him to meet with a social worker twice, still perplexed as to why her best efforts were to no avail.
"I almost doubted myself, and wondered whether it was worthwhile talking with him for hours," Cindy said.
Busy teachers
Successful handling of youthful trauma demands empathy and an understanding of what young people are experiencing. "Humans are a social species. We rely on connections to survive," said Justine Campbell, a counselor, coach and positive psychology practitioner, who founded Mindquest Group, a well-being center in Hong Kong to help people reorient emotions and life goals. "However, it takes time to build connections."
Building that connection means time spent through "babysitting", apart from the normal routines of classroom duty.
Cindy felt like she was close to her breaking point back in April last year when Andrew was in meltdown. She was teaching 30 classes to students from three different grades every week. Then there was supervision of extracurricular activities, sports meets, cheerleader training, preparation for a Mandarin competition and, after all that, she was in charge of rehearsals for a school public performance.
She arrives at the school around 7 am, prepares her classes, attends an obligatory morning meeting, and then does morning reading with students. She has six classes a day, with the first starting at 8:25 am. The period between 12:55 pm and 1:50 pm is divided into half lunchtime and half advisory time. Classes end at 4 pm. For the next three hours, Cindy tutors students having trouble with their studies or she works with student organizations. From 8 pm to 10 pm, she finishes all the work that she didn't get done during the day.
Cindy always feels torn between chatting with her students and organizing extracurricular activities. Her long and futile heart-to-heart with Andrew was continually interrupted by other matters, for instance the rehearsal she is in charge of. While little Andrew bared his soul, the kids who were supposed to be in rehearsal were getting impatient.
Another assignment that falls to Cindy is school promotion.
Student enrollment has fallen, as it has almost everywhere. An expected surge in student enrollment from the Chinese mainland doesn't seem to have come yet. Hong Kong's ongoing low fertility rate has forced the government to close many schools due to lack of enrollment. Survival for many remaining schools means attracting new students and keeping up the numbers.
Cindy writes copy for the school brochure, rehearses student performance and organizes exhibition kiosks for opening day, hoping to create the best possible impression for students and their parents.
Elizabeth Quat Pui-fan, a lawmaker from the city's largest political party, the Democratic Alliance for the Betterment and Progress of Hong Kong, believes smaller class sizes would help to relieve the pressure and allow teachers to spend more time with their students.
The government started promoting the idea of having fewer students in class back in 2009. Studies validated the idea, predicting it would benefit both students and teachers.
A study done by Gary James Harfitt, associate dean of the Faculty of Education of the University of Hong Kong, in 2011 found that by lowering the teacher-to-student ratio, students would have more chances to take part in class discussions. The relationship among students in schools with smaller class sizes is shown to be better. Teachers are found to have lower levels of stress.
Yet some scholars caution that lowering such ratios has not been tested in Hong Kong and there are no guarantees kids will be better off, while the cost of delivering education will rise.
No counseling
Teachers cannot take the place of school mental health counselors. Teachers already have too many other responsibilities. More importantly, they don't have the training to be counselors.
Currently, some students, whose trauma goes deeper than social workers can handle, are referred to psychiatrists in public hospitals.
For regular kids going through the normal strains of adolescence, there is a waiting list of around 100 weeks or more for cases that are not triaged as urgent, according to the Hospital Authority of Hong Kong.
Effectively this means there is no support for a student experiencing the onset of a mental health crisis, especially if a student in crisis doesn't appear to be affecting other people around them.
When Cindy and the resident social worker had done all they could to get Andrew calmed down, all they had left was to give up and leave him alone - and move him away from the windows, as suggested by social workers.
"Increasing the staff of social workers and school educational psychologists is important," Quat insisted.
In 2016, around six to ten schools shared one educational psychologist, according to the Education Bureau of Hong Kong. In the 2016 Policy Address, the government promised to progressively improve the ratio of educational psychologists-to-schools to 1:4 for public schools. However, that is still not enough. Cindy said the educational psychologist can only visit her school every two weeks.
Educational psychologists are not responsible for dealing with students' emotional upsets in any case. The psychologist's primary job is to assess students who may be in need of special education, such us students with autism, learning disabilities and communication disorders.
"If we get more counselors in residence, and if these counselors could help us with students' emotional problems, we would feel more confident about handling the challenges," Cindy said. Lacking the expertise
A survey conducted by the Hong Kong Federation of Youth Groups (see sidebar) found that 43.9 percent of teachers said they didn't have expertise and techniques to deal with emotional outbursts from students.
"The results reflect that teachers need to be equipped with knowledge of psychology to identify and manage students' emotional problems," said Quat.
Only one psychology course is contained in the undergraduate program for teacher training, at the Education University of Hong Kong (EdUHK).
A former student of the university, now a teacher at a primary school, said the psychology course contained several academic theories which proved quite worthless for handing tough kids. In reality, there is no recourse but to turn to more experienced teachers.
The EdUHK just opened up a professional mental health development program in 2017. The course, however, is scheduled only on weekdays, with a three-day primary course and a five-day professional training course.
"I really want to take the courses, but the time is just not appropriate," Cindy said.
Andrew is lucky. He got through his emotional problems and went back to school in September 2017. However, not all the kids are as lucky as Andrew.
Students spend at least eight hours a day at school. If the teachers had more time to take care of their students, were equipped with adequate expertise to deal with emotional problems, and if the students suffering emotional problems could reach a clinical counselor in time, then some of the tragedies that happen when kids decide to end their lives could be averted.
Contact the writer at
wanying@chinadailyhk.com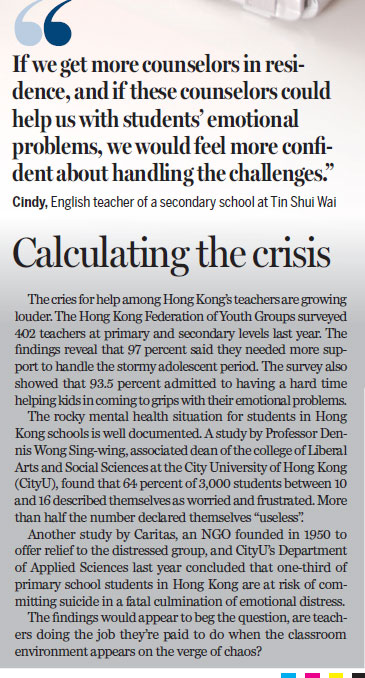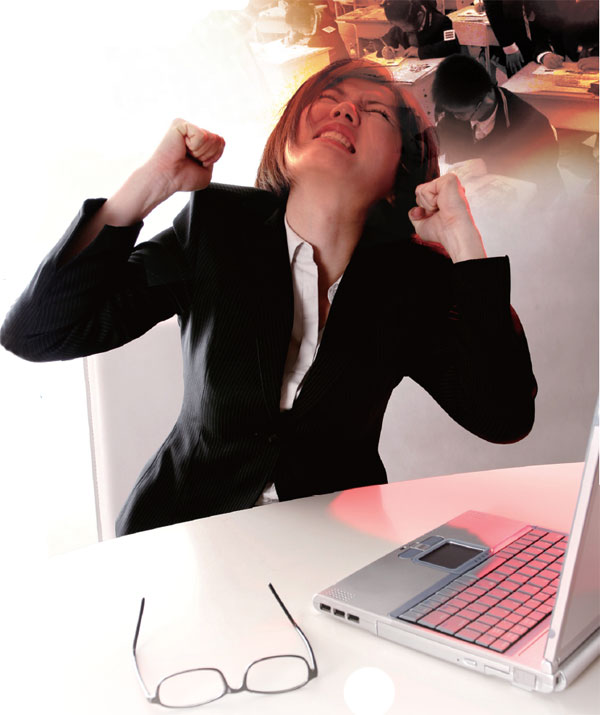 (HK Edition 04/27/2018 page6)