All land-supply options deserve consideration
Updated: 2018-04-20 06:18
By Christine Loh(HK Edition)
| | | | | | | | | |
| --- | --- | --- | --- | --- | --- | --- | --- | --- |
|   | | Print | | Mail | | Large Medium  Small | 分享按钮 | 0 |
Critical shortage of space means everything from brownfield sites to country park excision should be on table, writes Christine Loh
Good governance requires policy options to be properly explored and choices justified. Land-use planning is vitally important for society. It affects many interests and the outcome affects everyone's well-being.
The government's planning process has identified Hong Kong's land use and housing needs beyond 2030; it has so far not been able to find enough land for society's many needs. Increasing land supply is the current "hot" topic, especially as it relates to housing.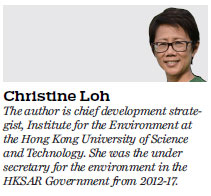 The government appointed a special task force to consider land supply. It has identified a range of options of how soon the land could be made available for development and the public consulted. The task force was created not because the government couldn't put a list together but it wanted non-government members to work out how to present them and get public reactions or buy-in on the more controversial options.
The task force is apparently batching options into near-term, longer-term and conceptual. It could just as well list them according to the degree of controversy. Some of them are not or should not be controversial in principle although details can be debated. Those should be prioritized for implementation. They include brownfields, privately held land banks and government-owned recreational land. The controversial options are reclamation, building housing on top of container terminals, and using country park land and reservoirs for housing.
In assessing options - beyond timeframes, technical viability and costs - an important perspective is to evaluate the likely benefits each option contributes to solving Hong Kong's existing urban problems, and what it would take to produce optimal outcomes in the city's best interests.
Let's consider those that could be implemented more quickly.
First, brownfield sites. These comprise damaged agricultural land in the New Territories being used for open container storage, vehicle depots, sorting for recycling, small-scale rural industries and such activities. The government's existing Hung Shui Kiu development plan already provides insight into what it takes to develop brownfields. Planning for sustainable outcomes, land resumption and ex gratia payments are needed. Relocation is also necessary, which is why the government is considering multi-story industrial buildings to accommodate those activities that Hong Kong needs. The experience gained from Hung Shui Kiu should help the government to articulate a new policy on other brownfields.
Second, land banks. It is essential that government works with the private developers, who hold some 1,000 hectares of agricultural land in the New Territories. These have not been developed because the developers must negotiate land premiums for lease conversions to commercial and/or residential uses with the government. The "fear of government-business collusion" should not be used to politicize this important option. It should be perfectly possible to design a transparent process. The Real Estate Developers Association is an important stakeholder and the government should work with it to draw up a sensible and acceptable process expeditiously.
Third, public recreational facilities. The government has been reassessing land leases to all recreational clubs to see whether and how the many sites could be better utilized and is currently consulting the public on the way forward - this in itself should not be contentious.
What is arguable is the suggestion to use the 170-hectare Fanling golf course for housing, the proponents for which presented this as a rich-versus-poor debate. This option may be an emotionally satisfying snub to the wealthy but changing the land lease to enable more players, not just the rich, to have access might be a better answer than taking a good sports venue away altogether.
The government is keen to get public support for reclamation to the east of Lantau Island and some initial planning has been explored. This option is long-term and the most expensive. What we still need to hear is how the land will be used and to what extent it can help to alleviate current urban problems. Thus, how much development can there be and what kind? How can it be environmentally sustainable? Who are being planned to live and work there? Can this high-cost option help to make Hong Kong a more liveable city as a whole?
Some folks advocate using the container terminals for housing and that this is a faster and cheaper solution than reclamation. This may be true from an engineering perspective but it is unviable unless and until the government has a clear policy on Hong Kong's future as a container port. Proponents will argue it would be unnecessary to reduce throughput because the terminals can still function as flats - they can be constructed on top of a high podium. Air pollution from ocean-going vessels, though much reduced due to cleaner fuels being used, will still have a negative impact on people living nearby, and giant seafront structures not only block wind flow, which helps to disperse pollution and cool the city, but would also be aesthetically unattractive.
Two other options are put forward as conceptual - covering-up reservoirs and excising country park land for housing.
Reducing reservoir capacity is a non-starter. With climate change and the likelihood of periods of drought, Hong Kong needs to keep its reservoirs and practice water saving to a higher degree to expand its own capabilities to supply fresh water.
There should be no ideological reason not to consider country park land near developed areas that have housing potential. The "opening the flood gates" argument can be allayed because there are very few technically suitable candidates of low ecological value. In exchange, lovers of country parks should use this opportunity to get the government to commit to declaring more land suitable for country parks, as well as allocating more funds to protect the ecologically sensitive areas that have long been neglected. There are no simple or "silver bullet" solutions. We must not make the perfect an enemy of the good. Certain options are comparatively workable: brownfields, private land banks, reclamation and responsible country park excision. We should retain all of these within our primary action list.
(HK Edition 04/20/2018 page12)