Mainland, HKSAR cheek by jowl in Bay Area push
Updated: 2018-04-17 06:30
By Wang Yuke in Hong Kong(HK Edition)
| | | | | | | | | |
| --- | --- | --- | --- | --- | --- | --- | --- | --- |
|   | | Print | | Mail | | Large Medium  Small | 分享按钮 | 0 |
Hong Kong, relying on its unique strengths, needs to look to the Chinese mainland's technological prowess and vast market to scale new heights in innovation and smart-city development, experts suggest.
With the highly-touted Guangdong-Hong Kong-Macao Greater Bay Area poised to roar off on a grand scale, debate has been raging on how the two special administrative regions and the nine-city cluster in the Pearl River Delta can leverage their potential to the fullest and make the project exemplary for future national development, and consolidate the country's position in innovation and technology on the world stage.
Pundits in Hong Kong's innovation and technology industry are unanimous in that the city and the Chinese mainland are inseparable in the process, complementing, and highly dependent on each other in the region's future development.
"The Guangdong-Hong Kong-Macao Greater Bay Area will serve as a bridge, offering Hong Kong easier access to the sizeable mainland market for its innovative technologies," said Eric Yeung Chuen-sing, convener of Smart City Consortium (SCC) - a professional organization inaugurated in Hong Kong some two years ago to foster the building of a smart city and advise the government on relevant policies and measures to pursue that objective.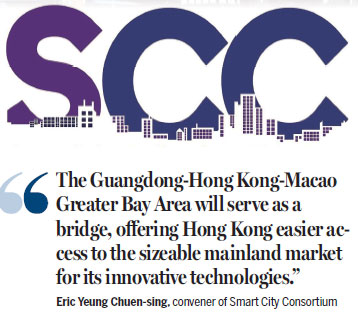 "But, having talked to some local entrepreneurs, I realize that many of them are unable to draw investment and even make ends meet as they only target Hong Kong customers. It's still harder for startups," he said.
His views were echoed by Zheng Zhibin, general manager of Smart City Global Business Department of Huawei Enterprise Business Group - an information and communications technology solutions provider based in Shenzhen.
But, he reckons that Hong Kong, which is home to some of the world's top-ranking universities, is not short of young talents and entrepreneurs although some innovation and technology companies have found it hard to lure local investors and tap the market.
"The markets in mainland cities, such as neighboring Shenzhen, are massive and people's consumption capacity is competitive," said Zheng.
He urged Hong Kong technology enterprises and startups to make inroads into the mainland market and innovate more to cater to the mainland's needs. He's convinced that without a vast market, however exceptional an innovation may be, it could hardly sell and stand out.
Business social platform
While research and development has been in full swing in Hong Kong in recent years, the city needs to rely on the mainland when it comes to manufacturing and marketing, explained Yeung.
Leveraging its role in the Bay Area, SCC has teamed up with its mainland counterpart China Smart City Development in launching a business matching social platform LinkedSmart, which aims to help smart city projects and promising business proposals from both sides to secure financial support from international investors.
Entrepreneurs can pitch business ideas and showcase their innovations that are categorized in nine areas, including fin-tech, retail-tech, health-tech, med-tech and green-tech.
SCC has also signed a memorandum of understanding with industry partners from various countries, paving the way for the introduction of Made-in-China original innovations and concepts to the world. At the same time, Hong Kong can promote mainland cities' new technologies and smart-city strategies across the globe.
Yeung noted that internet-of-things (IoT) connectivity standards differ in different countries and that some mainland cities, including Shenzhen, are at the forefront in terms of security protocols on IoT devices. If the protocols can be standardized in other nations, China's global influence in the innovative technology industry would gain prominence.
"The country with a say in a certain industry is likely to expand its influence and develop faster," Yeung said, suggesting that helping mainland cities lift their presence across the entire industry is also key to Hong Kong in keeping its global status.
The Bay Area further promises new opportunities for global technology powerhouse Siemens, which aims to co-create an innovation ecosystem and foster smart-city development in a sustainable manner.
The German conglomerate, based in Berlin and Munich and currently Europe's largest industrial manufacturing group, will prioritize projects within the Bay Area in the coming years, according to Eric Chong, president and chief executive officer of Siemens Hong Kong and Macao.
He sees Hong Kong as a starting point and a good testing ground for developing innovative technologies. "The projects in Hong Kong will serve as pilot schemes. We hope to pick up new ideas with great potential and collaborate with cities in the Bay Area to develop them further."
Shenzhen-based technology titan Huawei is already collaborating with Hong Kong's public service departments, property developers and enterprises. It's ready to help shopping malls equip themselves with an intelligent wireless network to facilitate notification of sales information to customers via mobile apps.
Stock replenishment
Moreover, Huawei is working on aiding supermarkets to build a notification system for stock replenishment, plus an alert system for waste collection departments or an energy-saving system for commercial building complexes, to name a few. The company will also seek partnerships with startups in the SAR to help turn their ideas into products, said Zheng.
In Chong's view, Hong Kong still lags behind some mainland cities like Shenzhen and Shanghai in smart-city development. "They had started five years earlier than us. Hong Kong has run into a shortage of talents, while the talent pool on the mainland is much larger partly because its education scheme supports and bolsters innovation," he said.
"Hong Kong has been placing its development priority on trading and finance for a long time, and it's only until recently that the city had begun shifting its focus to innovation and technology under the administrations of former chief executive Leung Chun-ying and his successor Carrie Lam Cheng Yuet-ngor," Chong noted.
Acknowledging Hong Kong's advantage in accessing international entrepreneurs, Chong insisted that the city should attract more talents from the mainland. "After all, innovation is driven by people."
Novel technologies
Yeung agreed, saying that, compared with the mainland, Hong Kong seems to have stagnated in smart-city development for some reasons. First and foremost, Hong Kong had already been well developed with little room for further improvement when the mainland started building smart cities from scratch for brand new districts.
"Making our city smarter means undoing the old infrastructures and replacing aging installations with high-tech ones, which is costly," he argued. On top of that, Hong Kong's regulations and policies on adopting innovations are rigid, whereas mainland cities are more open to novel technologies and, therefore, more willing to take risks.
"We're inclined to get everything straight and put policies in place prior to utilizing new technologies, while the mainland goes the other way around. They venture to try new things and find answers when problems arise," said Yeung.
Thus, Hong Kong has much to learn from the mainland. Among the most urgent issues to be addressed is to encourage public service providers and privately-owned companies to share data. "There're plenty of third parties out there trying to develop real-time data-based products for the convenience of citizens. But, they can do little without reference of statistics and information generated from public institutions," he said.
For example, insurance companies need to obtain enough health data collected from the general public or certain age groups before they can launch new products targeting diseases that have been on the rise. And the data are readily available in hospitals and clinics. "It's not difficult to make institutions and companies share data," Yeung argued, by offering some feasible incentive measures.
The government could include consent to disclose data in the requirements for franchising or licensing. In other words, only companies that agree to share data can be issued a license or hired by the government, he said.
Zheng welcomed Hong Kong companies in cooperating with Huawei, stressing the tremendous opportunities on offer on the mainland.
"You might be unfamiliar with some mainland cities and don't know what to do. You may want to resort to mainland companies like us," said Zheng, hoping that Hong Kong enterprises will venture out of their comfort zone, look to the mainland and contemplate how to make the best of such a huge market.
jenny@chinadailyhk.com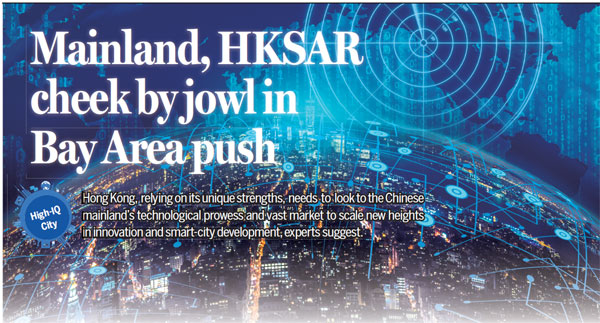 (HK Edition 04/17/2018 page9)