Adaptability key trait for digital-era entrepreneurs
Updated: 2018-04-14 06:19
By Cornelia Zou(HK Edition)
| | | | | | | | | |
| --- | --- | --- | --- | --- | --- | --- | --- | --- |
|   | | Print | | Mail | | Large Medium  Small | 分享按钮 | 0 |
Startups should recognize their original DNA despite being in a fast-changing environment, forum told
In a digital era, with entrepreneurship the engine of technological innovation and global markets more connected than ever, successful entrepreneurs are often found to be adaptable while staying true to their roots.
Panelists shared their opinions on how startups can achieve success in today's innovation-driven and fast-changing market at the Investor Dialogue: Powering Tomorrow's Entrepreneurial Success panel during the Internet Economy Summit held in Hong Kong on Friday.
"(The concept of) 'local' doesn't exist anymore, the world today is one marketplace," said Yossi Vardi, chairman of Israeli investment firm International Technologies.
Innovation and technology sectors such as fintech, artificial intelligence, smart city and medtech are gaining momentum among entrepreneurs. And institutions such as Hong Kong's Cyberport are coming up with new ways to support these startups.
"We are going to make it a new industry in the digital economy that can help young people upgrade their digital technology skills, but our biggest problem is how to actually make sure we have enough smart money in order to attract the best entrepreneurs," said Lee George Lam, chairman of Cyberport.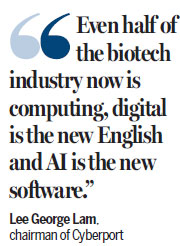 Operated by professional management teams, Cyberport aims to help startups focus on building their companies rather than on the time-consuming fundraising process, and to scale up faster.
"We're evolving now into an investor," said Lam. "We have set up funds and investment networks."
Lam also believes the Hong Kong stock exchange should set up a "green channel" for pre-revenue digital tech companies so they can have access to one of the biggest capital markets in the world.
Sticking to company DNA
Kersten Hui, vice-chairman of Infinity Equity Management, said: "Entrepreneurs go through various stages of psychological development. And that is something for both entrepreneurs and investors to take into consideration."
"Some of the early-stage mistakes entrepreneurs tend to make are often driven by very dynamic situations, especially fist-time startups," he said. "If we can reduce some of these mistakes and offer some input during their psychological development, this will bring both investors and startup companies higher successful rates."
Startups may have very different expertise but they're all intended to offer solutions to their customers from the get-go.
"The size of the market or the opportunity to solve the problems of the customers was the No 1 thing on our list when we started Illumio," said Andrew Rubin, chief executive officer and co-founder of cybersecurity specialist Illumio. "You can collect a group of great people but you don't have control over the market."
"In the cybersecurity space, we focus on segmentation, which quickly became a multi-billion-dollar business just a couple years ago," said Rubin.
"If you have great people and great technologies, it would be a huge opportunity to build a sustainable, durable and valuable company because the market needed a solution."
Attracting investors would be the next step.
"People often forget the No 1 thing on the list for whatever company, especially when it comes to fundraising, is the ability to tell a story," said Rubin.
However, Lam believes this process is usually harder than it seems behind the scenes.
"As a smart investor, we also need to help our startups understand their shortcomings, particularly their business plan, team and approach," said Lam. "There is a learning process as well."
Vardi said: "I don't think the rules of attracting investment can be generalized - it has to do with the market size, the opportunity.
"But it mainly has to do with the decision of the people behind the project."
Vardi raised the question of whether the amount of money startups raise at the beginning stage would have a significant effect on their decision-making process later.
"Because companies tend to spend a lot at the beginning, if you raised too much and you'll be at the mercy of the funders," said Vardi.
Rubin from Illumio disagreed.
"Companies are very much like people and they have DNA. DNA is part of the make-up of who we are. Companies are the same," said Rubin. "Having raised $267.5 million in less than five years doesn't determine how we make decisions on what to spend or what to invest in."
Rubin believes the decision a startup company makes on accelerating growth or investing more heavily doesn't start with how much money is in its account. Rather, it begins with its business plan and whether the company is succeeding or failing against it.
"Much like we all have DNA, if the DNA of the company is built around that premise then it doesn't matter how much money it has." Rubin added.
Hui backed up Rubin's comment by a study his firm did on the psychological development of entrepreneurs pre- and post-funding.
"People's DNA doesn't change because of money," said Hui. "Entrepreneurs that didn't grow up in an environment of rich capital would use money in a proper manner. Most entrepreneurs don't use capital to solve their problem, they always go back to what they grew up with."
Crucial success factors
Lam also said startup companies now need technology directors and mentors.
"Tech companies need good directors, even the best team with the best DNA still needs guidance and oversight," said Lam. "Mentors will tell startups the dos and don'ts, even the best teams need to be brought up."
Vardi echoed that sentiment: "Good mentors are more important than investors."
As the market evolves, it's no longer enough for entrepreneurs to focus only on one particular field and lack knowledge in other areas.
"Cross-disciplinary is one of the key success factors for entrepreneurs, those who can adapt to new technologies are the winners," said Hui. "It's definitely a differentiating factor between winning and losing companies."
Entering the new era
Combinations of solutions experimented with in the past are coming together and creating new sets of solutions. There are more and more ways to tackle the problems we only had a single solution for previously.
Rubin said: "Healthcare, for example, we've had singular path for so many years but now technology is fundamentally changing that."
"Cyberport may have to refocus on digital technology - even half of the biotech industry now is computing, digital is the new English and AI is the new software," said Lam, recognizing the increasing weight of innovative technologies in the world's future development. "We have to fully adopt the regional tech potential, but domain knowledge is also important."
"The opportunities are many and it's up to our imagination. The most important thing is to nurture the entrepreneurial spirit with the help of smart money and all the mentors we can bring," said Lam. "It's a collective effort - not just government but society at large and the business sector."
Rubin said: "We are living in a global economy, there's no more 'US, Europe, Asia' and as entrepreneurs we have the responsibility to remember those things and that we're all connected. The opportunities should be looked at from that lens."
"Your mindset is your biggest weapon," Hui suggested to entrepreneurs. "So, open your mind and don't stop learning."
For China Daily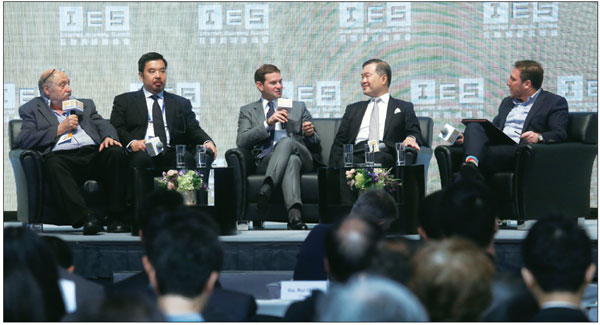 From left: Panelists Yossi Vardi, chairman of International Technologies, Kersten Hui, vice-chairman of Infinity Equity Management, Andrew Rubin, CEO and co-founder of Illumio, Cyberport Chairman Lee George Lam and moderator Alfred Romann share their opinions on how startups can achieve success in today's innovation-driven and fast-changing market at the Investor Dialogue: Powering Tomorrow's Entrepreneurial Success panel during the Internet Economy Summit held in Hong Kong on Friday.Photos By Roy Liu / China Daily
(HK Edition 04/14/2018 page9)