Benny Tai example of inflexible dogmatism
Updated: 2018-04-06 07:24
(HK Edition)
| | | | | | | | | |
| --- | --- | --- | --- | --- | --- | --- | --- | --- |
|   | | Print | | Mail | | Large Medium  Small | 分享按钮 | 0 |
Ho Lok-sang says controversial law professor has narrow, dogmatic views, and is out of touch with positive developments on the mainland
Professor Benny Tai Yiu-ting says he does not promote Hong Kong's independence, but he wants China to become "democratic" in the way that he understands democracy. He portrays the meeting in Taiwan in which he participated as merely an exchange among those who cherish the values of democracy and freedom. Tai sees the positioning of the democratic movement in Hong Kong to be "anti-dictatorship". He says he does not agree with Hong Kong becoming independent now, but only because "conditions are not yet ripe". He says Hong Kong people can exercise self-determination when China has become "democratic".
I have had the opportunity to exchange views with Tai many times before. I have often found his views to be narrow and dogmatic, and he is promoting his views religiously. He just took as faith that people will somehow enjoy more freedom and a better life after China is split into different chunks. In his view, the national interest is somehow better served when people of different regions and ethnicities look after their regional and ethnic interests and seek self-determination. The organizer of the Taiwan forum that he attended, Yang Yueqing, says her group aims at awakening Taiwan's people to the nature of the Communist Party of China and to arouse anti-Communist sentiment. Tai would say that he is not against the CPC, because upon the realization of "democracy" the CPC can compete with other parties to form a government if it is popular. To Tai, democracy is all about competition among different parties. He does not see the need for national unity.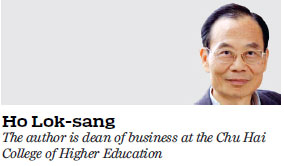 Unfortunately, his views of China and of the CPC are too narrow. Along with Yang, he failed to see the increasing freedom enjoyed by the Chinese mainlanders - freedom from hunger, freedom to travel, freedom to run a business or to apply for jobs, freedom to form families, freedom to attend church services, freedom for creative works. These days millions of mainlanders write novels and poems and songs and post them on the internet. If Yang is concerned about freedom, let her visit the mainland, and see for herself how mainland people go about their daily lives pursuing various creative activities. On her Facebook page, she says she wants to promote the freedom from fear and the freedom to live as one pleases. She will be surprised to see plenty of this freedom on the mainland, which is being promoted by the party she hates.
A recent article by Li Chenjian of Peking University titled "Hold on to the Right of Freedom of Questioning and Freedom of Thought" caught the attention of columnist Li Yi, who restated that one of the greatest values of science lies in its questioning and inquiring spirit. Even if a scientist believes that he has found the truth, he would still retain a sense of doubt, almost ready to examine any evidence that may disprove what he held to be true. Li Yi says if one thinks that one has ready answers to various questions, and refuses to reexamine new evidence, one is likely to err. This is all fine. But then he went on to say: "Exactly because no one has the absolute knowledge to govern a country well, we need democratic institutions to ensure that new ways of thinking may bring us new development. These new ways of thinking will still be tested, and if necessary replaced. This is the systematic way of correcting errors and making for progress If we want to successfully solve problems never solved before, we must allow questioning and discussions." The problem with this argument is that Li Yi's inference that "democratic institutions" are the only way that will allow doubt and inquiry, and "democratic institutions" is understood to be party politics. Ironically, he and Tai do not question the "truth" that "party politics is the answer to the problem of good governance".
China is governed by the CPC, but the CPC does not suppress discussions on policies in general. Actually policy consultations are common. If there is any suppression, it is only suppression of discussion that sets out to overthrow the regime. Critics say that a government needs opposition parties for "checks and balances", but opposition parties are not well known for successful checks and balances. There are many political parties vying for power in India, Indonesia, and Mexico. But these countries fair worse than China in the fight against corruption. The "checks and balances" in the United States made it difficult to follow through with healthcare reform, and helped create the subprime mortgage crisis. The "checks and balances" made it difficult to control the proliferation of gun ownership. As recent US statistics noted: "Between 2014 and 2017, 56,755 Americans were killed by guns, including 2,710 children under the age of 12. In that time, there have been 1,333 mass shootings - defined as incidents in which at least four people are injured or killed - eight of them at elementary or high schools."
A dogmatic intellectual is a contradiction in terms. Unfortunately for Hong Kong, Benny Tai is a living example of that.
(HK Edition 04/06/2018 page5)