Empathy is what drives a successful corporate leader
Updated: 2018-04-06 07:24
By Lin Wenjie in Hong Kong(HK Edition)
| | | | | | | | | |
| --- | --- | --- | --- | --- | --- | --- | --- | --- |
|   | | Print | | Mail | | Large Medium  Small | 分享按钮 | 0 |
Edward Cheung Kwok-ching, chief executive of Cushman & Wakefield Greater China, owes his corporate standing to his down-to-earth leadership style, having helmed a 30-strong team for the past 25 years to the forefront of the industry.
To him, empathy - understanding the feelings, thoughts, and attitudes of others - is the key prerequisite and most important character every leader should possess.
"As we're a property consultancy, we have to embrace our humanness to raise productivity. Empathy connects people. If you are a leader in an organization, how you treat your team, suppliers and clients makes all the difference between remaining at zero and becoming truly successful. So, we have a mentorship program in the company to build up connections among employees," he says.
Cheung sees being rigorous, honest and fair as his professional comportment, while emphasizing creative thinking, change, innovation and the continual upgrade of services. He believes a leader should also have a clear goal for the company. Without it, the company and its staff will have no defined purpose and nothing to strive for.
He had set three goals two years ago for the company to attain by 2020 - modernizing and internationalizing its professional team; fostering a customer-oriented culture to cater to clients' needs; and digitalizing business operations, collecting information and data in order to generate consumption models.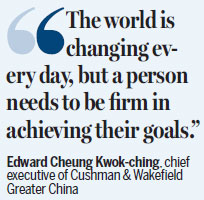 "After the merger with Cushman & Wakefield, we're developing into an international platform, with more and more businesses coming from foreign clients, while some mainland companies also desire to go out, so we have to internationalize ourselves to serve customers' needs. Secondly, although we've asked staff to put the customer first for a long time, there are still some employees who have failed to do so. Therefore, we need to continue developing a customer-oriented culture."
On the technology side, Cushman & Wakefield has revolutionized the industry by using software, such as the "E-broker" - the first office leasing and management mobile application in the industry. Created by Cushman & Wakefield itself, it is a platform that delivers an accurate, professional and convenient service channel for developers, tenants, government, investors and intermediaries.
Lack of talents could be one of the biggest challenges the company is facing, stresses Cheung, because a service-oriented enterprise requires a myriad of talents in each sector of the property industry. But, all the companies in the industry, developers, real estate agents, have been aggressively poaching talents. In this situation, Cushman & Wakefield holds a large scale on-campus recruitment exercise each year to get young graduates into its fold. It also offers training programs for them because "we can afford to train them".
Cheung recognizes the contributions young people have made to their businesses, for the young generation is the mainstream consumer group now. But, on the other hand, he also sees young people as lacking perseverance, and who are prepared to give up their goals easily.
"Most young people today do not have a long-term goal in their careers. Some of them may be interested in property today but, the next day, they might want to go into e-commerce. They lack a purpose and commitment in their endeavors. For instance, they're reluctant to work overtime. I think maybe because they are living in a material wealth age and everything is available to them without any hard work, effort or patience. So, they would like to pursue things leisurely," Cheung says.
"Young people should think twice before making up their minds on whatever they would like to do, like job hopping. The world is changing every day, but a person needs to be firm in achieving their goals. Success comes with hard work, sacrifice, patience and all the other things behind it.
Former chief executive Leung Chun-ying, who founded C Y Leung & Co, is a person who finds true passion in his work, and has set a good example for all of us," says Cheung.
Cheung earned his bachelor's degree in urban and environmental planning from the University of East Anglia, the United Kingdom. As one of the leading figures in the real-estate industry, he was appointed a member of the Shanghai Political Consultative Conference by the Shanghai municipal government as the sole representative of global real-estate services providers.
He is also honorary chairman of the Hong Kong General Chamber of Commerce in Shanghai.
cherrylin@chinadailyhk.com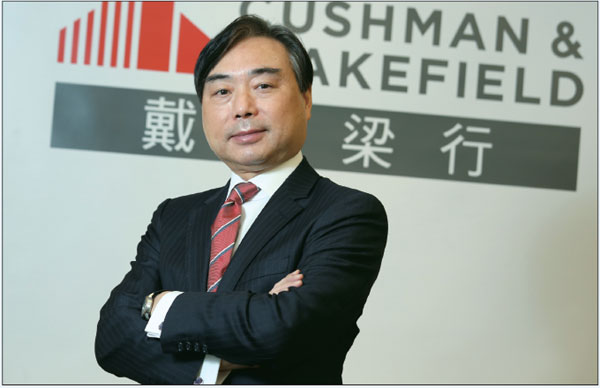 Edward Cheung Kwok-ching, chief executive of Cushman & Wakefield Greater China, believes the company's future will reach a new height by actively engaging itself in the country's key development strategies.Parker Zheng / China Daily
(HK Edition 04/06/2018 page7)