For a clean, green world
Updated: 2018-03-30 06:18
(HK Edition)
| | | | | | | | | |
| --- | --- | --- | --- | --- | --- | --- | --- | --- |
|   | | Print | | Mail | | Large Medium  Small | 分享按钮 | 0 |
Some artworks at the ongoing Art Central and Art Basel offer a rich visual education, reminding us of the power of our natural environment as well as the cost of neglect. Liana Cafolla reports.
An awareness of the need to protect our natural environment and the importance of sustainable development is growing around the world, including in Hong Kong. Pollution in the atmosphere, from excessive lighting, as well as the waste piling up in the landfills are among the city's biggest environmental headaches. The art world, too, has taken note of the problems and is coming up with artistically-inspired ways of drawing attention to these even as they point to creative and long-term solutions. As the excitement over the city's art fair week peaks, at least three participating artists are making a show of their commitment to support the cause of a greener earth.
Catching some rays
It's the opening day at Art Central, and in the entrance hall, Dutch artist and solar designer Marjan van Aubel puts her shoes back on after posing for photographs with the nine light-infused, shimmering haloes that comprise Cyanometer, her dramatically eye-catching crystal installation. Earlier, three large custom-made Swarovksi crystals had been placed outside the venue to absorb as many rays as possible before the exhibition opened. Now they are embedded in the wall behind the installation, silently powering the subtly moving orange and blue-hued circles whose colors conjure up the sky.
It is the first time Swarovski has let its crystals be used as part of an eco-friendly installation and Van Aubel, one of the three winners of the 2017 Swarovski Designers of the Future award, set herself the task of finding a way of using light to make light, by using the crystals' properties to enhance the power of the sun to create beautiful, energy-efficient lighting at no cost to the environment.
By cutting the crystals at particular angles, similar to the way diamonds are cut, light is refracted to focus more intensely on the portable solar cells contained in the crystals, increasing their efficiency. This stored light is then used to power Cyanometer, which is named after the 1789 invention that measures the blueness of the sky.
Hailing from a science-oriented family - she describes herself as the odd one out - Van Aubel likes to combine sustainability and technology in her work. It is her mission to create sustainable energy solutions that are attractive enough to dispel the frumpy image that sustainability has often been burdened with.
"Within one hour we receive enough sunlight to supply the world with enough electricity for an entire year," she says. "We're not using that, and why is that? Art and design has such an important role to bring aesthetics and design to sustainability topics. We need design to give this message."
Bamboo pavilion
The French artist Lo (Laurent Martin), also showing at Art Central, has found that bamboo can create soothing sensations of calm and harmony by following and respecting the plant's innate characteristics. Years ago he came across a long-ignored grove of bamboo growing in his mother's garden in Barcelona, Spain. "I fell in love," he says. Enthralled by the properties of bamboo, in particular its flexibility, strength, density and lightness, he abandoned a career in advertising to become a full-time artist working with bamboo.
Taking pride of place among his exhibits, which can also be seen until May at Puerta Roja gallery, is an elegant, suspended open bamboo construction called Floating Tea House. Measuring 250 cm in diameter and hanging from the ceiling, the piece is made of bamboo that was smoked to produce three color tones to resemble three colors of tea. The bamboo was cut by Lo using traditional tools he picked up during his frequent bamboo-focused travels around Asia and tied together using titan braid and lead. Standing under its gently undulating branches produces an oddly calming and peaceful sensation. The effect is an innate feature of bamboo's positive energy, which Lo, who wears a thin circlet of bamboo and copper around his neck, says he discovered while working underneath the piece. It is because bamboo contains a single fiber, unlike wood, which makes it an excellent conductor of energy, he says - so good that Thomas Alva Edison's first successful light bulb was made using bamboo filament.
"When I was working inside, it was a very special atmosphere, I could feel it," Lo says. "It has good energy. It has a very quiet sensation. It's a good way to meditate."
The sustainability of bamboo is a huge source of satisfaction to Lo.
"It's a very sustainable plant. It grows in four months, and to be mature it needs four years. I'm very proud to use sustainable material because I know I'm not damaging the world."
After cutting, shaping and drying the bamboo pieces over months using different moisture, air and heat techniques, Lo threads the pieces together and holds them in place with a carefully placed ceramic ball whose weight provides a center of gravity for the pieces.
"The basis of my work is to reach a balance," he says. "I don't care about aesthetics, never. When I reach the ideal gravity center, the piece is harmonic. When you reach balance, harmony is a consequence."
Dirty work
The consequences of not caring for our planet can be seen in shockingly graphic evidence in the work of Vivek Vilasini. The multimedia artist from the Indian state of Kerala works mainly in photography with a focus on urbanization and the consequences of industrialization.
To demonstrate his concerns, in May 2017 Vilasini conducted a simple experiment in New Delhi - the second most-polluted city in the world, according to the WHO. He placed 31 sheets of very thin rice paper on a suburban rooftop to absorb atmospheric pollution, and removed one sheet a day, creating a visual record of pollution that shows incremental change over 31 consecutive days. He then photographed the results to create a work that is on display at Art Basel Hong Kong under the title City - Fifth Investigation. The first day's measure of pollution already darkens the paper substantially, and by the 31st day, the final sheet is heavily blackened.
The pollution shown in his work has been measured, but he says there was no need to use the data.
"The results were so obvious and scary, one did not have to measure to get the message across," he says.
Vilasini believes art and creativity are effective ways to draw attention to environmental issues. "I have been pursuing that direction for a long time," he says. "We have taken nature for granted."
He is hopeful that the visual shock of his images can encourage recognition of the need to care for the environment.
"We are the generation who can impact a positive difference to nature and safeguard our future. I hope people will take action and come with their versions from many more cities and the authorities will take some positive action faster."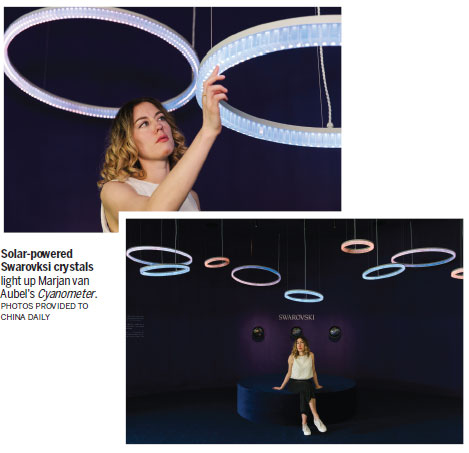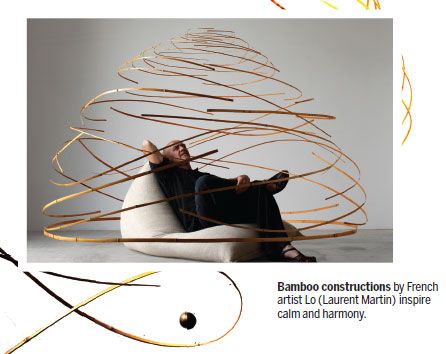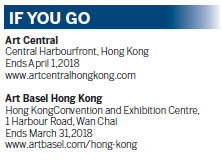 (HK Edition 03/30/2018 page10)