Why Sunday's poll result was a landmark victory
Updated: 2018-03-13 07:35
By Lau Nai-keung(HK Edition)
| | | | | | | | | |
| --- | --- | --- | --- | --- | --- | --- | --- | --- |
|   | | Print | | Mail | | Large Medium  Small | 分享按钮 | 0 |
By-election? What by-election? Few people really care about the by-election which has just taken place on Sunday, March 11. It seems that the media do not care, and TVB did not hold any debates among candidates. Even candidates themselves participating in the campaigns behaved somewhat half-heartedly.
As a result, the overall turnout rate was a disappointingly low 43 percent - a far cry from the 60 percent level which is normal in a general election.
Conventional wisdom has it that a low turn-out would favor pro-establishment candidates. Surprise, surprise! The pro-establishment candidates won only one of the three contested geographical seats, namely Vincent Cheng Wing-shun of Kowloon West. He won after a vote recount by a small majority of just over 2,000.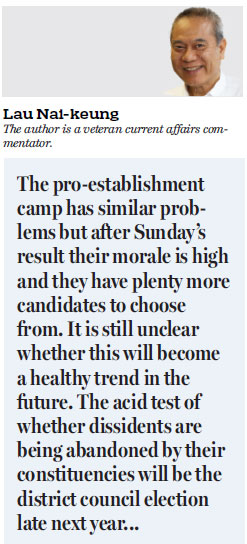 On the other hand, the Architectural, Surveying, Planning and Landscape functional constituency seat was hotly contested with an abnormally high turnout rate of 70 percent - only 10 percent below the general-election rate. But the pro-establishment candidate Tony Tse Wai-chuen managed to beat the dissident candidate Paul Zimmerman, although by a small margin of 584 votes.
This is only a modest victory but it is a landmark in Hong Kong's history of elections. It shatters not only firmly held theories and predictions but more importantly also the myth of the invincibility of dissident candidates in a by-election.
Yes, the opposition camp candidates can be beaten in a one-on-one contest at the ballot box. When Humpty-Dumpty has fallen, he cannot be put back together again. The dissidents had better be careful because more defeats are bound to follow. There could soon be another by-election on the horizon, with vacancies in the same old Kowloon West and New Territories East regions.
While Edward Yiu Chung-yim, the defeated dissident candidate of Kowloon West, is licking his wounds his backers now shudder in the shadows, wondering who to put up for their next candidate. Be brave, Edward, please try again! Should this offer be turned down, there is simply no suitable candidate in sight.
Even in New Territories East, dissidents are wondering whether they can win another victory and score two seats in a roll. And who will be the candidate?
The pro-establishment camp has similar problems but after Sunday's result their morale is high and they have plenty more candidates to choose from.
It is still unclear whether this will become a healthy trend in the future. The acid test of whether dissidents are being abandoned by their constituencies will be the district council election late next year when more than 450 seats are up for grabs.
As in this by-election, they will all be returned by a simple majority. The dissidents declared they want to more than double their current presence to over 200 seats. Should this happen, they will be able to subvert the entire election system in Hong Kong, including the chief executive election. We will have to nip this in the bud.
(HK Edition 03/13/2018 page8)