The height of aesthetic pleasure
Updated: 2018-03-09 06:03
(HK Edition)
| | | | | | | | | |
| --- | --- | --- | --- | --- | --- | --- | --- | --- |
|   | | Print | | Mail | | Large Medium  Small | 分享按钮 | 0 |
Liana Cafolla visits H Queen's, the first purpose-built stacked art gallery building in HK, perhaps the world.
The new H Queen's building, officially launched this week, is a reflection of art's presence at the center of Hong Kong people's lives. Its location, with the historic Pottinger Street to one side, and the Mid-levels-Central escalator on the other, could not be more central. The tall, 24-storey, coolly-stylish building with glass walls resembling a beacon is sleek and contemporary. Some of the best-known art galleries from around the world have set up shop here, with a few more on the way. Gallery owners renting here are hoping their proximity to each other will bring added momentum and create an art venue that is more than the sum of its parts.
The H Queen's project was a leap of faith, according to its architect William Lim, the founder and managing director of the architecture firm CL3. Sitting in Vive, the dainty cake shop on the first floor of the building, Lim says he wasn't sure if the idea of a stacked art gallery tower would resonate with prospective tenants.
Lim's reputation as an architect and his deep knowledge of the art world and its needs - being an artist and a collector himself - was enough to convince the developers, Henderson Land. They gave up the idea of building another tower of offices on the 7,000-square-foot plot in favor of creating Hong Kong's first dedicated art gallery building.
"They figured that the idea was viable," says Lim.
To entice gallery owners to the building, ceiling heights were set at 4.65 meters, about a meter higher than the average in office buildings. Floor loadings were increased, in some cases by almost 200 percent, to ensure heavy artworks were well supported. The windows measure about 3 by 4.5 meters so that artworks can be lifted directly to the destined gallery floor from the Stanley Street entrance, around the corner from the main entrance on Queen's Road Central.
The special glass on the windows keeps the harmful ultra-violet rays out. A delayed reaction sprinkler system allows for a lead time enough to cart the art pieces to safety between the sounding of the fire alarm and the spraying of water.
As far as art galleries go, "there is no other building in Hong Kong that matches these amenities," says Lim.
Finding the right tenants took him some skill and patience.
Lim recalls he started tapping prospective owners two years back "but they were not ready to commit right away". By the time the last Art Basel took place in the city, the feedback was more promising and tenants started signing up.
They include anchor tenant David Zwirner, a renowned gallerist with premises in New York and London. Zwirner says the two floors occupied by him underscore his faith in Hong Kong's growth as an art hub. Other heavyweight tenants include Pearl Lam Galleries, Tang Contemporary Art, Pace Gallery, Galerie Ora-Ora, Whitestone Gallery and Hauser & Wirth.
The caliber of the tenants is testament to the attractiveness of H Queen's as a commercial arts venue and to Lim's conviction of the appeal of a purpose-built space. The tenants themselves are also very pleased with their new premises and optimistic about the possibilities the building offers.
Leo Xu, director of David Zwirner's Hong Kong gallery, says H Queen's is unique on several counts. "The building's purpose-built, with high ceilings and large open spaces. Besides the services offered mark it out from the existing options in the city. It's also perfectly located within the bustle of Hong Kong's Central district. We felt William Lim and his team really understood gallery requirements. Our move here has been very smooth and comfortable," adds Xu.
Thanks to a crane system planted on the building's roof, the gallery will be able to install and show large-scale works. "While this doesn't affect our choice of artists, it does mean that we can exhibit a broader range of works," says Xu.
Some of these larger pieces are on show in the gallery's opening exhibition - a striking collection of paintings called "Fire from the Sun" by Belgian artist Michael Borremans. Running until March 10, the paintings show cherubic naked toddlers in incongruously gruesome settings, playing with bloodied limbs, for example.
Growing with the neighbors
Pace Hong Kong opened its second space in the city at H Queen's, close to its original gallery in Entertainment Building.
"Hong Kong's special geographic location, its unique cultural heritage after the process of modernization and the advantage of trading without barriers and limitations have all been contributing to the success of art development in Hong Kong over the past 20 years," said Leng Lin, partner and president of Pace Seoul, Hong Kong and Beijing.
Pace's new gallery spans 4,800 square feet with flexible walls to accommodate exhibits of different sizes. There is also a 45-foot-long wall space to mount large works. The new gallery will focus mainly on artists from Asia. The gallery's first exhibition which opens on March 27 will show ceramics, paintings and drawings by the Japanese artist Yoshitomo Nara.
Henrietta Tsui-Leung, owner of Galerie Ora-Ora and co-founder of the Hong Kong Art Gallery Association, has moved her Asian contemporary fine art gallery to the 17th floor of the building. She sees H Queen's as a welcome development toward growing an arts community in Hong Kong.
"The close proximity of great galleries around us creates opportunities for all of us, and makes H Queen's a logical destination for visitors and collectors," she says.
The high ceilings were a key reason for opening here, Tsui-Leung says.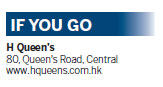 "Artists like Zhang Yanzi have created some wonderful works of ink on wood, which require high ceilings to show them effectively. Halley Cheng, one of our Hong Kong artists, portrays trees in life size - the high ceilings make this possible."
The gallery's opening exhibition, Screaming Books, featuring ink works by eight contemporary artists from Hong Kong and the Chinese mainland, explores the relationship between art and literature. One of the largest works is an ink on paper, almost two and a half meters wide, by Xiao Xu. Much smaller pieces, acrylic on wood panels depicting vegetables, inspired by a Ming Dynasty (1368-1644) book of Chinese medicine recipes by Cheng, for example, are also featured.
"We are delighted with the building and our neighbors," says Nick Stevens, the gallery's building development manager. "It's a great move for Hong Kong and a great boost to be in this building."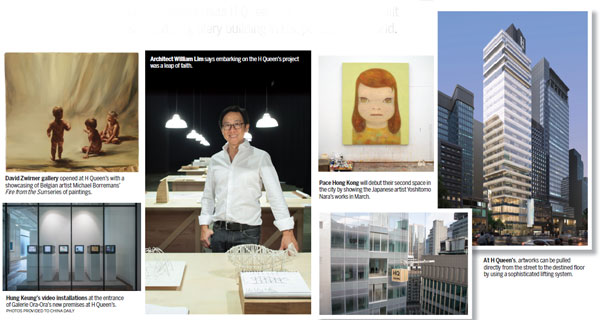 (HK Edition 03/09/2018 page9)