University education much more than passive 'learning'
Updated: 2018-01-19 07:36
(HK Edition)
| | | | | | | | | |
| --- | --- | --- | --- | --- | --- | --- | --- | --- |
|   | | Print | | Mail | | Large Medium  Small | 分享按钮 | 0 |
I've just returned from Ningbo in Zhejiang province where a group of University of Hong Kong Faculty of Education undergraduates worked alongside experienced English teachers in a primary school to collaborate on revising the English curriculum. This is just one of the faculty's experiential-learning projects that aim to make our university students' learning more authentic, and which are situated in the local and regional community. During my visit to Ningbo, the primary school teachers praised our undergraduates for their maturity and sense of responsibility, and stressed just how much they had learned from our Hong Kong teachers-to-be.
So upon my return to Hong Kong, I was disappointed to read yet another newspaper column criticizing our tertiary students and arguing that their role at university should be limited to learning and nothing more. I completely disagree. While I would never defend the unruly actions of a tiny minority of our undergraduates when disputing decisions such as appointment of university heads and so on, I feel it's high time to shift our focus to the vast majority of our university students. These students deserve our full attention and do us proud because it is they who demonstrate their enormous potential in a range of activities on and off campus, and in and out of the classroom as our own students' work on the Chinese mainland shows.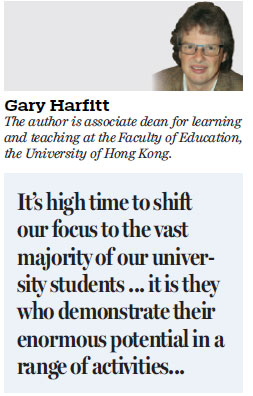 Students should play a stronger role in university affairs because they form an integral part of the whole learning process and this inevitably involves administration and organization. It may be disappointing to some observers, but universities already engage the student body in numerous ways. In my faculty, student representatives from all programs sit on curriculum committees and are invited to share insights and experiences with academic and administrative staff throughout the year. Students evaluate our courses and teaching. Current students as well as alumni form a central part of any program or course review. On these occasions it is the students who often see issues and areas for improvement that many academic staff, including me, fail to see. Our students organize major events and initiate activities that benefit the wider community. Many of our undergraduates also work with us on research. In doing so, they bring their unique perspective and expertise to projects that help push forward our collective knowledge base. Of course, these can be seen as examples of learning opportunities but they also stand as evidence of students working constructively alongside academic staff for the betterment of our courses, the university and therefore the wider community. Education Bureau and university documents in Hong Kong are full of references to such concepts as "constructivism" and "student-centered learning" so it's somewhat contradictory to find observers saying students have no other role to play in classrooms or lecture halls but to sit quietly and "learn". That would be such a waste of the huge potential in each student and an unconscionable waste of opportunity for them to exercise their creativity, collaborate with others and cultivate their public-service ethos.
University of Cambridge research demonstrated how the student voice in United Kingdom secondary schools was used to strengthen teaching practices and increased pedagogical innovation in many teachers. In my own research on class size reduction in Hong Kong, the student voice from school children (primary and secondary) has always been constructive and incredibly insightful. Not once did the students say anything derogatory about their teachers. Instead they were happy to be consulted and I believe the overwhelming majority of students at our schools and universities would welcome the opportunity to be part of a meaningful dialogue when decisions about teaching and learning are being made. We must do more to reach out to this group of students and engage with them wholeheartedly and sincerely. It's not enough to simply pay lip service to the idea of hearing the student voice in schools and universities. They deserve better.
Please, let's not label the whole student body based on the actions of a vociferous minority. Universities everywhere are famous for being a venue where undergraduates engage with different issues in life and of course some are more vocal than others, and some of their views may not sit well with those in authority, but it's part of the learning process for both sides. Yes our students could surely make better decisions and take more considered action, but haven't we all made mistakes at some point in our lives, especially when we were young? Students are not perfect, but the majority of our university population will make us very proud one day. Many are doing that already with their work in the local community and in other areas of the world, including the mainland, a place where we surely need closer collaboration rather than confrontation. Whether we like it or not, our school and university students are Hong Kong's future and we should engage with them now to construct that future together.
(HK Edition 01/19/2018 page10)