Elderly-friendly homes require design rethink
Updated: 2018-01-15 08:09
By K.M. Mo(HK Edition)
| | | | | | | | | |
| --- | --- | --- | --- | --- | --- | --- | --- | --- |
|   | | Print | | Mail | | Large Medium  Small | 分享按钮 | 0 |
It is estimated that by 2047 our senior citizens headcount will reach 2.6 million - one-third of our population. The press conference held recently by the Hong Kong Institute of Surveyors on elderly housing policy was a timely reminder for us to focus on the special needs of our senior citizens - covering housing, social provisions and medical and rehabilitation services. The recommendations made by HKIS understandably focused on increasing housing provisions in neighborhoods familiar to the elderly and building designs that meet their needs.
Presently many senior citizens live in homes for the elderly run by NGOs and commercial operators. However, this is far from ideal as most of them prefer aging in place.
No one will doubt that the government needs to have a policy on housing for the aged, as the HKIS suggested. Currently, the Hong Kong Housing Society provides rental housing for aged singletons or couples in three estates equipped with social and medical provisions. The Hong Kong Housing Authority also operates a priority scheme for the aged. It's about time the government reviews the adequacy of the current housing provisions for senior citizens and decides if bold initiatives need to be introduced.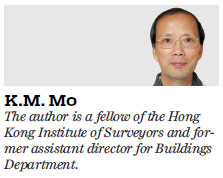 On the elderly housing supply front, HKIS proposes to encourage the provision of elderly rental housing with concessions on land price/ premium and tax. Such concessions obviously will come with restrictive terms which must take into account the practical needs of the aged for quality living.
Elderly singletons or couples in good health can take care of themselves without helpers but those in delicate health would need the services of domestic helpers in their daily lives. Since it costs a lot less to hire a foreign domestic helper than a local one, this has been the prevailing practice.
However, when the foreign helper is on leave, it creates the problem of finding a part-time replacement at affordable cost. This issue becomes critical when an elderly person needs care service during the regular helper's leave. However, it's not an insurmountable problem if the government will permit some flexibility to let another helper fill in temporarily during the regular helper's leave.
Given the size of our subsidized housing units, the government should also review the requirement that employers provide accommodation for foreign helpers to live with them. It's really impractical to require the mandatory provision of accommodation for live-in helpers with their employers, especially in subsidized housing considering its confined space.
The elderly generally will enjoy a much happier life if they can live with their children and grandchildren. The government should come up with some incentives to encourage our youngsters to live with their elders under the same roof.
With elderly-friendly features in domestic buildings, there are two main issues to consider - what needs to be provided in new buildings and what can be done to upgrade existing ones.
Facilities currently provided in new buildings for disabled people are equally helpful to elderly residents. These include access ramps with handrails, corridors accessible by wheelchair and lifts provided in the common areas of newly built domestic buildings.
Recommended elderly-friendly features within individual flats should include wider doors, easier access to switches and sockets - located at a level reachable by wheelchair users - non-slippery floors, wall-mounted grip bars and the like. The question we need to consider is whether elderly-friendly features should be mandatory, or whether guidelines for such features need to be drawn up for designers. In making the decision, we need to strike a balance on the needs of the aged and design flexibility.
Perhaps our apartments should be designed in the first place in such a way that we can easily modify them for elderly occupants without drastic modification work when the need arises.
For existing buildings, retrofitting ramps and wider corridors in common areas may not be feasible due to technical and legal constraints.
For existing multi-story buildings without elevators, retrofitting an elevator, where space is available in the common open area, will greatly enhance elderly occupants' mobility. However, such re-provision is likely to be prevented by the building law on permitted development intensity, as most existing buildings are already built to their maximum permissible level. Again this is another area where perhaps the Buildings Department should be authorized to grant exemptions. To further encourage such improvement works, the government can provide a subsidy to the owners' incorporation to meet part of the installation cost.
The HKIS has made a number of worthy and practical recommendations on improving the built environment to make life easier for elderly residents. Let's hope the government would consider them with an open mind and not be bound by bureaucratic inertia. I have no doubt that in so doing, it would receive the entire citizenry's support. Our elderly generation created the Hong Kong economic miracle. They deserve some special consideration in how society treats them in their old age.
(HK Edition 01/15/2018 page8)