Letters from Hong Kong
Updated: 2017-12-29 06:07
(HK Edition)
| | | | | | | | | |
| --- | --- | --- | --- | --- | --- | --- | --- | --- |
|   | | Print | | Mail | | Large Medium  Small | 分享按钮 | 0 |
There seems to be a renewed focus on reaching HK authors to the world's Anglophone readership after a British literary magazine dedicated a special edition to the city. Melanie Ho writes.
When Jeffrey Mather and Florian Stadtler proposed Hong Kong as the subject for a special issue of the British literary magazine Wasafiri, what they had in mind was a mix of creative writing, non-fiction and reviews to help "take stock" of what writers and artists have made of the city in the last 20 years. Published earlier this year and featuring the likes of Commonwealth Poetry Prize-winner Shirley Lim Geok-lin, poet Jennifer Wong, fiction writers Dorothy Tse Hiu-hung and Xu Xi, the issue was titled "Writing Hong Kong".
"This is not an issue that makes any attempt at defining Hong Kong writing, but is about the many ways in which Hong Kong is creatively imagined and featured in different forms of artistic expression and that very much became the driving force for our selection," said Stadtler, who co-edited the special edition.
The editors of Wasafiri approved the proposal from Mather, an assistant professor at City University of Hong Kong, and Stadtler, a senior lecturer at the University of Exeter, welcoming an opportunity to connect Hong Kong writers and writing with new audiences.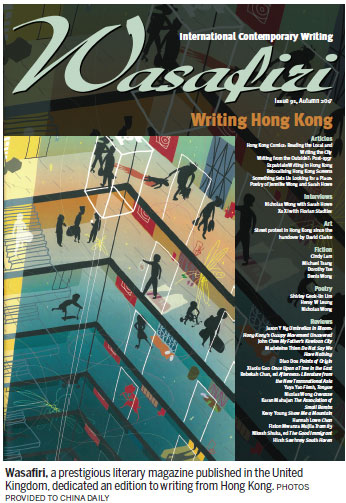 Writing from Hong Kong isn't as accessible to readers in the United Kingdom as one might imagine, said Rukhsana Yasmin, Wasafiri's deputy editor, in town to be on a panel hosted by the city's British Council in honor of the special edition. In the 20th year since Hong Kong's return to the motherland, Wasafiri was looking to situate writing from Hong Kong in the literary landscape.
As Mather and Stadtler wrote in their editorial, Wasafiri "presented itself as the perfect forum through which to consider new critical and creative approaches that directly engage with Hong Kong's geography, history, politics and poetics". The editors received a number of submissions through an open call. They also commissioned a few.
"We were very actively seeking out translations," Stadtler said. The editors were eager to have Chinese-language writing at the core of the special issue "and bring this to a wider readership, as well as inspire dialogue between literary communities that have the geography of Hong Kong in common".
Cha: An Asian Literary Journal - a Hong Kong-based online literary journal founded in 2007 - has been publishing translations of Chinese writing by authors from Hong Kong since long. It has published veterans like Leung Ping-kwan (pen name Yesi) and Lawrence Pun Kwok-ling, while its upcoming issue will feature translations of Hon Lai-chi and Tong Yui.
"Although I write mainly in English, I also translate creative works from Chinese into English," said Tammy Ho Lai-ming, Cha's founding co-editor and a poet, who also contributed to the Wasafiri special edition. Ho said writing in Chinese produced by local writers "tends to be grounded in daily experience, and explores interpersonal relationships." She added that these writers often captured the absurdity of life in Hong Kong rather well.
Ho, who is also an assistant professor at Hong Kong Baptist University, was recently awarded a government research grant to study Chinese- and English-language poetry about Hong Kong since 1997.
"It is my hope to bring more Chinese-language writers from Hong Kong under the radar of Anglophone readers, through translation, research, and dissemination of their works," Ho said. "There is a strong element of translation in this project, as I intend to have the Chinese poems translated into English."
One city, two scripts
Quarterly literary magazine Asia Literary Review focuses on contemporary writing from and about Asia, including translations. Over the years, the magazine has published a number of Hong Kong writers.
"Most of what we've included over the years that could be labeled 'Made in Hong Kong' was originally written in English, but bringing good translated writing to an English-speaking audience is a key aim of Asia Literary Review," said Phillip Kim, managing editor, and Martin Alexander, editor-in-chief. The duo said they were looking to receiving more submissions from the Chinese-writing community of Hong Kong authors in translation.
Publishing translations of writers whose voices might not otherwise be heard has been important to magazines like Asia Literary Review.
Often those writing in Chinese address themes different from those writing in English, said Kim and Alexander. "English-language writing tends to be more thematic and transnational whereas local writing tends to intimately convey the universal human condition, but through Asian characters and setting."
Ho, however, says she found certain commonalities between the two categories of writers. For instance, both seem to be writing about "the experience of living in a city that is both modern and values traditional practices, and personal contemplation on life and existence".
To most editors, publishing a diversity of voices seems to be of greater importance than defining what is - and isn't - Hong Kong writing.
"What was actually more important was to find out how creative voices consider Hong Kong's geography, history, urban landscape, its politics and poetics, and how they engage with the larger questions of urban identity, globalization and social inequalities," Stadtler said.
An authentic voice rather than a particular subject matter is also important for Kim and Alexander. "Hong Kong is a unique city that brings together East and West, and tradition and modernity, in a dense, dynamic environment," the editors said. "All Hong Kong writing can't help but reflect in some way that tension and energy."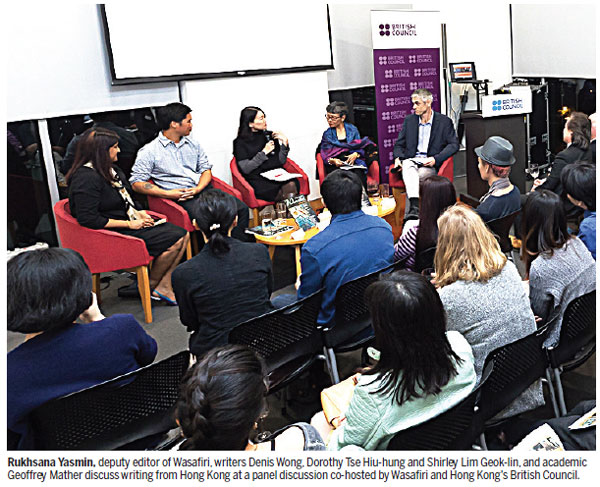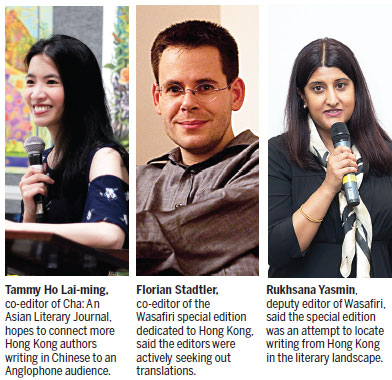 (HK Edition 12/29/2017 page8)