HK should look to overseas experience when creating eID
Updated: 2017-11-27 07:55
By Winnie Tang(HK Edition)
| | | | | | | | | |
| --- | --- | --- | --- | --- | --- | --- | --- | --- |
|   | | Print | | Mail | | Large Medium  Small | 分享按钮 | 0 |
Chief Executive Carrie Lam Cheng Yuet-ngor mentioned in her Policy Address that the government hoped to develop Hong Kong into a smart city, with implementing an electronic identity (eID) a priority. Prioritizing eID implementation is certainly the right move as it is the backbone of a smart city. An officially recognized eID can help the public carry out various online activities; it also facilitates the government's promotion of electronic government services. Compared with pioneers such as Estonia and Singapore, Hong Kong is a laggard in the application of this technology. But being a late starter could be an advantage in the sense that the city can take a short cut by learning from successful foreign experiences.
The world's eID pioneer is in no doubt Estonia, a small European country. It has let its people use eID for online voting with legal status since 2005. The online participation rate was less than 2 percent at that time but the 2015 presidential election recorded a 30-percent online voting rate, an increase of more than 15 times in 10 years.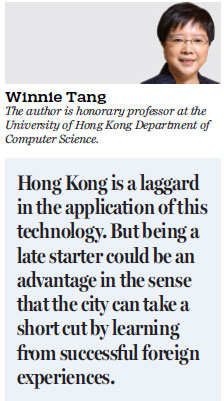 Estonia's electronic identity uses blockchain technology; all changes are encrypted and leave a record that cannot be altered. Its electronic identity is divided into four types: ID card, Mobile-ID, Smart-ID, e-Residency.
The plastic ID card looks similar to the identity card used in Hong Kong but has a broader usage. The mandatory national card also provides digital access to all Estonia's secure e-services. Once inserted in a card reader, it is a legal travel document for Estonian citizens travelling within the European Union, a national health insurance card, a proof of identification when logging into bank accounts; allowing you to check medical records, submit tax claims, i-Voting, use e-Prescriptions, etc. At present, the eID is widely accepted; 67 percent of Estonian people use it regularly.
The Mobile-ID is a special SIM card from mobile service providers, with an embedded personal key and an application for authentication and signing with no need for a card reader. If you want to log in to your bank account, you only need to enter a password on your mobile phone. The Smart-ID lets the user access financial services such as banking services - after verifying his/her identity online - via a smartphone without a SIM card or a tablet as long as there is Wi-Fi service. The e-Residency may be the most creative electronic identity feature rolled out by Estonia. It lets foreigners set up a company in Estonia without the need to be physically in the country. E-residents then have access to the EU business environment and can use public e-services through their digital identity. Currently, 20,000 people of 138 nationalities have applied for e-Residency.
It is noteworthy that Estonia's successful experience has been exported to other countries - a database system developed by Estonia for exchange of information and accessible by the public is now used in Finland, Azerbaijan, Namibia and the Faroe Islands, an autonomous country within the Kingdom of Denmark. When Japan first launched its national electronic identity My Number early last year, they also sought Estonia's experience.
Hong Kong can also take a leaf from Singapore's book. The island state has positioned itself as a smart nation and is adopting more advanced digital identity technology. Its new national digital identity is a mobile application that uses encryption to verify identity online; it can be used to sign documents and carry out various online transactions. The goal of the project is to use the mobile application for access to public and private services, such as medical and banking services, removing the hassle of remembering different usernames and passwords in different organizations. It is currently undergoing a six-month test and is expected to be implemented within three years, and to replace the SingPass launched in 2003. Compared with SingPass, the mobile digital identity uses public key infrastructure for encryption. It is more convenient and secure than the current one-off password via SMS. The new system will also include biometric elements for data protection, and support an application programming interface to facilitate participation by private companies.
Britain launched Verify in May last year; the system lets citizens choose from several methods to prove identities to public and private entities such as post offices or banks. Once identity is verified, a citizen can use at least 15 government services related to personal tax accounts, pensions and vehicle licensing.
Hong Kong should learn from overseas experiences to enable smooth introduction of eID. In the meantime, the banking sector has been discussing how to improve the process of KYC (know your customer) in recent years. At present, a bank needs to verify a customer's identity, background, source of funds and usage of account with every new account opening. If it is an enterprise, the customer needs to provide information on beneficial holders, equity structure, etc. It is time-consuming and inconvenient. If a future eID can be implemented together with KYC platforms of all financial organizations, such an integrated platform will offer users great convenience. It can also be opened to outsiders, paving the way for the Greater Bay Area development and further strengthening Hong Kong's status as a worldwide financial center.
(HK Edition 11/27/2017 page10)