Hong Kong must correct knowledge gap on Eurasia
Updated: 2017-11-04 07:52
By Deng Yanziin Hong Kong(HK Edition)
| | | | | | | | | |
| --- | --- | --- | --- | --- | --- | --- | --- | --- |
|   | | Print | | Mail | | Large Medium  Small | 分享按钮 | 0 |
Hong Kong should raise awareness and promote understanding of the Eurasian region and other Belt and Road countries among the public and business communities so the city can better seize opportunities brought by the initiative, academics and industry leaders urged.
Most Chinese people do not know much about Belt and Road countries, while people in most Belt and Road countries lack understanding of China; some even harbor fear and avarice, observed Chang Hsin-kang, former president of Hong Kong City University and currently chair professor and honorary director of Silk Road Institute of Beijing Foreign Studies University.
"Without understanding, there will not be real harmony and a real people-to-people bond," Chang stressed as he spoke at "The Belt and Road and Eurasia: Reality, Prospects" forum in Hong Kong on Friday.
Alex Wong, chief executive of the Maritime Silk Road Society, took Chang's observation further, noting the public in Hong Kong had limited knowledge of the Belt and Road Initiative and its relevant countries, especially in the Central Asian region.
Eurasia is an area ordinary people in Hong Kong, as opposed to the elites, know very little about and very few Hong Kong people have traveled to the region compared with other popular destinations such as Japan, Wong said.
"First of all, we have to increase the awareness of Hong Kong people about an important area that we need to look at, an area where a lot of our future lies," Wong urged.
"That's why when we are already in Hong Kong equipped with unique advantages not available anywhere else in our country, we should consciously and actively take good advantage of what has been given to us."
He further stressed that Hong Kong youths should be informed of the Belt and Road Initiative as it would bring more options to their future study and career choices.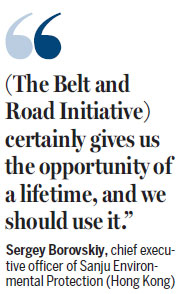 A study by the Hong Kong Federation of Youth Groups last year found most Hong Kong young people interviewed had no clear idea of the Belt and Road Initiative.
Moreover, only 35 percent of the respondents said they were interested to learn more about the initiative; 60 percent registered as indifferent or uninterested, the report showed.
"We have to make our young people aware that they are enjoying this unique environment and situation, and for their future, life and career development, they should take active advantage of the circumstances in Hong Kong," Wong urged.
The business communities should also step up their attention and knowledge about the emerging opportunities in the previously overlooked economies along the Belt and Road.
Describing the Belt and Road Initiative as "the most important geopolitical event in the 21st century", Wang Xiaoquan, secretary general of Chinese Academy of Social Sciences Belt and Road Research Center, anticipated significant impact on Hong Kong's position as an established hub in the region.
Hong Kong's business community should attach greater importance to developing economies, as the focus of development has shifted from the developed world to developing countries under the Belt and Road Initiative, Wang noted.
For companies that already grasp the opportunity to enter new markets along the Belt and Road, deeper understanding of the local market proves crucial to the healthy operation of business.
Sergey Borovskiy, chief executive officer of Sanju Environmental Protection (Hong Kong), revealed that a lack of local knowledge on the part of Chinese mainland companies brought some setbacks in cooperative projects between Russian and mainland energy companies.
Part of the problem is the lack of proper expertise in Russia's energy industry, the Russian businessman revealed.
However, Borovskiy is positive that the situation is moving in the right direction under the Belt and Road Initiative that has raised the Russia-China business relationship to a higher level.
"(The Belt and Road Initiative) certainly gives us the opportunity of a lifetime, and we should use it," he concluded.
iris@chinadailyhk.com
(HK Edition 11/04/2017 page5)