Xi's report to Party congress heralds a better future for all
Updated: 2017-11-03 07:29
(HK Edition)
| | | | | | | | | |
| --- | --- | --- | --- | --- | --- | --- | --- | --- |
|   | | Print | | Mail | | Large Medium  Small | 分享按钮 | 0 |
'The Chinese nation has stood up, grown rich and become strong - and it now embraces the brilliant prospects of rejuvenation. It will be an era that sees China moving closer to center stage and making greater contributions to mankind," Communist Party of China General Secretary Xi Jinping said at the Party's 19th National Congress earlier this month.
Xi's report, titled: "Secure a Decisive Victory in Building a Moderately Prosperous society in All Respects and Strive for the Great Success of Socialism with Chinese Characteristics for a New Era", highlighted the need for China to achieve national rejuvenation; a people-centered philosophy of development; a socialism with Chinese characteristics; the building of a moderately prosperous society and modernized country; a strong military capable of winning wars and handling a new type of international relations; as well as enhancements in culture, people's livelihood, and environmental conservation. While not directly touching upon issues surrounding the advocacy of "Hong Kong independence", Xi did enunciate that Beijing would not let the "one country, two systems" policy be bent or distorted - a full bucket load of cold water poured right on the heads of Hong Kong's radicals.
Xi revealed a two-stage development plan for the period from 2020 to the middle of the 21st century to develop China into a great modern socialist country. In the first stage from 2020 to 2035, the CPC will build on the foundation created by the moderately prosperous society with a further 15 years of hard work to see that socialist modernization is basically realized. In the second stage from 2035 to the middle of the 21st century, the CPC will, building on having basically achieved modernization, work hard for a further 15 years and develop China into a great modern socialist country that is prosperous, strong, democratic, culturally advanced, harmonious, and beautiful.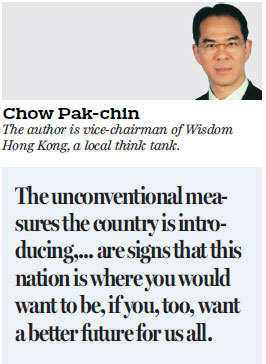 By a "beautiful" country, Xi doesn't just mean the awe-inspiring natural scenery and cityscapes that are taking shape at jaw-dropping speed. What he also means is a beautiful culture and people, epitomized by a dedication to foster a better way of life for all - both inside and outside the country. That brings us to philanthropy. According to a report by Harvard University and the Swiss bank UBS, donations from the top 100 mainland philanthropists tripled to $4.6 billion from 2010 to last year; among the 200 wealthiest people on the mainland, 46 have established foundations for charity purposes. Those who have harbored a blinkered vision of the Chinese people as "selfish" and "greedy" may want to know that the majority of Chinese philanthropists actually have the desire to give back to society, no less thanks to time-honored Confucian principles, and hence Xi's target to strengthen China as a socialist state to maintain social harmony.
As a latecomer in the industrial world, the country is aware of the sheer amount of environmental pollution its development has brought about, at an inauspicious time when effects of climate change have finally surfaced. As a solution, the mainland harnesses its talents to turn things around: Researchers at Chongqing Jiaotong University have invented a paste that could turn sand into soil, and eventually deserts into forests; the central government has commissioned Dutch innovator and designer Daan Roosegaarde to build the Smog Free Tower - the largest air purifier in the world that uses just 1,100 watts of energy - and to introduce Smog Free Bicycles that purify the surrounding air as they go.
Understandably, whatever promising plans Xi has laid out will only reach fruition in at least three decades' time. To achieve a true state of social harmony where its people achieve a relatively decent and fulfilled way of living, the country needs the support of its youths, and that includes the youths of Hong Kong, too. It is therefore imperative that young people have a good read of Xi's 19th congress report, and board the unstoppable train that is determined to change the world for the better. The unconventional measures the country is introducing, with its inexhaustible population of great talents, are signs that this nation is where you would want to be, if you, too, want a better future for us all.
(HK Edition 11/03/2017 page12)