Grooming Asia's first 'PayPal Mafia'
Updated: 2017-08-25 06:46
By Duan Ting in Hong Kong(HK Edition)
| | | | | | | | | |
| --- | --- | --- | --- | --- | --- | --- | --- | --- |
|   | | Print | | Mail | | Large Medium  Small | 分享按钮 | 0 |
If tech entrepreneur Joe Chan had his way, Asia's trailblazing "PayPal Mafia" may soon make its presence felt.
Chan, managing partner of MindWorks - a budding venture capital enterprise with offices in Hong Kong and London and with an eye on the Greater China region and Southeast Asia - laments that venture capital investment has been swept under the carpet by angel investors due to risk concerns and rather untempting returns.
Hong Kong is not devoid of investors, and projects abound too, he insists, but most of them prefer to opt for the property and finance business instead of tech startups.

"There're many angel investors in Hong Kong investing a few hundred thousand dollars helping the younger generation, or funds plowing their money into Pre-IPOs, such as Horizons Ventures, which has just invested in Razer USA Ltd, a Singaporean-founded American company. But, the venture capital industry has yet to rev up and establish itself to support startups in Series A, Series B and Series C funding (typically $1 million to $30 million), with people still worried about the risks of investing large sums of money in high tech with no clear exit path," Chan tells China Daily.
"That's why we're seeing the market vacancy and funding gap, and MindWorks endeavors to be Asia's leading venture capital funding source to help internet startups become the continent's first 'PayPal Mafia' in their expansionary stage."
"PayPal Mafia" takes its name from a group of former employees of California, US-based PayPal Holdings Inc - one of the world's largest internet payment companies - who have since founded a string of tech enterprises, particularly after the dot-com bust in 2001.
Chan says he's excited about the current operating climate for the venture capital business, which is "even better than 10 years ago" because, in the past, returns from investments came mainly from going public but, currently, projects could be sold to tech titans like Facebook, Tencent or Alibaba.
And he believes that returns from investing in those projects are much higher than the traditional financial products, including property.
Chan hails from the University of California, San Diego, with a bachelor's degree in electrical engineering and management science. He had always thought of pursuing his investment dream and had worked for asset investment companies and brokerages. At the same time, he has been self-employed since 2009 as an angel investor in internet startup companies.
He subsequently teamed up with fellow university graduate David Chang in 2014 to found MindWorks with an eye on investing in internet and tech companies in Asia.
They had initially set up a fund with a capital pool of more than $1.5 million in 2014, followed by another of $1 million two years later. "The total valuation of the assets we had invested through both funds exceeded $80 million," Chan says.
Debuting in 2014, MindWorks has since built up a fine reputation, backed by the founders' years of experience in the industry, he says. They have invested in 17 companies so far, including Easyvan-lalamove, GLO VR and KKday. The company prefers to invest mainly in the series A, B and C rounds as the valuation is relative cheaper and competitors are few, and they could build up a deeper relationship with those companies.
The company operates on three principles in terms of investment strategies, according to Chan. The background of a company's founders is the most vital element to consider, followed by what he calls a "scalable" business model and reasonable valuation.
In terms of investment preference, the company shuns social networks which, Chan says, are already dominated by giants like Facebook and Tencent, nor do they like games companies due to their low profit margins and high risks. They prefer logistics and fintech companies, including blockchain-related initial coin offerings (ICOs), which have been all the rage recently.
The company also goes for platformable projects with light assets and a business model that could be scalable within a short period. "All the traditional industries that haven't been disrupted by technology offer opportunities."
Chan reckons Hong Kong has its advantages in terms of a robust tax and exports system, backed by a long history and entrepreneurship of the older generations, and Hong Kong needs excellent talents to effect the change. He believes some unicorns are emerging and MindWorks is on the lookout for opportunities, but thinks Hong Kong still lags behind the United States and the Chinese mainland in fintech development due to the city's tight business regulations and a convenient living environment.
He wants the Hong Kong government to develop innovation and technology as well as creative industries by supporting capital and talent and building up tech infrastructure, adding that Hong Kong could learn from Singapore in setting up a matching fund to help voluntary welfare organizations and startups, and introduce more tech training and compulsory courses for students and people with interests in tech, including programming and coding.
In her election manifesto, Chief Executive Carrie Lam Cheng Yuet-ngor pledged to do more for innovation and technology, develop a high growth and more diversified economy for the city, and grasp the opportunities from the Belt and Road Initiative to inject new impetus into the development of traditional industries that have enjoyed distinct advantages.
Lam said there are at least two emerging areas in which Hong Kong has potential and advantages - the innovation and technology, and creative industries. And Hong Kong should increase its investment in these fields and create a favorable environment for them in terms of policy, land and talents.
tingduan@chinadailyhk.com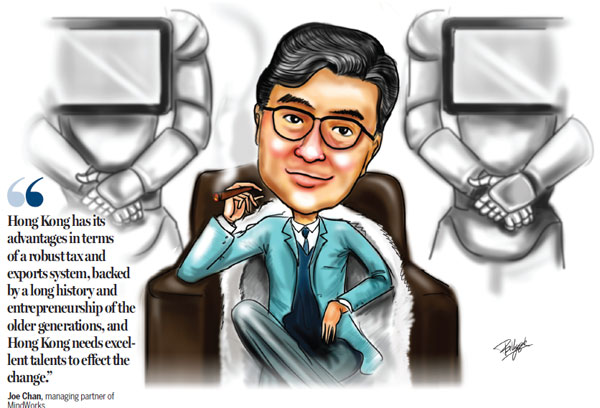 (HK Edition 08/25/2017 page8)