Fintech push - buffing up city's credentials
Updated: 2017-08-04 06:16
By Duan ting in Hong Kong(HK Edition)
| | | | | | | | | |
| --- | --- | --- | --- | --- | --- | --- | --- | --- |
|   | | Print | | Mail | | Large Medium  Small | 分享按钮 | 0 |
Experts say SAR must get around constraints, create favorable climate
The Hong Kong government should be more proactive in making use of its advantages to build a regulatory regime and financial technology (fintech) infrastructure to welcome the new economy as the world undergoes a major revolution in technology, according to experts.
They agree that Hong Kong, with a long traditional reputation for financial expertise and talents, continues to wield the whip hand over many financial rivals in the region, but the city mustn't rest on its laurels.
With innovation and technology emerging as a new engine to power the city's sustainable and diversified economic development, the SAR government has been driving fintech in recent years. Along with industry stakeholders, the Innovation and Technology Bureau was set up in November 2015 to further enhance the ecosystem.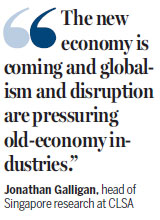 In her election manifesto, Chief Executive Carrie Lam Cheng Yuet-ngor said Hong Kong should strive for innovation and develop a high growth and a more diversified economy, with at least two emerging areas in which Hong Kong has the potential and the upper hand, namely innovation and technology and creative industries.
She said Hong Kong should increase investment and create a favorable environment in terms of policy, land and talents to develop these sectors in Hong Kong.
Experts surveyed believe that the development of fintech does offer big potential, but much work remains to be done to promote it.
Jonathan Galligan, head of Singapore research at CLSA, said Hong Kong still has a competitive edge over Singapore in terms of investment, capital and a stock exchange that already has listings of new economy companies, including some Chinese mainland technology enterprises.
However, Hong Kong's constraints in developing fintech, according to Galligan, are the cost of starting and operating a business in Hong Kong, an inconsistent government regulatory framework that has not embraced new economy industries, and little government support to help new economy enterprises get off the ground.
Galligan said the Lion City has driven growth by taking a pragmatic and long-term approach, having invested in this transition to build a startup technology infrastructure over a decade ago.
According to KPMG, Singapore's central bank, the Monetary Authority of Singapore (MAS), has set up a regulatory sandbox framework for financial institutions and others to test the city state's innovations in a freer, safer and controlled environment. The MAS has pledged to fork out S$225 million ($164.87) over the next five years to attract financial institutions to set up their innovation labs in Singapore. The Fintech Office and events like the "Singapore FinTech Festival" are on the cards.
"The new economy is coming with globalization and disruption is putting increasing pressures on old-economy industries," said Galligan, adding that technology has enabled companies to compete globally rather than locally, which has changed many industries, including the financial industry. Those that adapt and respond will be able to take advantage of the opportunity and Singapore has been the leader in Asia in driving change to become an innovation hub.
According to CLSA's Reddot.com report, if Singapore succeeds in driving innovation and restructuring its economy, its GDP growth rate will double to 2 percent over the next decade, driven by stronger productivity as higher-value-added technology-related sectors flourish, resulting in an accumulative S$250-billion gain in economic growth over the coming 10 years.
Singapore granted the first Chinese fintech firm Lujiazui International Financial Asset Exchange (Lufax) - the mainland's second-largest peer-to-peer lending platform founded by Ping An Group - to launch an international wealth management platform in mid-July, according to local media.
Albert Wong, chief executive officer of Hong Kong Science and Technology Parks Corporation (HKSTP), said Hong Kong, as an international financial center and fintech hub, which includes cybersecurity, blockchain and payment, is definitely a big asset for the city.
He noted that the HK$10-billion fund dedicated to fintech in the 2017-18 Budget represents unprecedented backing from the government in developing innovation, adding that although the technology talents issue in Hong Kong may take years to solve, the local entrepreneurial atmosphere has been improving in recent years, and Hong Kong has been exporting talents annually from its universities, five of which are among the world's top 50 tertiary educational institutions, plus plenty of investors.
To date, Hong Kong has about 1,500 startups launched, with more than 630 companies operating at Hong Kong Science Park, including more than 260 startups, according to Wong. A memorandum of understanding was signed by the Hong Kong Monetary Authority, Hong Kong Applied Science and Technology Research Institute Company Ltd, Cyberport and HKSTP on fintech collaboration last year, leading to innovation centers being set up.
Tony Chan, president of the Hong Kong University of Science and Technology, stressed that Hong Kong remains competitive in terms of having good universities and talents, plus solid support from the government and the community. But, in terms of funding, the SAR is at the basic level, as the 0.4 percent of the total GDP spent on research and development investment is lower than any those of other developed cities and countries.
He urged the government to provide the necessary facilities, as well as a good infrastructure, business and education environment to drive fintech development.
Chan cited Shenzhen's development as an example, saying the current advanced technological development of the mainland's "Silicon Valley" relies on sound government investment and policies.
"If you try and take maximum advantage of what you have, and then you adjust to a goal, you may have a good chance of success but, still there's no guarantee."
According to Maria Lam, director of publicity at Hong Kong Cyberport Management Company Ltd, there are close to 900 digital tech companies and more than 200 fintech enterprises at Cyberport, and they've been organizing lots of events with various banks like Hang Seng Bank and Citibank to look into how traditional industries, such as insurance companies, could implement technology.
Joe Chan, managing partner of Mindworks - a venture capital firm with offices in Hong Kong and London and a focus on Southeast Asia and the Greater China region - said the SAR government could develop innovation and technology as well as creative industries by supporting capital and talent, saying Hong Kong could learn from Singapore by setting up a matching fund to help voluntary welfare organizations and opening more tech training and compulsory courses for students and those who are interested in technology, including programming and coding.
For training and courses, the 2017 InnoTech Expo - backed by the mainland's Ministry of Science and Technology, the Chinese Academy of Sciences, as well as mainland and Hong Kong government bodies - will be held from Sept 24 to Oct 2 to promote understanding of technology and Hong Kong people's interest, especially among youths.
The Hong Kong government also plans to establish a centralized database to help financial institutions to "know your customer" and improve the city's efficiency as an international financial center, according to James Henry Lau Jr, newly appointed secretary for financial services and the treasury.
Lau has said his work will focus on such areas as fintech and green finance in the next five years. He said a "Know Your Clients" data base needs to be established through technology to reduce potential dealmaking costs and provide convenience as financial institutions usually spend lots of time getting to know clients and valuating risks.
tingduan@chinadailyhk.com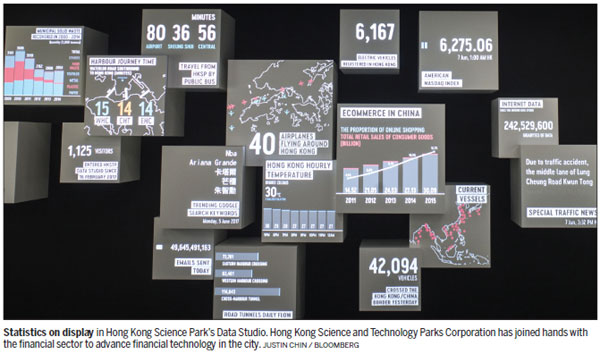 (HK Edition 08/04/2017 page12)