Talents, funding hold key to winning the race
Updated: 2017-08-04 06:16
By Oswald Chan in Hong Kong(HK Edition)
| | | | | | | | | |
| --- | --- | --- | --- | --- | --- | --- | --- | --- |
|   | | Print | | Mail | | Large Medium  Small | 分享按钮 | 0 |
Pertinent issues of talent shortage, funding resources and regulatory overhaul should be urgently addressed for Hong Kong to catch up in the financial technology (fintech) revolution, according to industry practitioners.
The situation has also been compounded by the fact that the city is estimated to have been lagging behind its regional competitors for four to five years at least.
Tomas Holub, founder and chief executive officer of CoverGo - the company that runs the eponymous app which helps users manage their insurance policies through their phones - sees huge potential in the market.
Holub's father died two years ago without taking good care of his life insurance policies - either records of paid premiums were missing or premiums had not been paid on time - leading to the lapse of financial value coverage.
Holub said he was unable to claim benefits from the life insurance policies and, worst of all, he was liable to repay the mortgage loan taken out by his father.
So he founded CoverGo in October last year and developed the app that - through photo-taking or manual input - digitalizes and identifies all the details of insurance policies to enable customers and insurance brokers to manage their insurance policy portfolios in one go.
Launched in February, the app has since registered 1,000 downloads with 500 active users. About 50 insurance agents in Hong Kong pay monthly subscription fees to manage their clients' insurance policy portfolios with the digital experience and instant feedbacks the app provides.
The company plans to expand its services to Malaysia and Taiwan in August and September, and aims to tap into other Southeast Asian markets as well.
"Hong Kong is a niche market for us as the city boasts one of the highest mobile and insurance policy penetration rates. Besides, there aren't many insurance technology startups in Hong Kong, making it more attractive for us to develop the business here," Holub told China Daily.
"However, there are no clear fintech regulations in Hong Kong. Given the fast pace of the fintech sector's development, fintech companies may, sometimes, find it difficult to figure out whether their operations are regulated or not."
The SAR should also develop more funding sources for fintech enterprises as this is a capital-intensive industry, he added.
Mioying Financial Technology - a fintech startup backed by mainland venture capital firm ZhenFund - launched its wealth management platform MioTech recently, targeting wealth managers, family offices and private banks in Hong Kong.
The platform provides an end-to-end solution covering data aggregation, data management and artificial intelligence-based analyses that facilitate robo-advising and compliance management. The platform is transforming Hong Kong's wealth management business, whereas the city's asset managers are still relying mostly on manual calculations and Microsoft Excel to handle increasingly complex data analyses and operational processes.
"Hong Kong has a bright future for fintech given its pro-fintech government policies, a stable regulatory framework, plus a sound market structure because of the city's high density of financial institutions, giving it the potential to become Asia's next cradle of B2B (business-to-business) fintech revolution," Mioying Chief Executive Officer Jason Tu told China Daily.
"The biggest hurdle to developing fintech here is hiring engineering talents as many local graduates do not know what is happening in the fintech scene either in Hong Kong or on the Chinese mainland. We're providing internships and job-rotation opportunities at our Hong Kong and Shanghai offices to help graduates," he said.
A fintech report issued in May by the Financial Services Development Council - the government's financial advisory body - described Hong Kong's fintech sector as "nascent" as the sector's development is being restricted by small market demand, technological innovation limitations, as well as the paper-based and "multi financial regulator" model.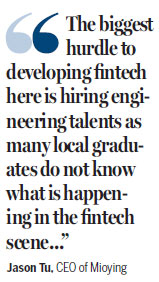 In a research report in 2015, local think tank Our Hong Kong Foundation called Hong Kong a "financial hub but not yet a technology hub of finance", saying the city's "regulatory bodies should review the balance between innovation and regulation".
Currently, there is no regulatory framework governing fintech in Hong Kong. A government-appointed Steering Group on Financial Technologies is said to be working on a policy blueprint outlining developments in the industry.
Hong Kong's multiple financial regulator model - the Hong Kong Monetary Authority monitoring banks, the Securities and Futures Commission controlling securities and funds, and the Insurance Authority overseeing insurers - is regulating the fintech industry at a different pace.
"The government should be proactive in coordinating with these regulators to conduct consistent regulation in fintech," said lawmaker Charles Mok Nai-kwong, who represents the information technology sector in the Legislative Council.
Blockchain technology, the digital ledger technology that could skip a central authority and bring greater transparency to regulatory reporting, is a new fintech area that Hong Kong can excel in.
Bank of China (Hong Kong) said in May it had completed Hong Kong's first case of settling trade finance using blockchain. It was also the first banking institution in the SAR to launch property valuation services using blockchain last year, facilitating faster mortgage loan approvals.
The bank is pondering whether the technology can be applied to other financial services.
"Not only banks, but also supply chain companies and shipping companies that should embrace this technology because their businesses involve many transaction-based and multi-tasking information sharing activities," said Peter Man Chi-fung, regional director at Red Hat Inc - a US infrastructure platform solution provider.
"It's too early to assert that blockchain technology will blossom in the local financial sector," he cautioned. "To catch up with regional competitors, Hong Kong government must be more proactive in formulating tax policies or building a quality working environment to attract global corporations to establish their research and development (R&D) centers here to make sure the city will not lag behind in fintech innovation."
"As a financial services hub with good financial regulation, Hong Kong can play a leading role in regulatory technology (regtech) and help financial institutions address compliance burdens," said Henri Arslanian, PwC fintech and regtech lead for China and Hong Kong.
"As a limited market with a population of just several million, Hong Kong should focus on developing B2B rather than business-to-consumer (B2C) fintech initiatives, with insurance technology as another potential area of focus," he urged.
The Hong Kong Applied Science and Technology Research Institute (ASTRI) - the government-founded agency for promoting technological innovation - is developing cross-boundary trade settlement, as well as online personal identity management platforms for opening bank accounts using blockchain technology. These initiatives have gone through the stage of "proof-of-concept" and are poised to enter the "prototype and pilot" stages as more financial institutions are willing to participate.
However, despite the enthusiasm in the private sector, the public sector is rather lukewarm about blockchain technology.
"The Office of the Government Chief Information Officer has not noticed any government department or bureau which has put forward any concrete application proposal to utilize blockchain technology in areas like handling tax returns, land registration, voting and issuance of identification documents", Secretary for Innovation and Technology Nicholas Yang Wei-hsiung told LegCo in June.
ASTRI will dedicate more than HK$200 million to fintech development and double the number of fintech R&D experts in the coming three years. It has funded a total of 48 fintech R&D projects with HK$145.5 million since 2014.
oswald@chinadailyhk.com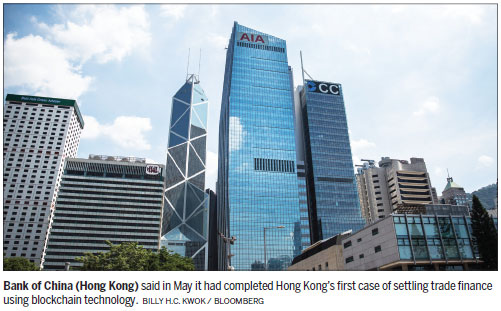 (HK Edition 08/04/2017 page12)