President Xi donates best birthday gift to Hong Kong
Updated: 2017-07-05 06:56
By Paul Yeung(HK Edition)
| | | | | | | | | |
| --- | --- | --- | --- | --- | --- | --- | --- | --- |
|   | | Print | | Mail | | Large Medium  Small | 分享按钮 | 0 |
President Xi Jinping visited the city to celebrate the Hong Kong Special Administrative Region's 20th anniversary of establishment. During the three-day trip, he witnessed the signing of agreements to establish the Hong Kong Palace Museum and deepen cooperation on Greater Bay Area development. Some people said the gift brought by Xi this time was unsurprising; they therefore worry this might imply diminishing importance of Hong Kong in the eyes of the central government.
These comments are not accurate as they overlook the key message delivered by Xi during the visit. The president said: "It has been 20 years since Hong Kong's return to the motherland. According to China's tradition, a man enters adulthood at the age of 20." To a child, "gifts" mean practical and materialistic support but to a man who is entering another new stage, what he needs most is wisdom to foster future development. Thus, what Xi spoke from his mouth is more important than what he brought in his hands.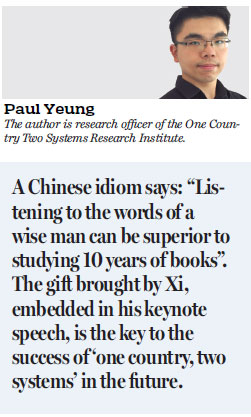 Firstly, Xi fully endorsed the SAR government's work in the past five years. As we all have realized, it was not an easy period for the SAR government. Political conflicts, accumulated social problems, challenging economic restructuring issues were all tough tasks to cope with. Facing these challenges, the government would be satisfied to maintain economic and social stability. Against independence advocacy, the Hong Kong government has boldly reacted without hesitation and delivered a clear message to society that there would be no room for "Hong Kong independence".
That's why Xi told former chief executive Leung Chun-ying: "These five years have not been easy for you. You have paid much effort in implementing 'one country, two systems' and the Hong Kong Basic Law." This recognition of past effort is a great encouragement to not only Leung, but also those who had contributed to Hong Kong's stability and national unity.
Secondly, Xi emphasized the importance of upholding national unity in practicing "one country, two systems" and issued a strong warning against separatism. How to fully and accurately practice "one country, two systems" is an important topic for Hong Kong in the past few years as well as in the future. In the past, Hong Kong people focused much more on the practice of "two systems" with emphasis on the autonomy of Hong Kong's system. Xi stressed that Hong Kong people would need to be guided by a "strong sense of one country" and clearly set a bottom line of "one country".
In his words, any attempt to endanger China's sovereignty and security, challenge the power of the central government or use Hong Kong to carry out infiltration and sabotage activities against the mainland is an act that crosses the "red line", and is "absolutely impermissible". This key message will be a foundation of the development of "one country, two systems" in future, and effective practice is necessary to stop any separatist activities in the future.
Last but not least, Xi's speech on July 1 intentionally mentioned the history of Hong Kong and pointed out that the destiny of the city has always been tied with that of the motherland. He also said that Hong Kong's return to the motherland has gone down as a monumental achievement in the history of the Chinese nation. This message gave confidence to Hong Kong people, especially those worried about Hong Kong's future.
In fact, the central government has always given Hong Kong strong backing for 20 years. Favorable policies and development platforms, such as CEPA, stock connects and planned Greater Bay Area were delivered to Hong Kong at the right time, not kept back until the anniversary. However, the effectiveness of seizing these opportunities is highly dependent on the understanding of "one country, two systems", especially on the importance of the national unity and interest to Hong Kong.
A Chinese idiom says: "Listening to the words of a wise man can be superior to studying 10 years of books". The gift brought by Xi, embedded in his keynote speech, is the key to the success of "one country, two systems" in the future.
(HK Edition 07/05/2017 page8)