City can ride to a bright future - on two shared wheels
Updated: 2017-06-28 09:37
(HK Edition)
| | | | | | | | | |
| --- | --- | --- | --- | --- | --- | --- | --- | --- |
|   | | Print | | Mail | | Large Medium  Small | 分享按钮 | 0 |
There are two positive but different opinions about Hong Kong: One is that the city will be better and the other that Hong Kong must reinvent itself. The first is optimism while the second is determination but both need a clear path to follow in order to reach a "better tomorrow" or create a "brand new self".
A popular weekly show on China Central Television caught my attention recently. The March 11 episode featured the real story of Hu Weiwei, founder of bicycle-sharing service Mobike. The story is an inspiration and so is she.
Hu was born in 1982 and graduated from the Department of Journalism of Zhejiang University. Three years ago, at the age of 32, she launched a bike-sharing business project called Mobike. In January 2015 the Beijing Mobike Technology was established, with its own bicycle factory to boot. On April 22 last year the phone app-based bike-sharing service officially began operating in Shanghai; on Sept 1 the company launched its service in Beijing. It took Mobike only a few months to have 100,000 bikes in each of the two megacities.
Hu said in the March 18 episode of the TV show that she and her co-founders put the social value of bike-sharing service ahead of its business value. The value of this particular service lies in providing people with a new means of urban transit and a new lifestyle choice.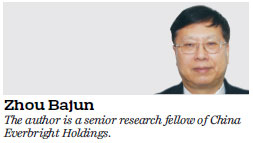 I recorded all these details of the show because I found some important information about Hong Kong's bright future.
Firstly Hong Kong must rely on the younger generation to create a brilliant future because most young people are innovative instead of conservative and are willing to fight for it. One can find plenty of examples on the mainland, such as in the neighboring boomtown of Shenzhen.
Secondly the younger generation in Hong Kong now lacks proper guidance and effective assistance from society as a whole. In the next five years, if the special administrative region government and various sectors of Hong Kong society create the kind of business environment that nurtured young entrepreneurs such as Hu and her business venture on the mainland for the young people of Hong Kong, I'm sure we will see Hong Kong's own "Hu Weiweis" emerge everywhere.
Thirdly Hong Kong cannot have a bright future unless its residents embrace "inclusion and sharing". The bike-sharing services born on the mainland are gender-, age-, ethnicity- and faith-blind, which means anyone who respects and follows the common rules can use them. That is the best demonstration of the "inclusive spirit". Hong Kong society achieved similar successes with such inclusiveness and joint efforts in the past. In recent years, however, Hong Kong society has appeared more divided than ever mainly because of increased attempts by the opposition camp to challenge and jeopardize "one country, two systems". In next five years the SAR government and Hong Kong society as a whole must do its best to fight against such attempts and bring divided society back together.
Fourthly Hong Kong's bright future requires traditional industry upgrades or reorientation. Bike-sharing services on the mainland are not just the return of bicycles as a means of personal transport. They are an internet-based business model managed by computers fed with big data collected from all the shared bicycles through GPS positioning and other employed technologies. Bike-sharing services revived a dying bike-building industry and these bikes are a new generation as well, using many modern technologies people never heard of before.
Fifthly today Hong Kong's four traditional pillar industries - finance, travel, trade and logistics, and professional and business support services - still account for 57.2 percent of the city's GDP. Among them only the financial industry is knowledge-driven while the other three are still labor- and capital-intensive. These industries cannot be phased out but the enterprises in them can be replaced if they don't upgrade or reinvent themselves soon. Their future development depends on all-round modernization driven by information technology and becoming knowledge-intensive industries.
And finally Hong Kong's bright future also requires new lifestyles to enrich people's daily lives. When Hu said "a city's happiness index should be very high if it is bike-friendly", she actually added a fresh ingredient to the definition of happiness. Bike-sharing services are a welcome antidote to serious air pollution brought by the explosive growth of automobiles on the mainland. As a modern city Hong Kong also has air pollution and should have its own commercial answer to it for happiness' sake.
(HK Edition 06/28/2017 page9)