Answering the call of the wild
Updated: 2017-06-16 08:05
(HK Edition)
| | | | | | | | | |
| --- | --- | --- | --- | --- | --- | --- | --- | --- |
|   | | Print | | Mail | | Large Medium  Small | 分享按钮 | 0 |
Editor's Note: As Hong Kong marks the 20th anniversary of the handover, it's also commemorating the 40th year of the designation of its iconic country parks. Veteran hikers tell Sylvia Chang the parks have left an indelible mark on the city's fabric and way of life.
A nature lover born to be outdoors
It was six in the morning as Lucina Lo set off for her morning romp through Tai Mo Shan Country Park. In her shiny sports suit, she appeared a tiny elf, floating aloft, as her slight frame seemed to flicker through the verdant woodlands sweeping up and down the mountainsides.
She climbed stone stairways in their sometimes nearly vertical ascents, pounded the soft surfaces of side roads and inched her way across the hilly slopes, seeming to pick up speed as she went.
"Mind your step," a voice from nowhere warned. Alarm showed on the face of an elderly stroller as he admonished her to slow down.
"Thank you," Lo replied with a smile, never breaking her stride.
The abbreviated, friendly exchanges, sometimes with total strangers, are part of what makes life on the trails worthwhile for Lo on her morning runs. Even the casual "hello" is a pleasant contrast to the preoccupied faces and frantic rush in urban Hong Kong.
In the wilderness, seemingly a thousand miles from the roar of city life, people speak to nature and nature speaks to them, says Lo. People become different away from the rat race and the cold, concrete jungle, where light barely shines through amid soaring skyscrapers. Lo says she was born to be outdoors.
Lo has been running for 16 years. In the first seven years, her long strides carried her through the streets and alleys and the running tracks of Hong Kong. Then, in 2008, she discovered a new reality - inside country parks. Up in the mountains, her spirits become refreshed. It's a revelation so thoroughgoing she calls it a miracle.
"Running on mountains brings in varied beauty, which is totally different form running on the road," says Lo. Over the years, she has been running like an athlete in training, whether in spring or autumn, through downpour and blistering heat, at dawn and in the dark of the night. The blooming wild lilies in summer, the mix of reds and deep oranges in autumn, the murmurs of the flying silver grass in blue-grey dawns, all of which make her feel she's a part of the changing environment.
Lo, generally, separates her cross-country running into three steps. "I feel my body consumes the most energy while I'm climbing. I fill up with food and water at the peak and then set it free by running really fast downhill." Her eyes shine as she describes the experience. Each step is endowed with a different celebration of life as she tests her endurance against the elements of the wild.
Cross-country running adds vitality to Lo's life. The people she meets on the way, the plants she pass by have all become life's treasures that she values most.
She met her husband, surnamed Li, out on a run. It was he who introduced her to cross-country running. In that shared interest, they've set out to crest every peak of the mountain terrain, which gives Hong Kong its true character as the "Pearl of the Orient". In their quest, the couple has drawn closer together, finding the direction to guide them through difficulties, with the endurance of a long-distance runner.
Lo sees country parks as a refuge for all people. Few people who live in the city are more than an hour's ride from a country park, so everyone can answer the call of the wild.
It's only in recent years that the spirit has begun to catch on as more and more people recognize the value of country parks and take a common stand to protect and preserve the vital wilderness that forms part of Hong Kong's soul.
"While we benefit, we should give too," says Lo.
An undying passion for the mountains from childhood
In sportswear and a pair of sunglasses, Lee Wai-on began a sunny summer day in the mountains. This is how he had started most of the days in the past 30 years.
Lee, now in his 60s, discovered his love for hiking as he commuted between his home and school at the age of six.
A frequent mountain hiker for more than three decades, Lee recalls the sorrows and joys he had gone through those years. He had met new friends, some of whom came and went but through it all, he has found a continuous link.
In his relationships with those who had passed by day or night and then vanished, Lee remains rooted in the mountains, where he plans to spend the rest of his life.
He has joined hundreds, if not thousands, of hiking teams. Most of the people he had hiked with have now kicked the habit. Some may have died. But, for Lee, hiking will be with him from the cradle to the grave.
Lee grew up in a log cabin in a country village far from the city. The place he had lived in, now called Sha Tin, was then far away from the urban areas. He had to walk between his home and school for years. That was where he developed his love for walking. It became a part of him.
"I think from then on, hiking has become my way of life." In retirement, Lee still feels the deep affection from his childhood.
"I'll never give it up," he vows, when asked if old age would be an obstacle to his keeping up his lifestyle.
Lee and some of his friends started a small hiking community about 10 years ago. But, all the other founding members have since dropped out, and he never asked why. What matters to him is the passion that people have for hiking. As the only original group member left, Lee keeps going. The group was an important turning point for him. He continues to organize hikes, drafts introductions to the native scenery and creates maps of the hiking routes.
"I only wish to provide one more choice for those who're interested in hiking," he says.
According to Lee, the members who joined the team are always changing. To him, they are people sharing information about hiking and enjoying the times they've been together. His relationship with his teammates is nothing more than that, and Lee is content, keeping at a distance.
"Life's like this," he says. The furrows on his brow, looking deeper under the sunshine, reveal the weathering of the years.
To keep up, Lee has had to compromise, but it hasn't always worked. His forays into the wild had cost him his marriage with his first wife.
"It's not a disgraceful thing to say my first marriage ended because of hiking," he quips with contriteness.
On one occasion, he recalled insisting he would go hiking while his wife was dead set that he should be at home to keep her company. Such confrontations have ensued.
Lee now encourages his present wife to take up hiking. But, she can't keep it up. When he wants to take on more difficult slopes, she would be completely lost.
Lee used to go hiking once a week on weekends. Now, he goes out twice and spends the rest of the time with his wife.
"Of course, I would love to have more freedom when I'm by myself," Lee says in jest. "But, don't tell anyone."
Lee has to force himself to strike a balance between hiking and family. He expects people with the same passion to join him and enjoy our country parks.
Contact the writer at
sylvia@chinadailyhk.com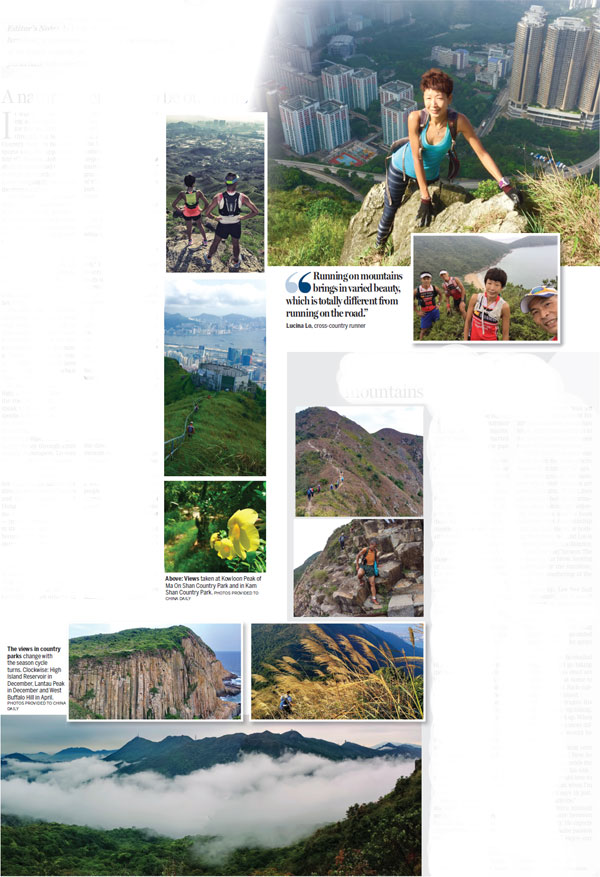 (HK Edition 06/16/2017 page7)