Sharing a space
Updated: 2017-06-16 06:59
By Melanie Ho(HK Edition)
| | | | | | | | | |
| --- | --- | --- | --- | --- | --- | --- | --- | --- |
|   | | Print | | Mail | | Large Medium  Small | 分享按钮 | 0 |
Debut short story collections by two writers who fine-tuned their craft at CityU address the themes of ethnicity, migration and unlikely friendships forged between people in a shrinking world. Melanie Ho reports.
Although Stephanie Han's debut short story collection, Swimming in Hong Kong, was two decades in the making, in many ways Han was ahead of her time. Set across Hong Kong, South Korea and the United States, Han's stories reflect the idea of polyculturalism and how people from different parts of the world relate to one another.
"I'm hoping the book contributes to a discussion about how we are all linked and how we find humanity in our differences," says Han. "In the title story 'Swimming in Hong Kong', the two characters find a way to cooperate, to cobble (together) a way of understanding (each other). The characters don't speak to each other, but it's not necessary to have (a common) language to cooperate." It does not take a shared language to recognize the basic human qualities in one another, says the writer.
The story is about the unlikely friendship between an African-American woman and an elderly Chinese man who teaches her to swim in Hong Kong's Victoria Park.
Han says some of her readers could not quite relate to the idea of two people from such diverse cultures forging a bond. "But people who live a globalized life understand this - people meet, become friends, it's not a big deal. It happens a lot."
Although earlier that kind of friendship would be put to scrutiny, globalization has made these relationships more common than before and, as a result, Han's book easier to publish.
Han began working on the first iterations of the 10 stories that make up this taut collection back in 1997. They have appeared individually elsewhere before Willow Springs Books, based in Spokane, Washington, anthologized and published them earlier this year. The book recently won the 2017 Paterson Fiction Prize and was also finalist for the AWP Grace Paley Prize for Short Fiction as well as the Spokane Prize. Han says the stories must have been rejected by prospective publishers more than a hundred times.
Rejections steeled her resolve to carry on. Han continued to fine-tune her work, rewriting each story dozens of times. "Writing these kinds of stories was just my reality so I didn't think about it."
Han currently resides in Hawaii (the city her South Korean ancestors settled down in 1904) and has been an expatriate "on and off" for the past 25 years. During the second of her two stints in Hong Kong, Han became City University of Hong Kong's (CityU) first PhD in English literature. She now lectures at Hawaii Pacific University, and continues to write poetry, fiction and non-fiction.
"I always encourage people to write because we all need to feel we have our own personal narrative and that we are contributing to the larger narrative of the nation or the globe," Han said. "We are all worthy of a narrative."
She is interested in both the specific and the universal. In the opening story, "Invisible", Han describes an expatriate's experience in Hong Kong, while the protagonist in "Canyon" is an immigrant to the United States. Characters range from Asian-American political activists to elderly ladies in Sheung Wan.
"(Fiction) is a way of working out, through different kinds of characters, ideas about orthodoxy, tolerance, motivation and what makes people function in a certain way," says Han. "Ideas of race, ethnicity, longing these are the stories. Where do I belong? What is my purpose? What does it mean to be Asian and a woman? These are questions people have all over the world, questions that we've always had."
In writing about how different cultures interrelate, Han is also looking at global issues. "One of the biggest problems in the 21st century is how to live and function and be peaceful on the planet," says Han, adding that many of her stories are informed by a sense of respect for the way people learn to co-exist in a changed world order.
Exchange and collaboration continue to be an important part of Han's work. Even as she is putting together a book of her poems and another of literary essays on the art of Asian-Americans for publication, Han is also co-authoring a novel. She sounds quite thrilled about the novelty of the experience. "It's fun," she says.
A polycultural world
Sreedhevi Iyer - Han's fellow CityU PhD in English literature - also released her first short story collection, Jungle Without Water, recently. Iyer's 10 stories, like Han's, are also about crossing borders. Spanning India, Malaysia and Australia, Iyer's stories explore the issues of identity, heritage and the future of people exposed to multiple cultures.
Some of the strongest stories in the collection are hinged on the tension that ensues when characters are placed outside of their accustomed environments. For instance, "Green Grass" is about Mohan bringing his white, Australian wife Ray-chill (Rachel), home to his native village in India. In "Kadram", the narrator, an Indian domiciled abroad paying a visit to her home country, realizes that she comes across as both familiar and strange: "We spoke Tamil to the driver but we sounded different. We wore very modest Indian clothes but we walked like foreigners." Iyer is an astute observer and she captures the meeting of different cultures from a variety of perspectives, exposing its fragile nature.
Iyer, like Han, often links up the specificity of a situation with a universal theme. In the opening story, the narrator Jogi, an Indian immigrant in Australia, is asked where he's from by a local woman. When he asks the same question of her, "Jogi expected her to laugh, find the question silly, or just say 'Brisbane'. Instead Alice thought hard. 'I'm from my mother.'"
Jungle Without Water is a strong debut. In her ability to layer experiences, cultures and histories atop one another, Iyer has crafted rich and compelling characters that resonate with our polycultural lives.
IF YOU GO
Swimming in Hong Kong
Book launch with Stephanie Han
Presented by Hong Kong International Literary Festival
4/F Lecture Theatre, Visual Arts Centre, 7A Kennedy Road, Admiralty
July 24, 7-8:30 pm
http://www.festival.org.hk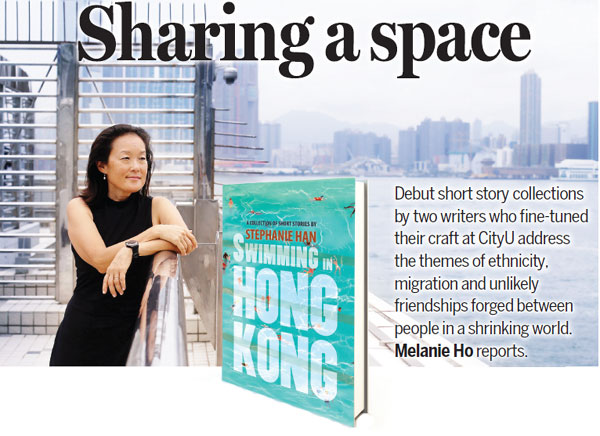 In Stephanie Han's (above) Swimming in Hong Kong, people from disparate backgrounds communicate despite not having a shared language. Photos provided to China Daily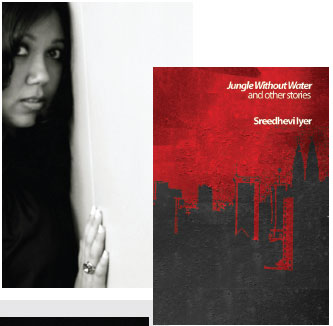 Sreedhevi Iyer (above left) explores the issues of identity, heritage and the future of people exposed to multiple cultures in Jungle Without Water.
(HK Edition 06/16/2017 page12)