Tung right with mutual benefits for HK, nation
Updated: 2017-05-23 07:35
By Ho Lok-sang(HK Edition)
| | | | | | | | | |
| --- | --- | --- | --- | --- | --- | --- | --- | --- |
|   | | Print | | Mail | | Large Medium  Small | 分享按钮 | 0 |
Ho Lok-sang says we would do well to remember first CE's astute observation on cross-boundary relations
The first Chief Executive of the Hong Kong Special Administrative Region Government Tung Chee-hwa impressed me with two by-now well-known adages. When he was still CE, he often said "If Hong Kong does well, the nation will do well; if the nation does well, Hong Kong will do even better." And in another instance, he advised: governments should "be anxious about whatever citizens would be anxious about; and think about whatever citizens would".
Tung's words depicting a virtuous circle between the mainland's and Hong Kong's well-being remind us that the central government certainly has the best of intentions for Hong Kong. There is just no such a thing as a Hong Kong interest that stands in the way of the national interest. The central government wants Hong Kong to prosper and would only wish that Hong Kong people will all find their dreams.
However, what Tung said about the virtuous circle between Hong Kong's and the mainland's well-being is more about the potential than about the actual outcome. The actual outcome will depend on how ready Hong Kong is to capitalize on opportunities that arise when the mainland does well. If Hong Kong keeps resisting integration as part of a greater economy and part of a great family, Hong Kong could go down the path of decline and would become not even just one of many mainland cities but would fall behind them - not just in economic aspects but also in cultural aspects.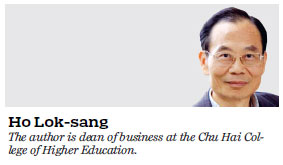 The fact is many cities on the mainland are opening up; they are fast building up direct contacts with foreign partners. With the Belt and Road Initiative in high gear, the speed of internationalization will only increase. But some Hong Kong people have become more and more insular these days. In the name of promoting the "Hong Kong indigenous culture", they want to call the Cantonese that they speak everyday "Hongkongese". They fall behind in both English and Chinese, and cherish a very narrow-minded or parochial culture. While many mainlanders are embracing the world, some Hong Kong people would only embrace themselves. With an insular attitude, it will be very difficult to trigger the virtuous circle of "Hong Kong well, the nation well; the nation well, Hong Kong even better."
Early this year Hong Kong and Shenzhen signed a memorandum of understanding related to developing a plot of land close to the border called the Lok Ma Chau Loop into an innovation and technology park. If the minds are there, this will prove a unique chance for Hong Kong to upgrade its industrial base. It will be four times the size of the Hong Kong Science Park, the space of which - as well as the space of all our industrial estates - has now been used to capacity. Some people complain that it is a bit far, but if the minds are there, this difficulty can be overcome through appropriate transport planning. High pay will also play a part in reducing resistance of having to travel a long distance or needing to relocate. The latest annual report of Huawei showed that the company's 180,000 employees earned an average of nearly 600,000 yuan ($87,000, or HK$678,000). Increasing the supply of industrial land and particularly land reserved for innovation and technology parks will greatly help diversify Hong Kong's economy and remove the psychological resistance to collaborating and integrating with the mainland economy. This will help realize Tung's vision of a virtuous circle between the mainland's well-being and Hong Kong's well-being.
Tung's other dictum, imploring government officials to put themselves in the shoes of the man-in-the-street, is certainly behind many policy initiatives that address people's top concerns. It was he who proposed to vastly increase housing supply to meet the city's housing needs. The ambitious housing supply target of 85,000 units a year proved excessive but increasing housing supply was the right thing to do, and Leung Chun-ying, the current CE, continues to strive hard to boost housing supply. It was in this spirit that the Low-income Working Family Allowance was introduced and it supplemented the earlier statutory minimum wage to alleviate the plight of the working poor. This followed the effort of Leung's administration to boost the Old Age Allowance, to implement the HK$2 fare on domestic MTR and franchised bus trips, and to improve access by wheelchairs.
Throughout the past 20 years, although occasional policy mistakes were made, lessons have been learnt and better policies are being proposed and implemented. But it takes two to tango. The advice "to think as ordinary people think" should apply to legislators as well as government officials. It was a pity, for example, that just because one legislator filibustered, a proposal to change the composition of the Medical Council failed to pass through the Legislative Council despite widespread support from the community.
(HK Edition 05/23/2017 page8)