The maps that define a smart city
Updated: 2017-05-05 06:39
By Evelyn Yu(HK Edition)
| | | | | | | | | |
| --- | --- | --- | --- | --- | --- | --- | --- | --- |
|   | | Print | | Mail | | Large Medium  Small | 分享按钮 | 0 |
Digital mapping pioneer Winnie Tang has helped put Hong Kong'on the map', telling Evelyn Yu her business is aiding the SAR in its drive to be a smart city.
One of the primo accolades that can be bestowed on Winnie Tang, founder and chairwoman of Esri China (Hong Kong) Ltd, is that she brought the geographic information system (GIS), or digital mapping, to Hong Kong.
It's a system that's been so widely used in our daily lives and yet taken for granted when, looking back to 20 years ago, maps were still being hand-drawn in government departments or enterprises, she notes.
"GIS is more of a creation of maps from nothing - we use satellite, land surveying, aerial photos and the information system to store and integrate information into digital mapping. Most importantly, GIS allows us to analyze the information in mapping out the trend and pattern of any particular issue," Tang tells China Daily.
To put in it in perspective, she explains that the dashboard that's widely used in the United States to help the authorities monitor road traffic conditions, the status of construction projects, crime distribution and disease dispersion patterns, is GIS.
Esri found itself on call when Bank of America - one of the company's clients - was scouting around for the best location to open up a new branch. Eris' GIS application, which adds demographic information such as population density, education and consuming ability layer by layer over the map, offered top guidelines in optimal decision making.
Under the umbrella of Esri - a global supplier of GIS software that ranks among the world's top 50 software companies - Tang launched the Hong Kong branch in 1997 from scratch. In the past two decades, she has overseen its growth into a leading GIS provider that gears up the modernization of Hong Kong.
Worldwide, Eris provides products and services to more than 350,000 users in the public and private sectors. Tang estimates that 150 million new maps are being generated each day with their system.
The entrepreneur recalls that one of her most unforgettable episodes was in 2003 with the onset of SARS (Severe Acute Respiratory Syndrome). She and her 12 colleagues had to work tirelessly day and night to develop the world's first SARS map. The map, which was able to monitor how SARS spread, served as an efficient tool in tracking and reporting on the incidence of the disease. The map was soon made available for use by the Hong Kong government. The job was later taken over by the World Health Organization, which worked continuously to build up on the map for disease control.
Keeping slopes safe
Today, Tang counts on a bevy of government departments as among her biggest clients.
To name a few, the Civil Engineering and Development Department has been using Eris' GIS system to maintain slopes in Hong Kong. Aerial photos are used to monitor the condition of some of the city's most dangerous slopes - something that has come a long way in helping to prevent major landslides that could have brought untold suffering and damage to residents.
Having built up a sizable business, Tang says she's in no rush to make Esri a public business entity.
"We're debt free and we don't see any need to raise capital for the time being. We're convinced that if we stay private, we can choose our own way in developing products that meet the needs of our clients, not just shareholders. We're very committed to providing premium products and solutions which can capture information accurately and manage them effectively in real time for customers.
According to Tang, 27 percent of Esri Hong Kong's revenue goes to research and development - a huge amount that's way beyond that of an average IT company. It's Esri's private status that endows Tang the liberty to map out the strategy allied with her vision.
She founded the Smart City Consortium - a group of professionals seeking to make Hong Kong the world's leading smart city, an initiative that has been gaining traction across many developed cities to leverage on the information and communication technology (ICT) in enhancing the quality of life of citizens.
'Smart bin' inspiring
Tang gave top marks to what she saw in Singapore, a smart city pioneer. She particularly singled out the "smart bin" that acts as Wi-Fi hotspots for pedestrians. The solar-powered rubbish bin comes with sensors that tell cleaners if they're full, offering a capacity that is up to eight times that of a normal bin.
What Tang would like to see is the adoption of information and communication technology in our everyday life to enable people to enjoy the fruits of technology.
The potential of GIS is there for all to see, she says, in gearing up Hong Kong as a smart city.
"Whatever we do, we'll need a map."
Contact the writer at evelyn@chinadailyhk.com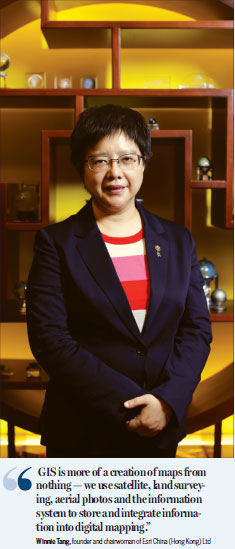 Winnie Tang, founder and chairwoman of Esri China (Hong Kong) Ltd, is convinced of the great potential in the geographic information system. Roy Liu / China Daily
(HK Edition 05/05/2017 page9)