Domestic discord
Updated: 2017-04-21 08:50
By Elizabeth Kerr for China Daily(HK Edition)
| | | | | | | | | |
| --- | --- | --- | --- | --- | --- | --- | --- | --- |
|   | | Print | | Mail | | Large Medium  Small | 分享按钮 | 0 |
What we want from our filmmakers changes just about once each generation. What worked immediately following WWII gave way to different moods and themes in the Vietnam era. And then it was the turn of the money-grubbing 1980s and so on. Though neither may want to be held up as exemplars of those kinds of changes, that's exactly what Iranian filmmaker Asghar Farhadi and Hong Kong director Pang Ho-cheung have proved to be.
Farhadi and Pang both cleave to the entertaining, dramatic end of the cinematic scale. In Farhadi's case it's about jettisoning the post-war reflection and formalism of Iranian superstar auteurs like Mohsen Makhmalbaf and Abbas Kiarostami in favor of contemporary storytelling that speaks to and of modern Iranians. Pang works in a leaner, meaner, post-new wave Hong Kong film industry, catering to a different set of audience expectations. Quick and dirty gangster epics don't cut it anymore and there's more to Hong Kong life than "brotherhood". Both are held up as reluctant exemplars, however, because they're good at what they do.
In the third installment of Pang's ongoing romance between advertising whiz Jimmy and make-up professional Cherie, Love off the Cuff ventures into the domestic comfort zone, with both back in Hong Kong and experiencing the kind of routine that gives rise to boredom, uncertainty and insecurity in a committed relationship. The Salesman refers to the character from Arthur Miller's classic Death of a Salesman, which married actors Emad (Shahab Hosseini) and Rana (Taraneh Alidoosti) are performing in. When structural damage forces them to leave their apartment, they move into a flat previously occupied by a prostitute - or a woman with many male friends as she's euphemistically referred to. Alone one evening Rana is assaulted in the flat, prompting a quest for revenge - by Emad.
In both films, Pang and Farhadi are returning to familiar ground, and in both cases it's a welcome return. Shawn Yue Man-lok and Miriam Yeung Chin-wah reprise their roles as Jimmy and Cherie and, as was the case in Love in a Puff and Love in the Buff, their chemistry is as crackling as ever. Pang finds a way to keep things fresh - even if Jimmy and Cherie don't feel it - and audaciously throws in mythical monsters, UFOs and alien contact (it makes sense in the movie). Anyone who's curious about the state of Jimmy and Cherie's romance will want to tuck into Love off the Cuff. They're still charmingly recognizable characters, recalling the messy, curious and complicated people we all live and work with in Hong Kong. The colorful, ultra-modern Cantonese adds a taste of locality that gives the film real personality. And yes, there could be a fourth.
While the Oscar-winning The Salesman doesn't have a focus on the pressing social hierarchy that made A Separation so compelling, Farhadi does a masterful job of juggling the feelings of shame and forgiveness while demanding that viewers question Emad and Rana's - arrogant, elitist, morally challenged - motivations for the justice they seek. The story really picks up when Rana declines to go to the police, and Emad begins his vengeful search for the rapist (hinted at, but obvious) and reveals the film for what it is: a meditation on a husband's misplaced rage. Emad isn't acting on Rana's behalf; he's acting on behalf of his wounded pride. Hosseini's performance is all modulated emotionalism in contrast to Alidoosti's cool detachment, and they dovetail perfectly.
Farhadi's typical attention to detail keeps The Salesman engaging, even when it meanders off course a bit - an offhand shot of what is clearly a child's drawing demands reconsideration of the unseen prostitute. His generic specialities are all present and accounted for: There are plenty of doors and windows putting Rana and Emad together and keeping them apart at the same time.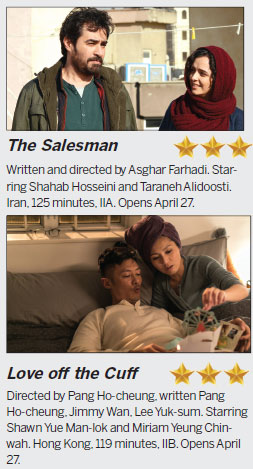 (HK Edition 04/21/2017 page1)