China'in a quandary'over US rate hikes
Updated: 2017-04-21 07:05
By Luo Weiteng in Hong Kong(HK Edition)
| | | | | | | | | |
| --- | --- | --- | --- | --- | --- | --- | --- | --- |
|   | | Print | | Mail | | Large Medium  Small | 分享按钮 | 0 |
Pundits point to increasing trade conflicts as both sides aim to ramp up exports
Despite mounting fears over the specter of China-US trade tensions haunting the world's second-largest economy, experts with mixed opinions are eyeing a potentially bigger yet less-discussed risk deeply rooted in the country's monetary or fiscal policy.
"There's a risk to China, not from the trade, as much as from the US Federal Reserve (Fed)," said Jeffrey Kleintop, chief global investment strategist at US-based brokerage firm Charles Schwab.
Basically, the People's Bank of China (PBOC) remains the one and only major central bank around the world to follow the Fed in tightening policy. So far this year, China's central bank has raised rates it charges on medium-term lending facilities twice by 10 basis points at a time, tracking the Fed's quarter-percentage-point move in March.
"While the US economy proves to be strong enough to handle rate hikes, I don't know for sure whether China's economy is," Kleintop said. "With the Fed remaining on track to raise interest rates twice more this year, is China going to do the same thing?"

The country's private sector, with its surging investments in construction, picks up the baton from the government, whose infrastructure spending has dropped to a five-year low, to shore up growth of the world's second-largest economy.
"New residential buildings in China, following the trajectory of its leading indicator-excavator sales, are poised to spike up, in a way we have only seen once over the past ten years," he noted.
Such a spike, however, only comes on the premise that the PBOC will not be dragged along by the US Fed to push up its borrowing costs, with the interest-rate sensitivity hanging like a sword of Damocles over private-sector investments, Kleintop reckoned.
"That's how China may find itself in a tough spot," he said.
Moving in line with the Fed may put China on course to ease concern over yuan depreciation and curb capital flight, but importing US monetary policy may also deviate from the nation's path to a 2017 expansion target of around 6.5 percent, a speed that Premier Li Keqiang said is far from easy to meet, Kleintop warned.
"Typically, this is a less-discussed risk that policymakers in China have to figure out about how to deal with the problem this year," he said. "The PBOC may have different tools at hand. But, for the time being, I don't know the final answer to the risk."
In a belief that China cannot afford to reduce its dependence on infrastructure and construction in its quest for a growth engine, Fielding Chen Shiyuan, Asia economist at Bloomberg Intelligence in Hong Kong, sees such an issue in a slightly different light.
"If there's any underlying risk looming ahead, I would interpret it as a distortion of the domestic market from growing government spending in infrastructure and construction," he reckoned.
"The private sector, as far as I'm concerned, still plays a negligibly small part in infrastructure spending," Chen noted. "Most of the so-called private-sector investments, however, are essentially backed by Stated-owned capital, which has proven not to be that interest rate-sensitive."
A swarm of companies chasing fat profits in the high-flying real estate and infrastructure sectors is said to put the mainland's real economy on course to lose out. The government's spending boom, in that sense, may hide some fundamental problems of, or further distort, the country's economic structure, with the real economy dithering in the face of growing leverage, he said.
Faced with the daunting task of maintaining the country's currency stability and cracking down on capital exodus, there's nothing much the PBOC can do to shore up the economy via its monetary tools. This makes infrastructure and exports, defined by the nation's fiscal policy, the highlights of China's macro economy, he said.
Amid accusations against China over US trade deficits and job losses, concern over China-US trade ties still seems to have its point. Though rhetoric and mentality all over the world today may usher in a new era of protectionism, Kleintop dismissed any possibility of a trade war between China and US.
Donald Trump's stance on protectionism, he pointed out, is reminiscent of former US president Ronald Reagan's trade tactics against Japan back in 1980s. But the story is the annual growth rate of the world trade volume of goods and services in 1981 - the first year when Reagan took office - still managed to hover around at 3 percent.
The same thing may go for 2017, the first year when Trump assumes office. The growth rate projected by the International Monetary Fund is 3.76 percent although the new US administration has promised to pursue an "America first" economic policy.
"Trade friction, rather than a trade war, would be a sure thing between China and US in the coming years," Kleintop warned. "But, what the US wants is exporting more instead of importing less. It's not necessarily a setback for globalization."
At the China-US summit earlier this month, President Xi Jinping and President Trump sought to set the tone for the world's two largest economies' trade ties. The substantive progress made at the meeting, if any, is that both sides have reached a consensus to take vigorous steps to resolve the most divisive issues, such as trade deficits and currency manipulation, Chen said.
This, obviously, reduces the likelihood of a trade war, but won't necessarily help China steer clear of trade conflicts with the US.
"Still, the two countries would get back to the negotiating table to seek compromise on bilateral trade," Chen said. "For China, a healthy domestic economy always stands as the key, which lends us more bargaining power in fighting for a better development environment."
sophia@chinadailyhk.com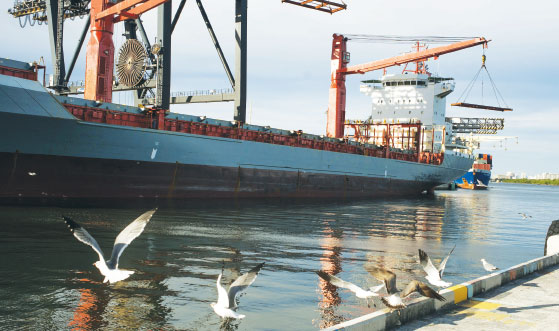 A cargo vessel docks at a port in Florida, US. Analysts have played down a possible trade war between the world's two largest economies. Nevertheless, for China, a healthy domestic economy is always seen as the key, which can aid the country's bargaining power in global economic issues. Ty Wright / Bloomberg
(HK Edition 04/21/2017 page8)