Misguided tours
Updated: 2017-04-21 07:02
By Willa Wu(HK Edition)
| | | | | | | | | |
| --- | --- | --- | --- | --- | --- | --- | --- | --- |
|   | | Print | | Mail | | Large Medium  Small | 分享按钮 | 0 |
The tourism industry in HK continues efforts to repair its reputation after some ugly incidents
involving coerced shopping some years back, but the real problem rests with a handful of cut-rate tour operators who continue to sully the city's reputation. Willa Wu reports.
They became the focus of a scandal across the entire nation and a blemish on Hong Kong's reputation a few years ago - the warrior tour guides. Videos were splashed everywhere of guides hectoring and badgering Chinese mainland tourists, calling them cheap and ungrateful. One tourist died after an encounter with a tour guide who had demanded the man buy something at the retail shop where they had stopped.
The incidents brought to light a shameful condition of worker exploitation afflicting Hong Kong's tourism industry. The tour guides were victims too. Tour operators had forced the guides to live on the commissions earned from sales to tourists at retail shops. Otherwise, the guides received almost no compensation. Today, the guides continue their struggle.
Filling out a family information form for his daughter, Wong Ka-ngai, 43, paused when he came to the space to enter "Occupation". His 9-year-old daughter, sitting beside Wong, said in a sarcastic tone, "Now quick, daddy. The whole world knows you are a tour guide."
The little girl's remarks hurt. He was employed in one of Hong Kong's four pillar industries, tourism, and yet tour guides get little recognition or respect. The good reputation of the city's tour guides has never been reinstated and they are still poorly paid.
Once upon a time, tour guides had both money and respect. Many people envied their jobs. It took 10 years for that to change.
"The public viewed us as manipulative and money-oriented. But the problem is never us," said Wong. The root of the problem lies in the way they get paid.
The big squeeze
After losing his savings on the stock market back in 2000, Wong heard he could make HK$20,000 a month on average, as a tour guide. It sounded good to him.
"Tourism at that time had low recruitment standards with no certification required. The ability to speak the Mandarin and Minnan dialect, a local language mostly used in Fujian province, were guarantees of a job," Wong explained. Nowadays, tour guides are required to have a Tourist Guide Pass issued by the Travel Industry Council of Hong Kong (TIC), the government-authorized regulatory agency, and must take a series of courses.
Wong started out as an apprentice to a senior tour guide. The first three years were happy. He got a basic income from a "service fee". He was paid HK$20-30 per tourist. There were commissions when tourist clients bought things from the frequently visited retail shops on the travel itinerary. Relationships with the tourists were friendly and he sometimes received gifts.
"I was able to serve at least 14 tourist groups in a month. My salary reached HK$30,000 in peak seasons," Wong said with pride.
All that changed in July 2003, with the introduction of the Individual Visit Scheme. Residents from 49 mainland cities were permitted to visit the city on their own, while visitors from hundreds of remaining cities on the mainland still had to come in group tours.
Monthly income for tour guides crashed. Fewer tour groups came. Then the tour companies stopped paying service fees to keep a greater share of tourism income, squeezing the tour guides' share.
The industry changed, said Wong, now director of the Hong Kong Tour Guides General Union which has 2,000 members, a third of the city's total tour guides.
From that point on, tour guides had to fall back on commissions they got from retail sales as their only source of real income. Thus the troubles began. The unfair practices of some cut-rate tour operators caused a backlash that continues to sully the city's reputation as a tourist mecca.
In March 2010, tour guide Li Hau-chun, well-known as "Ah Zhen", verbally harassed a tour group for failing to spend enough at a jewelry shop. She shouted at a group of mainland tourists, "It's okay to be poor at home but not in Hong Kong!" The incident was recorded and uploaded to the internet and a nationwide uproar ensued. Two months later, former national table tennis player Chen Youming died of a heart attack outside a jewelry shop in Hung Hom. Shortly before the fatal attack, Chen had a heated exchange with a tour guide after refusing to buy from the shop.
TIC data shows that in the past eight years, half of the complaints filed by tourists were about tour guides. "The complaints are against the tour guides' poor service and malpractice, as seen in the rude attitude and coerced shopping," said TIC's Executive Director Joseph Tung Yiu-chung.
'Day Two' blues
These days, Wong handles around eight inbound tour groups - half of what he did in peak times. The groups come mostly from the mainland. He earns around HK$15,000 a month to support his stay-at-home wife and three teenage daughters.
"Day Two" of any tour is the big day for tour guides - shopping day. Commissions from retail sales on that day are about all the compensation a guide will receive from working with that tour group.
"Over 90 percent of the inbound groups are low-cost groups," Wong said. Low-cost packages, he elaborated, are priced from HK$100 to HK$2,000. The rates depend on the travelers' point of departure from the mainland. There's also a premium for people over 55 and young people born after 2000, who usually don't spend much on buying goods in Hong Kong.
The cut-rate tours all advertise "Day Two" as "shopping only" - for jewelry, watches, chocolate, and so on. Commissions for tour guides vary: jewelry, 7 percent; watches, 4 percent. "I served one group where nobody wanted to buy anything. I earned nothing for working 15 hours that day," Wong said, sighing.
"It is understood that no coerced shopping should be applied. Coerced shopping surely wrecks our reputation, as well as the city's. But who protects our interests and help us win back recognition and survive when the city's tourism industry is losing its charm?" Wong asked.
Statistics from the Hong Kong Tourism Board (HKTB) show that the number of mainland tourist arrivals decreased by 6.7 percent in 2016, following a 3-percent drop in 2015. Hong Kong Ocean Park, one of the city's major tourist attractions, suffered its biggest loss in 30 years in 2016.
Timothy Chui Ting-pong, executive director of the Hong Kong Tourism Association, said half of the association's members - 1,500 tour guides - have dropped out, seeking greener pastures as insurance agents or stockbrokers.
After the tourist scandals of 2010, TIC established new standards on payments for tour guides, requiring travel agencies to pay tour guides service fee every time the guides take out a group. Travel agencies that don't observe the guideline are penalized, and are at risk of license suspension.
TIC also worked with the government, creating 10 measures to curb coerced shopping and improve the experience for inbound mainland tour groups. According to a written reply from Secretary for Commerce and Economic Development Gregory So Kam-leung to the legislature in December 2015, 273 travel agents and 63 tourist guides were penalized for violations of TIC's new measures.
A new boom
The measures turned out to have little effect. There are still companies offering dirt cheap tours.
Pan Xiaorong, from Jinhua city of Zhejiang province, is a food lover. Hong Kong, acclaimed as a culinary paradise, had been at the top of her list of places to visit. She signed up for a five-day visit to Hong Kong and Macao. She couldn't resist the price set at HK$360.
The retired civil servant found herself on a coach with 30 other tourists, noting the tour guide's shabby Mandarin. On "Day Two" of the tour, the guide was pushing an electronic device that he claimed would cut domestic electric consumption, which Pan later learned was just a mosquito killer.
The first stop was a jewelry shop packed with tourists. Besides those queuing up to pay for purchases, there was a second queue of tourists holding invoices to show to their tour guide, who was busy writing down the invoice numbers and payment amounts.
"Have you seen bian lian (literally meaning "face-changing") in the Sichuan Opera? The tour guide performed one in front of me," Pan said. A bian lian performer, wearing colored masks, changes from one face to another almost in sync with the swipe of a fan.
A retired teacher from Pan's group bought nearly HK$100,000-worth of products in the shop. "The tour guide treated her like a long-lost sister," Pan said. She saw the same guide scolding another tourist and demanding, "Why are you so shameless?"
In December 2016, the Tourism Commission submitted to the legislature a draft of the Travel Industry Bill to establish the Travel Industry Authority, an independent statutory regulatory body. It was to be given authority to levy harsh penalties for any tour operator or guide engaging in coerced shopping.
Travel agents would face two years imprisonment while tour guides would be liable to a year in prison for breaking the rule on coerced shopping. (Current penalties are limited to fines and license suspensions.) Administrative means would be applied to ensure travel agents must pay service fees to tour guides or tour escorts, although no specific amount was set out.
Tour guide Wong welcomed the bill but had reservations. Guides could become entrapped by provisions of the new legislation. "The drafted bill has not made it clear which comments or behaviors are considered 'coerced shopping'," he said.
Solicitor Phyllis Kwong Ka-yin echoed Wong's comments. "More details, or even guidelines, should be added to the bill," she said.
A spokesman for the Tourism Commission said the future Travel Industry Authority and disciplinary committee would ensure that each case was handled fairly and impartially for both the complainant and licensee concerned."
Though sometimes disappointed, Wong said he seldom feels desperate in his job. "I still believe tour guide is a promising occupation But a well-rounded system that can protect frontline practitioners' interests should be built first," he said with a wry smile.
Contact the writer at willa@chinadailyhk.com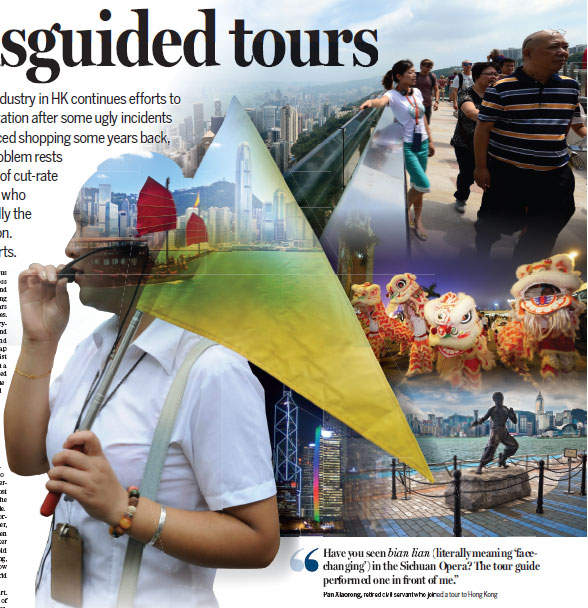 (HK Edition 04/21/2017 page7)