Design key factor in reindustrialization
Updated: 2017-04-18 06:58
By Michael Heng(HK Edition)
| | | | | | | | | |
| --- | --- | --- | --- | --- | --- | --- | --- | --- |
|   | | Print | | Mail | | Large Medium  Small | 分享按钮 | 0 |
Michael Heng believes HK is well-placed to pursue product design and financial service ICT in an effort to rejuvenate its economy
In his recent op-ed article (April 3, China Daily Hong Kong Edition) Eddy Li, the president of the Chinese Manufacturers' Association of Hong Kong, argues for a reindustrialization of Hong Kong's economy. He explains that reindustrialization is not a return to the old-school labor-intensive industries.
"But even though labor costs on the Chinese mainland have increased substantially, conditions in Hong Kong do not allow for a return to traditional manufacturing like the 1960s and 1970s."
Li's position may surprise those who see the city as a service center. To them, the city's future therefore should lie in leveraging its comparative advantages as a vibrant, innovative, business-friendly and forward-looking financial and logistics center to serve the mainland and the rest of East Asia. While basically agreeing with them, we must not dismiss Li in his campaign for a reindustrialization of the economy. For one thing, he is not saying that technology-oriented manufacturing should constitute the bulk of Hong Kong's economy. Moreover, he is right in reminding his readers that there is much invention and innovation talent in Hong Kong. "Many local inventors have won international awards and drawn widespread attention, even including in-school students." He is suggesting a productive way to make use of these talents.
The case for reindustrialization would be stronger if it takes into consideration the nature of advanced manufacturing and the local conditions of Hong Kong.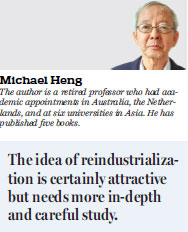 A high-value-adding component of advanced manufacturing is design of products. With outsourcing accounting for the lion's share of manufacturing, the heart of a future manufacturing firm will look like an architectural firm's office. If the company is a car maker, there is no smell of oil, no sound of banging metals. Its top design engineers are working behind workstations linked to workshops many thousands of kilometers away which use 3-D printing technology to make prototypes for field tests. To do the work well, the design team needs the support of research into new materials, a forte of good research universities. The team also needs to know the trends and tastes of the consumers, information that is provided by the company's own marketing department.
With its very high population density, this is the kind of reindustrialization Hong Kong should aim for. Hong Kong has talents and a few good research universities. The actual making of the products requires ample supply of land, water and energy. There is the problem of air and water pollution to deal with, no matter how small. It is no surprise that many Hong Kong manufacturers build their factories in the Pearl River Delta region. Li is right in saying Hong Kong should maintain a good relationship with the region.
Another point to be considered is the local conditions of Hong Kong, with most of its more than 7 million people crowded in high-rise apartments. Besides its very high population density, Hong Kong has very high density of skyscrapers. How does the city cope with the problem of carbon footprint, mass transport, waste disposal, fire hazards, outbreak of highly infectious disease, water supply and public security? Solving the above problems well requires the service of technologies. Creative and innovative use of the technologies can function as useful input to improve the design of the technologies. Moreover, the management know-how distilled in the process of dealing with the problems can form the knowledge base of consultancy bureaus specializing in city management.
Hong Kong is a top financial center in the world. Financial industry is a heavy user of information and communications technology (ICT), thanks to the information-intensive nature of its core business. The very stringent requirements of security and 24-7 availability turn the industry into one of the most knowledgeable users of ICT and developers of highly reliable and robust computer systems. Such expertise should be tapped in the reindustrialization program envisaged by Li. It is manufacturing of the new generation, making ICT systems for e-commerce, e-learning, e-government, e-healthcare, e-movies, etc. From here it is not far to move on to what Li calls smart manufacturing.
The idea of reindustrialization is certainly attractive but needs more in-depth and careful study. Such a study must bear in mind the special conditions and the competitive advantages of Hong Kong as well as the nature of advanced manufacturing or industrialization.
(HK Edition 04/18/2017 page9)