Govt reserves could be spent on healthcare
Updated: 2017-04-10 07:16
By David Wong(HK Edition)
| | | | | | | | | |
| --- | --- | --- | --- | --- | --- | --- | --- | --- |
|   | | Print | | Mail | | Large Medium  Small | 分享按钮 | 0 |
David Wong says the government has plenty of resources to improve hospital facilities and help upgrade the city's old residential buildings
In view of the massive budget surplus and the huge fiscal reserves of the government, one cannot help but wonder what more could be done to help those who are most disadvantaged and vulnerable in our society. For years, the government has been reluctant to increase recurrent expenditures given the instability of its revenue. To be fair, the current administration has massively increased its commitment to alleviating poverty and helping the elderly. Obviously, having focused most of its political energy and financial resources on combating poverty and improving support for the elderly, it is understandable that some other policy areas did not enjoy as much attention.
One such policy area is healthcare. There is a severe imbalance between the public and private healthcare sector. The public sector, that is the Hospital Authority (HA), is a massive entity which is over-burdened by demand. While the government has reserved HK$200 billion ($25.7 billion) over the next 10 years for the HA, this can hardly help ease the pressure on the public sector. The most obvious evidence is the long waiting times at out-patient clinics and emergency rooms. Since they are cheaper than private clinics and hospitals, patients - either with serious illnesses or minor ones - mostly prefer to visit public hospitals. To improve the efficiency of the healthcare system, the role of the Department of Health should be strengthened by setting up more clinics to handle minor sicknesses as well as to expand preventive care. This could help lighten the burden on public hospitals and let them focus on handling serious and long-term illnesses. In that case, patients should be able to enjoy shorter waiting times. Moreover, the government should explore the possibility of referring some medical cases to the private sector. Hong Kong has an ample supply of private medical practitioners, who can help provide more flexibility to the overall healthcare sector.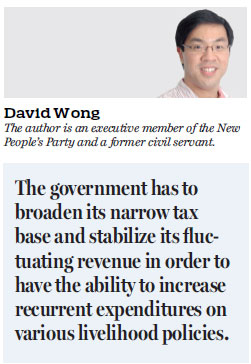 Retaining skilled employees is another problem the HA has to face. When civil servants had their salaries cut across the board in about 2002, many HA staff were also affected. Furthermore, the remuneration mechanism has not been adjusted for many years; this has led to a persistent outflow of talent as well as low morale among those who stayed. The HA should not focus merely on purchasing new hardware and recruiting new graduates, it is essential to have experienced professionals in the medical system. To retain and recruit talent, enhancing the working conditions and implementing equal pay for equal work are two important steps to take.
The government's support for people with disabilities and long-term illnesses has not been reviewed for many years. These people are the most vulnerable in our community and the government should do more to help them. The government should conduct an overall review on its rehabilitation policy, which should be updated every 10 years, to provide long-term planning on areas such as residential-home placements, facilities, manpower, resources and government regulatory supervision. There should be resources available for enhancing barrier-free access for medical services, including hospital design, staff culture and equipment as well as providing better transport to hospitals. Cash allowances could also be provided where necessary to purchase hardware and equipment.
Long-term planning is also needed in the development of public housing estates. When grassroots families move into new public housing estates in newly developed areas, there are few social and support services available. The supporting infrastructure usually won't be completed and ready for use until many years later. Planning, by definition, should be forward-looking; social and community support services should be provided the moment residents move in, or at the very least, cross-district services should be made available.
Poor building management has been another major livelihood problem we face today. More than 6,000 residential buildings in the city are more than 50 years old and most of them are in need of repair. However, as building management involves several professional skills - such as surveying, architecture, engineering, auditing and legal - it is understandable that most owners' corporation members do not possess these skills and feel helpless when managing the repair work. The existing support from the Home Affairs Department and Urban Renewal Authority is far from satisfactory and dispute often arises among residents. The government should set up a new office dedicated to supporting building management and equipped with professionals on surveying, engineering, insurance, legal and arbitration in order to provide comprehensive support services to owners. The government should subsidize those services so owners' corporations only have to pay for part of the administration cost. This is to alleviate the burden on small owners.
The above-mentioned suggestions are merely some of the many ways that the government could better utilize its reserves in response to community needs. As stated previously, the government has to broaden its narrow tax base and stabilize its fluctuating revenue in order to have the ability to increase recurrent expenditures on various livelihood policies.
(HK Edition 04/10/2017 page8)