Case against nine'Occupy'leaders is a weighty one
Updated: 2017-04-06 06:26
By Lawrence Ma(HK Edition)
| | | | | | | | | |
| --- | --- | --- | --- | --- | --- | --- | --- | --- |
|   | | Print | | Mail | | Large Medium  Small | 分享按钮 | 0 |
The public has finally seen the three principal organizers of the illegal "Occupy Central"movement - law professor Benny Tai Yiu-ting, clergyman Chu Yiu-ming and sociology academic Chan Kin-man - together with some "pan-democratic" lawmakers and a few student leaders, totaling nine,charged by the city's Department of Justice.
The cases are seen as the most crucial to reach the courts since the 79-day illegal sit-in broke out in 2014.
The nine were alleged to have committed various offences - conspiracy to commit public nuisance; inciting others to commit public nuisance; and inciting people to incite others to commit public nuisance.
The cases have drawn public attention and it is significant that people who care about the cases know their nature and how similar ones have been dealt with.
Conspiracy and incitement were common law offenses but now they have been incorporated into statute: s 159A Crimes Ordinance (Cap 200) for conspiracy and s 101C Criminal Procedure Ordinance (Cap 221) for incitement respectively. Penalty for conspiracy or incitement is commensurate with the crime that the defendant conspired or incited others to commit. So if the crime in question is one of common assault, which carries a maximum penalty of one year in prison, the conspirator or inciter can be sentenced to no more than one year.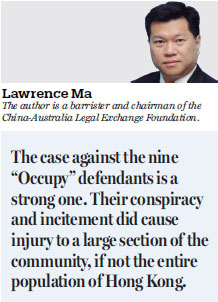 Public nuisance is a common law offense and maximum penalty for all common law offenses in Hong Kong is seven years. The most authoritative definition of "public nuisance" is by the UK House of Lords in R v Rimmington(2006) 1 AC 459 that when a person did an act not warranted by law and the effect of the act was to endanger the life, health, property or comfort of the public, or to obstruct the public in the exercise of rights common to everyone. The act must have caused injury to the community as a whole or a significant section of it; and the accused could reasonably foresee or could have known the consequence of his act.
Thus, in R v Rimmington(2006) 1 AC 459, sending 538 letters and packages containing racially offensive material to several people was not public nuisance as the public element was lacking. And in R v Goldstein (2006) 1 AC 459, sending an old friend an envelope containing a check in repayment of a debt, together with a small quantity of salt as a humorous gesture which the recipient would have understood as a joke - but some salt leaked onto the hands of postal worker who, fearing the salt might be anthrax, raised the alarm so the building was evacuated and the second delivery of post for that day was canceled - was held not to be a public nuisance as it was not possible for the defendant to foresee.
There are only three reported cases in Hong Kong so far. In HKSAR v Pearce (No 1) (2006) 3 HKC 105, Matt Pearce, a political activist, who aimed to propagandize on social justice, democracy and human rights through non-violent action, sought to draw the attention of the public by dressing in a horse costume and running on to the race track for two minutes. The race, televised to more than 13 countries and watched by a 48,000-strong crowd, was delayed one minute. He also dressed in a Spider-Man costume and climbed up a ladder to the podium of a commercial building in Central with a large banner. A large pedestrian crowd gathered to watch him on Queen's Road Central and firemen had to place a rescue cushion below the building in case he jumped or fell. Traffic was jammed for two hours. He was sentenced to 21 days imprisonment but the term was suspended for 18 months.
In HKSAR v Pearce (No 2) (2009) 4 HKLRD 11, the same Matt Pearce, again in August 2008, on the day of the opening ceremony of the Beijing Olympics, protested on the Tsing Ma Bridge. His action held up traffic both to and from the airport, with cars queuing for several kilometers; and he was sentenced to 6 months imprisonment.
In HKSAR v Chow Pit-leung(2010) HKCU 614, defendant taxi drivers disgruntled with certain taxi fare adjustments launched by the transport department parked their taxis on the North Lantau Highway blocking all lanes and preventing road travel from Lantau Island to Kowloon, as well as all vehicle access to and from the airport. The blockade lasted from 9 pm on Dec 3, 2008 to 2 am on Dec 4, lasting five hours. Defendant taxi drivers ignored police requests to drive away and in the end police had to break open taxi windows to tow them away. Defendants were initially sentenced to two months imprisonment but on appeal their sentences were reduced to a suspended sentence of 18 months.
The case against the nine "Occupy" defendants is a strong one. Their conspiracy and incitement did cause injury to a large section of the community, if not the entire population of Hong Kong.
(HK Edition 04/06/2017 page8)