Integration with mainland vital to economic prospects
Updated: 2017-04-06 06:26
By Zhou Bajun(HK Edition)
| | | | | | | | | |
| --- | --- | --- | --- | --- | --- | --- | --- | --- |
|   | | Print | | Mail | | Large Medium  Small | 分享按钮 | 0 |
Zhou Bajun argues that'positive non-interventionism'has run its course, and HK needs to build a strong
high-tech industrial base in association with Shenzhen
Media in Hong Kong last week reported that HSBC further downsized its workforce in the city on March 27. The bank laid off 120 information technology staff who had dealt with logistics, tech support and computer programming. HSBC has outsourced some logistics and tech support operations, mostly to the Chinese mainland, in recent years to cut costs.
During a recent visit to Foshan I stayed at a hotel opposite an office building entirely occupied by HSBC. A friend from the city told me the bank's logistics and tech support departments were housed there. Meanwhile, the banking giant is working hard to expand retail banking and asset management on the mainland, especially in Guangdong and the rest of the Pearl River Delta region. In its annual report the bank said it had maintained its Hong Kong head count at 28,000 to 30,000 in recent years while increasing the number of employees on the mainland from about 16,000 in 2010 to 24,000 last year, a 50 percent increase in six years.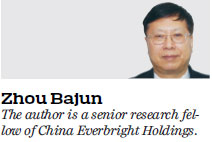 The HSBC news reminded me of an interview with Qantas CEO Alan Joyce in the South China Morning Post on March 17. Headlined "Hong Kong in danger of losing its status as an aviation hub", the article quoted Joyce as saying Middle Eastern airports and an explosive growth in flights from the mainland to global destinations threatened to undermine leading airports elsewhere in Asia. For example, Hong Kong-based Cathay Pacific reported a loss of HK$575 million ($74 million) for last year. That in a way shows how "increased direct flights from the mainland" were hurting Hong Kong's de facto flagship carrier.
The laws of market economics determine corporate behavior as well as the industrial structure of a nation or city. The key to success lies in the way a city or nation responds to changes in a market economy.
In Hong Kong, free-market economics led HSBC and other enterprises to relocate some business operations to the mainland, resulting in the rise and fall of two major sea ports in the Pearl River Delta region - Shenzhen and Hong Kong - as well as growing competition for the Hong Kong International Airport from mainland rivals in Guangzhou, Shanghai and Beijing.
The special administrative region government and Hong Kong society cannot intervene in or change these developments. However, the government and society must abide by the laws of the market economy and develop new industries which the city requires and can handle.
That said, however, there has been a misunderstanding among some people in Hong Kong about the desire for a smooth transition pre- and post-handover in 1997, as well as the promise that the SAR's existing capitalist system would remain unchanged for 50 years after the handover. This capitalist system is taken to include the British colonial administration's philosophy of "positive non-intervention" in economic affairs. It just so happened that the people running Hong Kong's economic and financial affairs followed this philosophy. They therefore refused to provide the necessary policy support for development of high and new technology industries in the SAR - all in the name of adhering to free-market economic principles.
On the other hand, political rivalry has intensified in Hong Kong in recent years as the opposition camp went out of its way to disrupt the lawful administration of the SAR government. In doing so, they hurt Hong Kong's economic development. This includes new industries which the city needs to maintain growth according to the laws of the market economy. The outgoing SAR government had to cope with constant filibustering by opposition lawmakers for nearly three years before it succeeded in establishing the Innovation and Technology Bureau last year.
The emergence of "localism" in recent years and opposition to the mainland in Hong Kong is, to some extent, linked to the "hollowing out" of Hong Kong's industrial base. When large companies relocate some of their business operations from Hong Kong to the mainland and downsize (while hiring more mainlanders) some people blame their mainland compatriots instead of the laws of free-market economics. Hong Kong's port has fallen behind counterparts in Shanghai and Shenzhen in recent years; the airport has faced a similar decline. Some people have reacted to this by finding an emotional refuge in "localism" and mainland-bashing.
Hong Kong has wasted nearly 20 years before seriously starting to develop new industries. The next SAR government will not be able to perform a miracle in only five years. The city must not waste any more time optimizing or upgrading its industrial base. It needs to educate the public about the real problems preventing Hong Kong moving forward with its economic transformation. It is now or never.
People should realize that it is useless to moan about what Hong Kong has lost and is losing to the laws of the free market or trying to stop Hong Kong from following such laws. Don't expect the central government to rein in the fast development of sea ports and airports in the Pearl River Delta region so Hong Kong can regain its past dominance. As for the development of innovation and technology in Hong Kong, success lies in joining forces with the mainland, especially Shenzhen, which is fast becoming the mainland's answer to Silicon Valley. Shenzhen is assuming a leading role in the emerging urban economy of the Guangdong-Hong Kong-Macao Greater Bay Area city cluster.
(HK Edition 04/06/2017 page8)