Rules for underground development plan need fleshing out
Updated: 2017-04-05 05:31
By K.M. Mo(HK Edition)
| | | | | | | | | |
| --- | --- | --- | --- | --- | --- | --- | --- | --- |
|   | | Print | | Mail | | Large Medium  Small | 分享按钮 | 0 |
In sharp contrast to our previous practice of "building up" to give our citizens more space for activities, the government has proposed "digging down" for the same objective. As a new policy initiative, the government announced in the 2014 Policy Address that it would carry out a detailed study on potential underground space development in four pilot strategic urban districts - Causeway Bay, Happy Valley, Admiralty-Wan Chai and Tsim Sha Tsui West.
As a follow-up, a study was commissioned in 2015 with the aim of identifying opportunities for underground development and to formulate master plans to guide future development of underground space in selected areas.
The Civil Engineering and Development Department (CEDD) and the Planning Department (PlanD) have recently completed a public engagement exercise on the study.
In the preliminary concepts put forward in the digest for the engagement exercise, new floors are proposed beneath the existing parks, playground, sports and recreational grounds in the selected strategic areas. Underground pedestrian routes linking the sites with other places are also included.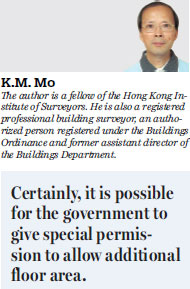 As financial viability is a factor to be considered, commercial investment is thought to be a key component in the study. In fact, to turn the underground project into a world-class development on par with other famous underground facilities such as those in Japan and Taiwan, commercial business will probably be mixed with the pedestrian links. These pedestrian links will probably be flanked with shops under streets or integrated with commercial premises in private lots, turning the strategic areas into pedestrian precincts cum commercial malls.
Under existing building regulations, no building or other structure shall be erected in or under any portion of a street unless otherwise exempted. If commercial premises are allowed to be built under existing streets in the strategic areas, the government will need to decide if similar treatment would be allowed to streets outside the strategic areas. If this special treatment is applicable only to strategic areas, the government will need to justify why the privilege should be confined to selected areas.
There are also problems with adding new basement floors to existing building sites. These problems include whether there is spare development capacity for individual sites and the need to obtain consensus from all owners for sites with multiple ownership.
Agreement of all owners is required before a proposal involving new floor area will be considered by the relevant authority. Sites with multi-story buildings could have hundreds of owners. As it is unlikely that consensus from all co-owners can be obtained for sites with multiple ownership, it would probably end up that only sites with single owners can consider building new underground floors in the case of existing building sites. This may become an insurmountable obstacle if the government's ambitious plan is relied on to create new space under existing private lots.
It is believed that most existing buildings in the strategic areas, with the exception of open spaces, are likely to have been developed to maximum allowable intensity. It is not known if the government only intends to allow existing commercial basements to connect with the proposed underground space or if it is the government's plan to have new space under the existing buildings. For the latter, the government will need to consider how the existing sites can support the additional floor areas.
The engagement-exercise digest has suggested that, to create a comprehensive and integrated underground space, private-sector participation may be encouraged through incentives, and mandatory requirements may need to be introduced.
The vision of the initiative is to create a coherent, connected, high-quality and vibrant network of underground space. The goals are to enhance underground pedestrian connectivity to alleviate congestion at street level and provide a comfortable all-weather walking environment; to create attractive below-ground areas for people to walk, meet, socialize and play; and to optimize the use of valuable land resource.
Apart from the all-weather environment, the laudable vision and goals basically are applicable to all other at-grade and above-grade projects. CEDD and PlanD will need to pin-point something more specific and come up with more justifications for both incentives and mandatory requirements for the proposed underground development.
The digest has not provided any hints on incentives but these could comprise additional floor area on top of the maximum permissible if the government does not resort to financial subsidy.
Certainly, it is possible for the government to give special permission to allow additional floor area. It is also possible for the government to create new building sites underneath the existing private lots through resumption of the stratum of land required for underground development. However, the government again must justify that it is in public interest to do so if it resorts to either of the options.
CEDD and PlanD may wish to elaborate on the ground rules, nature of the mandatory requirements, types of possible incentives in mind as well as the existence of insurmountable issues, if any. This will make the public consultation a more focused and fruitful one.
(HK Edition 04/05/2017 page8)