Romance battles science in gem market
Updated: 2017-03-31 07:12
By Evelyn Yu in Hong Kong(HK Edition)
| | | | | | | | | |
| --- | --- | --- | --- | --- | --- | --- | --- | --- |
|   | | Print | | Mail | | Large Medium  Small | 分享按钮 | 0 |
With synthetic diamond prices on the decline, sellers of natural jewels fight back
Diamonds have been grown in laboratories since as early as the 1950s but, until recently, synthetic diamonds had been much more expensive to make than mining natural jewels.
Recent advances in technology have slashed expenses, and synthetic diamonds usually cost 30 percent to 40 percent less than their natural counterparts. Which will last forever - the romance of a stone naturally forged in a volcano, or hard science?
Lab-grown diamonds have the same physical, chemical and optical properties as natural gems. They look exactly like the real thing. Grown from tiny seeds of diamond at very high temperatures and pressures, emulating the natural process, a synthetic diamond takes weeks to cultivate while natural ones formed 1 billion to 3 billion years ago.
The market for manufactured diamonds is still in its infancy.
Morgan Stanley reported that sales of rough lab-made diamonds were between $75 million and $220 million, just 1 percent of the global market value of rough diamonds. But the investment bank estimated lab-grown diamonds could take a 15 percent share of the melee (0.18 carat or less) gem-quality diamond market and a 7.5-percent share in sales of larger diamonds by 2020.
The volume of lab-grown diamond production is also tiny. Consultancy Frost & Sullivan said 360,000 carats of synthetic gems were made in 2014, compared with 126 million carats of natural diamonds. Demand for cheaper stones could boost production to 2 million carats next year and 20 million carats by 2026, the consultancy predicted.
Leon Guo Sheng, chief executive of Caraxy Diamond Technology, a pioneer diamond creating company on the Chinese mainland and the first mainland member of the International Grown Diamond Association (IGDA), is optimistic.
Sales from Guo's lab have risen three-fold since its founding in 2015.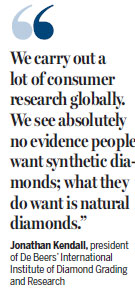 Guo's lab can grow white, yellow, blue and pink gems. They are also trying to cultivate green and purple stones. Most lab-grown diamonds are smaller than 0.1 carat, but Guo's lab can make 5-carat white, yellow and blue gems. Pink stones are limited to 2 carats.
Guo believed that technological breakthroughs would push back size and color boundaries as well as cut costs.
Tension between romance and science is escalating; man-made gem sellers are telling customers about the tremendous environmental damage wrought by mines and the moral issues over "blood diamonds".
Diamond Foundry, an American gem synthesizer, boasts that its products are "as rock-solid as your values". Actor Leonardo DiCaprio, who played the lead role in the 2006 movie Blood Diamond, backs the company.
In 2015, seven of the world's largest miners formed the Diamond Producers Association. They launched a campaign "Real is rare. Rare is a diamond" last year.
Natural diamond giant De Beers, which accounts for one-third of global sales, thinks little of synthetic stones. "We carry out a lot of consumer research globally. We see absolutely no evidence people want synthetic diamonds; what they do want is natural diamonds," said Jonathan Kendall, president of De Beers' International Institute of Diamond Grading and Research.
"If I give you a synthetic diamond and say 'I love you', you won't be very impressed. It's cheap, it's nasty and it doesn't show any emotion, it doesn't show I love you at all," Kendall added.
Nicolas Bos, president and chief executive of French jeweler Van Cleef & Arpels, said they would never include synthetic diamonds in their collection. Their tradition was to use only natural stones and their clients appreciated "valuable" things, which he did not see being grown in a lab.
A mergers-and-acquisitions banker from an overseas investment bank, who preferred to remain anonymous, told China Daily he saw an increased market share for synthetic jewelry diamonds as people's consumption views were changing and the spell of "a diamond is forever" was losing its charm. Given the identical appearance, consumers might be drawn to cultivated diamond's affordability.
But the banker thought natural diamonds might be a better investment as the depletion of natural diamonds would boost prices. Natural diamonds were becoming commodities for the wealthiest and bore great investment value. Lab diamonds would mostly supplement the general consumer market, he believed.
Research indicated that natural-diamond production would peak next year or in 2019 before heading into a decline.
Kendall said De Beers' supply could last for "decades" but the chances of finding another big diamond mine were small.
Guo said he saw the wedding-ring market as challenging since the products had emotional value, but sales of lab-grown diamonds as accessories and gifts had grown quickly.
The growing popularity of synthetic gems also posed a threat to consumers when artificial stones were mixed with natural ones.
De Beers has invested heavily in diamond verification technology. Their latest instrument to screen melee diamonds, AMS2, would be available in June. Its predecessor could not assess diamonds smaller than 0.01 carat, but the new machine pushes the limit to one-third of that.
Guo's products are all labeled as lab-grown diamonds to distinguish them from natural ones. Kendall and Guo both think it's very important to secure consumer confidence, so jewelry buyers know what kind of diamonds they are spending big money on.
evelyn@chinadailyhk.com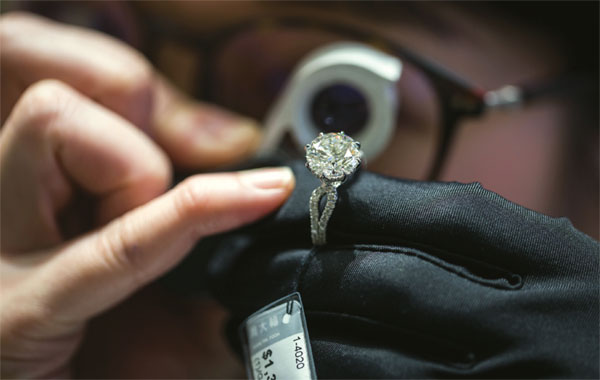 An employee inspects a diamond ring at a Chow Tai Fook Jewellery Group Ltd store in the Central. The spread of synthetic diamonds, also known as lab-grown diamonds, is posing a threat to the viability of real gems in the global diamond market. Billy H.C. Kwok / Bloomberg
(HK Edition 03/31/2017 page8)