Treasure the new beginning under the CE-elect
Updated: 2017-03-28 06:56
By Eugene Chan(HK Edition)
| | | | | | | | | |
| --- | --- | --- | --- | --- | --- | --- | --- | --- |
|   | | Print | | Mail | | Large Medium  Small | 分享按钮 | 0 |
It is a reassuring moment to see Carrie Lam Cheng Yuet-ngor overwhelmingly elected, winning 67 percent of the votes cast in the first round by members of the Election Committee to become our next Chief Executive. Her landslide win is a seal of approval by the people of her comprehensive manifesto to serve Hong Kong, prioritizing the neediest among us. Her election campaign's simplicity, devoid of the social media glitz her opponent clearly excelled in, more than made up for her campaign's lack of sophistication. She clearly also succeeded in putting to rest the caricature of her as a cold-hearted technocrat, devoid of personal warmth and empathy for the people she serves.
Her manifesto, which covered much more ground and in far greater detail than her opponents', clearly struck a chord with the people. She went into all the deep-rooted problems we now face in Hong Kong in such areas as housing, education, social services and economic development.
The fact that Lam triumphed over the glitzy campaign of her main rival is a credit to the electors, who saw her business-like campaign performance and eagerness to discuss issues as the real answer to our problems.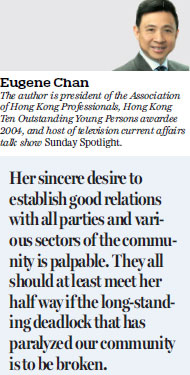 While warning of the threat posed by neighboring cities to our competitiveness, Lam did not lose sight of the urgent need to improve the education system to ensure it would graduate a new generation of happier young workers with more diverse skills and better adapted to the new knowledge economy. In this regard, she promised to overhaul our dated educational practices and equip our students to be more able to think outside the box.
Lam's broad perspective is manifested by her attaching equal importance to upgrading our senior citizens' livelihoods. No wonder she confidently declared "I am ready" to the public at large, showing her willingness to tackle some of our intractable problems expeditiously and without fanfare. Clearly she has gained tremendous new insight into the problems now confronting us, as she candidly recounted how her numerous close contacts with grassroots people had humbled her. The experience no doubt will make her an even more effective leader now that she has seen the problems close at hand.
To bring her manifesto into fruition, she will set aside HK$5 billion to provide various new education programs.
To boost economic revival, she will introduce a two-tier profit tax and tax deductions to encourage the business sector.
People who long to own their own home should look forward to her housing initiatives for first-time home buyers and renters. We can also now expect more land to be made available for housing development.
Efforts would be made to engage the younger generation at all levels and to cultivate them as future leaders of our society and government. Accordingly, their views would be actively sought as much as possible, giving them no excuse to participate in meaningless street protests.
Above all, I am most moved and encouraged by her repeated promises to hold steadfast the core values of Hong Kong, namely freedom of speech, independence of the judiciary and clean government. She has vowed not to focus on people's political affiliations and will welcome different talents from all quarters who are willing to work together for the betterment of Hong Kong.
Her sincere desire to establish good relations with all parties and various sectors of the community is palpable. They all should at least meet her half way if the long-standing deadlock that has paralyzed our community is to be broken. It is time we re-energize our can-do spirit and culture of tolerance.
Lam has in effect extended an olive branch to those traditional anti-establishment parties. In the interests of Hong Kong's long-term future, I hope they would respond in kind. Our community has wasted too much time and valuable resources clashing endlessly and fruitlessly with each other. It is time for us to take stock and see how to move forward together in an orderly and constructive manner under new leadership.
The amicable behavior of all contestants after the election was a welcome development. Let us hope the losing parties will use their influence to encourage their followers to join the larger "Hong Kong Camp" in jointly tackling the problems that they have debated over. What is needed most now is a spirit of charity and collaboration of effort to ensure the success of "One Country, Two Systems" for our immediate benefit, and the future of our children.
The people's choice is now made and we look forward to Lam's leadership in governing Hong Kong under this unique formula with a view to improving our relationship with the central government. This would help us better benefit from central government policies and avoid needless misunderstandings.
(HK Edition 03/28/2017 page8)