Art fairs just got even better
Updated: 2017-03-24 09:29
By Chitralekha Basu(HK Edition)
| | | | | | | | | |
| --- | --- | --- | --- | --- | --- | --- | --- | --- |
|   | | Print | | Mail | | Large Medium  Small | 分享按钮 | 0 |
Performance-based and participatory art shows are trending at art fairs the world over, and HK's flagship art events are no exception, writes Chitralekha Basu.
This week, as the city's two massive art fairs - Art Central at Central Harbourfront Event Space and Art Basel Hong Kong (ABHK) at the Hong Kong Convention and Exhibition Centre - are buzzing with frenetic activity, a couple of trams have been quietly ambling along three chosen routes between Causeway Bay and Sheung Wan. The vehicles have been turned into camera obscura apparatuses - a moving theater where the audience is taken on a journey through the ever-familiar sights of Hong Kong, literally turned on their heads.
The brainchild of local artist Kingsley Ng, the project is inspired by the works of two other ingenious creative minds, also from Hong Kong. Ng's Twenty-five Minutes Older pays a homage to Liu Yichang's novella, Tte-bche, as well as its somewhat better-known film adaptation by Wong Kar-wai - In the Mood for Love. During the ride the scenery along the route covered are projected on the tram's closed interior walls. Being pinhole images, these are turned upside down, echoing the "head-to-toe" analogy in the novel about two people whose lives seem to run on parallel tracks and yet they cannot come together as their heads and toes are never in the same place. A soft, female voice reads out extracts from the novel, at a slow, lingering pace, pausing when the tram stops. The easy laid-back pacing of the tram, generic to 1960s Hong Kong - the setting of Liu's novel - brings to mind the protracted camera gaze and the languorous, long-drawn movements of a cheongsam-clad Maggie Cheung in Wong's film, splicing together book, film and Ng's new art project, in one time-less capsule. Or, as Ng himself says, "As a carrier and metaphorical component in the project, the tram is both old and forever young." In it time, art and reality are blended into a single, fluid continuum, he adds.
More acts to follow
A noteworthy feature of the current art fair season in Hong Kong is that buying and selling is only one aspect of these art marts. Increasingly, art fair organizers the world over are beginning to look at these events as a platform to connect with not just the cogs in the wheel of art ecology - artists, gallerists, dealers, collectors, critics, connoisseurs, non-profit torchbearers for art - but also as opportunities to widen the circuit, draw in the crowds, create more audiences for art. Including performance-based and participatory content in arts fair programming seems to have become the new imperative.
And it's only going to get bigger, says Richard Chang, the newly elected president of the New York-based Performa - an organization playing a pro-active role in introducing live performances in the space of visual arts and exploring their inter-relationships. "I think we are going to see more and more and better executed performances during Hong Kong's art week," says Chang. "A typical Art Basel event draws 80,000 people. What greater concentration of crowds in a venue can you find to introduce performance art to a captive audience?"
Art Central, which drew 32,000 attendees last year and is expecting to see the numbers rise by at least another 25 percent this current season, has a very well-considered and attractive performance art program in place. Mikala Tai, of 4A Centre for Contemporary Asian Art, Sydney, says her pitch to Art Central to curate the five acts now running at the fair, was greeted most enthusiastically. Bringing performances in the space of art fairs "allows other parts of the art world to come inside the market," she says. By incorporating acts that people cannot buy and take back home and in most cases cannot even buy a ticket to watch as they would for a regular show, "the market allows greater and more cohesive understanding of the art industry," says Tai. "It's a key strategy that most of the art fairs have adopted."
One of the artists Tai is showcasing at this year's Art Central - the Indonesian Uji Handoko Eko Saputro, aka Hahan - is thrilled to bring his work to Hong Kong, where he is expecting to find a more evolved audience than in his hometown in Yogyakarta. His performance entails cutting up his own 7.5 meters by 2.6 meters painting into 1,950 lots of 10 square centimeters each and selling them at HK$300 per piece. Hahan and his teammates dress up in identical red and yellow tracksuits and call out to passers-by, trying to push their merchandize, as if they were hawking cheap consumer goods at a street corner. On one hand, the idea is to break down the notion that collecting art is an exclusive preserve of the rich and sophisticated. On the other, the act is an ironic comment on the position of an artist in a society which puts a price on all things creative, reducing the artist to being his own salesman.
"I think it's important for Indonesian artists to not just produce a work of art but practice some self-criticism," says Hahan, particularly eager to see art having a more wide-spread impact on people's lives in his native culture. If by taking home a piece of his art "people start feeling a sense of ownership, develop a sense of closeness to art and are sensitized to the presence of art in their lives" he would consider it a job well done, he adds.
Body of work
While audience response is crucial to the success of performance-based and interactive art - ephemeral as they are by nature - practitioners of these art forms often take a huge risk by putting their bodies out in the public domain, courting huge physical discomfort sometimes.
Shi Jin-hua, the artist from Taipei, completed the last two kilometers of his 100 km walk at ABHK on Thursday. During the walk he draws with a pencil held against a 5-meter-long piece of paper, going back and forth 50 times a day. The ABHK show brought the curtains down on a five-year-long-journey, trying to come to terms with a physical handicap. Having suffered from Type 1 diabetes since his early teens, Shi would put his body through tremendous stress, as he walked continuously for two hours each day, creating patterns with a lone hand, letting the blood sugar level drop to borderline danger levels.
The finished piece, which now looks like an enormous dark cloud of graphite marks, is in fact a collection of millions of curved lines, meant to represent the "interweaving of the flow of time and the depth of space", says the artist. "It took substantial actions using my whole body to make these lines and sometimes I just had to take a break to breathe before carrying on. I need to control my strength, where the lines start and go precisely, which requires my eyes to constantly perceive and adjust my hand, arm, strength, position, and the space, rhythm and the aura of the work. It is very intense," he adds, explaining his process.
One of the most eye-catching pieces at Art Central this season is Anida Yeou Ali's The Red Chador. Ali faced hostile comments at Hartford, Connecticut, where she performed the same piece in November 2015. The act, in which she covers herself in an enormous glittering, rustling, sequined fabric, in imitation of the burqa worn by Muslim women in certain cultures, and struts around crowded public places carrying placards, is risky on several counts. For one, the fabric, which she says is "super cumbersome", swamps the diminutive woman inside it completely, making movement difficult. And second, Ali's art - which is about appropriating religious aesthetics to question her identity as a Muslim woman and now also an unwanted immigrant in Donald Trump's America - makes her vulnerable to backlashes of different shades.
Then the burqa could also be hugely empowering, says Ali, recalling the day after Trump's election when she traipsed around a busy marketplace in Seattle, carrying a placard saying "Ban Me!" As she let the strong winds get under the chador and give it wings, looking like a huge red albatross, people came over to give her a hug, or whisper words of solidarity in her ears. "The red could be a symbol of love, of life, anything that is reinvigorating. When people start walking with me it takes on a whole new world of meaning."
In Hong Kong too she is hoping to have visitors to Art Central pick up a placard and walk together with her. And yes, selfie-hunters are welcome too, she adds with a smile.
Shifting business model
A selfie is probably the only tangible thing audiences can take back home from experiencing performance and participatory art, as these art forms defy ownership. Inclusion of more performance-based and participatory programs in art fairs, therefore, is making these spaces less commercial. If the trend continues to grow, art fairs would have evolved into a forum for cultivation of ideas and nurturing aesthetic sensibilities, shifting somewhat from the original premise of retailing art over the counter.
Performa president Chang agrees. "Performance is not a profit-oriented art form. It's done to enhance our understanding of art. As art fairs increasingly bring in huge installations that are not so easy to sell, they are getting less and less commercial. It's more about giving the artist proper exposure. And to increase performance art-based content is the least-profitable thing to do."
But then are art fair organizers ready to undercut their own profit-oriented model which has proved to be so successful over the last few years? Watch this space.
Contact the writer at
basu@chinadailyhk.com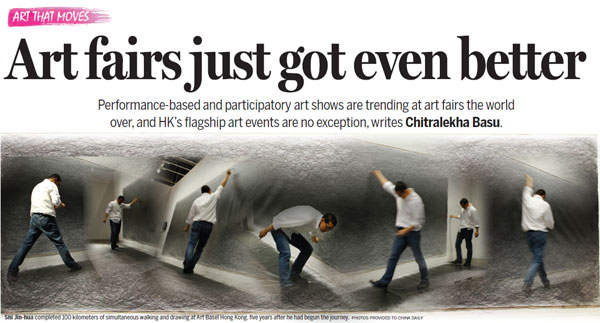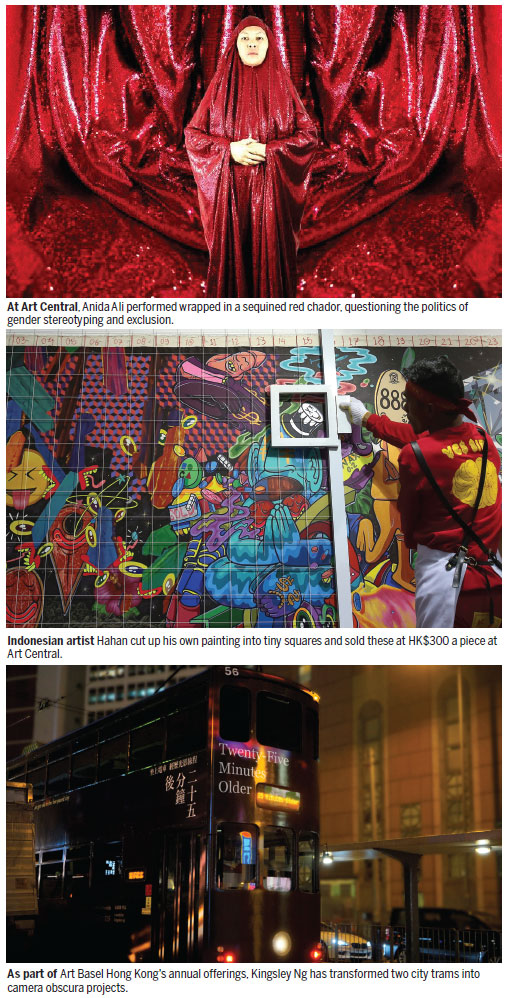 (HK Edition 03/24/2017 page7)