Forget 'CY 2.0' jibe, HK needs 'Government 2.0'
Updated: 2017-03-24 09:28
(HK Edition)
| | | | | | | | | |
| --- | --- | --- | --- | --- | --- | --- | --- | --- |
|   | | Print | | Mail | | Large Medium  Small | 分享按钮 | 0 |
The 2017 Chief Executive election is approaching. On Sunday we will see the winner of this election and future leader of our city. Various voices support different candidates for assorted reasons, but I believe when we analyze the election in a sensible way - that is to compare candidates' performance, capability of governance and enthusiasm for their jobs in the past, as well as their manifestos and behavior during the electoral period - it is not difficult to figure out who fits the four criteria listed by the central government - namely love the country and Hong Kong, be trusted by Beijing, be capable of governing and be supported by the people of Hong Kong.
For the "pan-democratic" campaign, "small coterie" has always been the attack point in previous CE elections. But strangely this time they leave no stone unturned to elect a candidate they favor. This is probably because it is they who vetoed the proposal of universal suffrage, and they know it. And now they can only resort to the strategy of attacking whoever has the closest relationship with Beijing.
At first, the "pan-democrats" used the slogan of "ABC" (anyone but CY) to oppose Leung Chun-ying's re-election, claiming their only objective was to prevent Leung from re-election and anyone else was acceptable. Later, when Leung announced he would not seek re-election, aspirant Regina Ip Lau Suk-yee became the target of attack of the political opposition. And when Carrie Lam Cheng Yuet-ngor announced her aspiration to run, the slogan of "ABC" was once again brought up by them - with "C" standing for Carrie.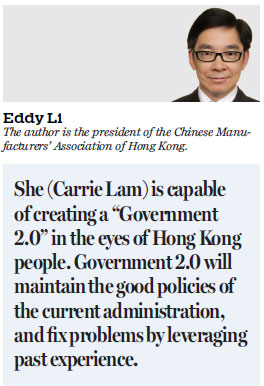 Actually, none of the final three candidates are from the "pan-democratic" camp. Then why would the opposition direct their fire at Lam only? In a recent article by Democratic Party Chairman Wu Chi-wai, he confirmed his party will vote for the person "farthest from Sai Wan", clearly referring to the Liaison Office of the Central People's Government. His statement is entirely opposite to Beijing's four criteria, and his intention, as well as that of the whole "pan-democratic" camp, cannot be more obvious.
To stimulate anti-Lam emotions among the general public, one opposition strategy is to portray her as "CY 2.0". For me, this is actually quite ridiculous as an attacking point.
From what I understand, government policies should be sustainable and persistent. Exploring land resources for housing, poverty alleviation, retirement protection, innovation and technology, education, supporting the small and medium-sized enterprises, assisting youth business and startups, participating in the Belt and Road Initiative all these policies are imperative. If the next government comprises brand-new members, work in progress on these policies might be overturned completely, wasting all the time and resources spent in the past. Is it really worthwhile to re-negotiate, re-discuss, and re-research the relevant polices? Every Hong Kong resident should think deeply on this question.
As Lam promised when responding to media questions, if she eventually won the election, the next administration would carry on the popular and well-designed policies of the current administration. The promise of carrying on the current administration's good policies is by no means equivalent to inheriting the administrative style of the predecessor. Governance is about leadership, individual charisma, personal style and attitude to other people. In all of these aspects, Lam has her own traits which are totally different from Leung's.
As a matter of fact, if Lam is elected, she would not be "CY 2.0"; instead, she is capable of creating a "Government 2.0" in the eyes of Hong Kong people. Government 2.0 will maintain the good policies of the current administration, and fix problems by leveraging past experience.
The current government is facing multiple difficulties in governance, including crippling political bickering and divides among the pro-establishment groups after the 2012 CE election. These have led to inefficiency in implementation of government policies.
With 36 years of working experience in public service, Lam is proficient when it comes to the division of labor and the allocation of resources in different departments. Her campaign office includes people from various backgrounds, reflecting her ability to unite people who split up in the 2012 CE election. What's more, she has always ranked top in the performance of government officials, showing her popularity among the public. At this point, I believe all Election Committee members will know how to cast their votes on Sunday and make the right choice.
(HK Edition 03/24/2017 page1)