Diamonds - going from wealth to health
Updated: 2017-03-24 07:11
By Deng Yanzi in Hong Kong(HK Edition)
| | | | | | | | | |
| --- | --- | --- | --- | --- | --- | --- | --- | --- |
|   | | Print | | Mail | | Large Medium  Small | 分享按钮 | 0 |
Contrary to the popular belief that the bigger the diamond, the greater the value, scientists have established that when shrunk to nano-scale, diamonds have proved to be invaluable when it comes to life and death.
Harmless to the human body, nano-diamonds - those of less than one micrometer in size - will be used in detecting early stage cancer cells in the digestive system to help doctors make early and accurate diagnoses.
Diamonds can soon be a doctor's best friend.
Hong Kong tech company Master Dynamic Ltd has teamed up with the Chinese University of Hong Kong (CUHK) in developing the bio-labeling technology to apply nano-diamonds in detecting early stage gastrointestinal cancer and other types of the dreaded disease. It plans to go through the animal and human clinical trials in the coming three years of research and development.

When nano-sized diamonds are paired with certain target agents, such as hormones, and sprayed through an endoscope, they adhere automatically to cancer cells on reaching the affected part of the body, according to Master Dynamic's Chief Executive Officer Tom Kong and Chief Operating Officer Ian Kwan.
The nano-diamonds will "light up", according to the duo, to distinguish the cancer cells from healthy ones easily, with a test that used to take 45 minutes, but has now been shortened to 10 minutes.
Nano-diamonds are not new to the scientific world. Scientists had recognized their safe use seven years ago.
"It demonstrates that fluorescent nano-diamonds are non-toxic at both the cellular and organismic levels," Chang Huan-cheng of the Institute of Atomic and Molecular Sciences at Academia Sinica, had been quoted as saying in Nature magazine.
This technology makes itself most useful in cases where cancer cells are attached to the surface of an organ, rather than in the blood, such as skin cancer or gastrointestinal cancer that mutilates the stomach, bowel and other organs in the digestive system, the company says.
The prevalence of bowel or colorectal cancer has been high among Hong Kong people as the city grapples with a rapidly aging problem, according to Philip Chiu Wai-yan, professor of the CUHK's Upper Gastrointestinal Surgery unit.
"The challenge is that it's rather difficult to make an early diagnosis of the cancer," said Chiu.
Colorectal cancer is the commonest kind of cancer in Hong Kong, making up 16.5 percent of new cancer cases in 2013, according to Hong Kong's Department of Health. The disease is also life threatening, having caused 2,034 deaths in 2014, making it the second-deadliest form of cancer in the SAR.
Master Dynamic's idea of using diamonds to save lives stems from its research and development of nano-technology to mark the diamonds, in order to authenticate and track them. The company has partnered with Hong Kong jewelry chain Chow Tai Fook in a project dubbed "T-Mark" in which every diamond will have a nano-sized, unique mark and serial number that will track and record the information of the diamond since the start of the sourcing and production process.
The "T-Mark" project has been on a trial basis for six months, with 50 products sold with the mark, and is expected to roll out in July.
Using nano-fabrication technology - the making of devices of nano-scale - the size of the mark is about 1/20,000 of human hair, which will be difficult for others to counterfeit, according to Kwan and Kong.
The "T-Mark" technology, which took the company five years to develop, has helped it identify the unique nature of diamonds as a safe material for the human body, and led Kwan and Kong into the biomedical field.
The company hopes to enter the realm of quantum technology as diamonds are considered a superior material in this frontier.
"It may seem that we cover a broad range of areas, but we're basing ourselves on nano-technology, and explore different frontiers revolving around diamonds," says Kong.
Master Dynamic - a seven-year-old company with a staff of 130, mostly engineers - operates out of Hong Kong Science and Technology Park.
The tech cluster is abundant with high-tech enterprises in material science and precision engineering, which is considered the backbone of manufacturing's future, according to George Tee, chief technology officer with Hong Kong Science & Technology Parks Corporation.
"This is not an overstatement - material science and precision engineering are the pivotal forces that have shaped our modern life," says Tee, adding that the tech cluster will continue to support the development in this field.
iris@chinadailyhk.com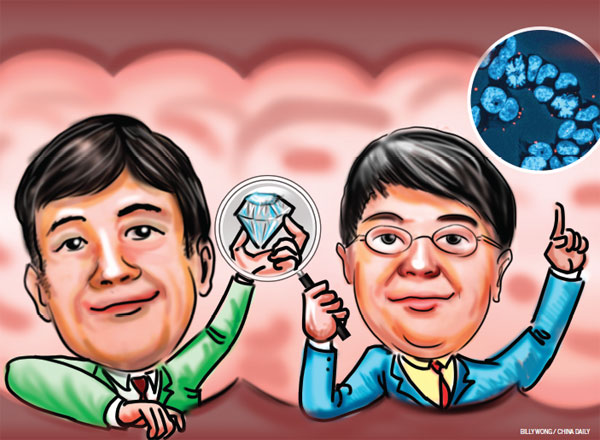 (HK Edition 03/24/2017 page8)